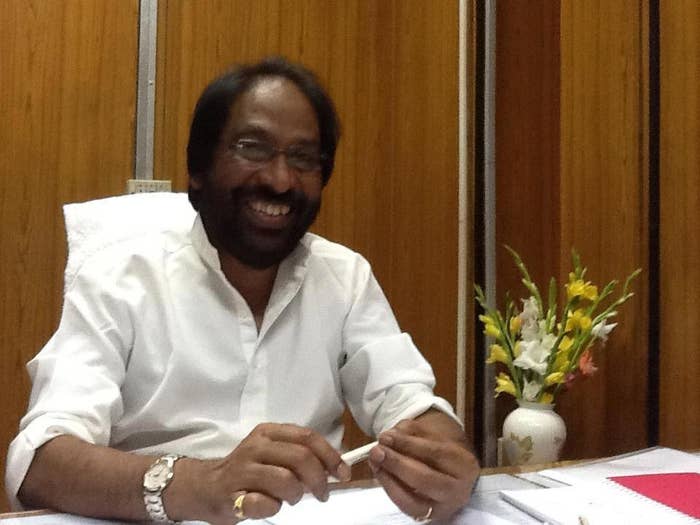 The upper house of India's Parliament voted unanimously on Friday in favor of a bill to protect transgender rights.
The vote in the chamber, called the Rajya Sabha, was extremely unusual. The bill was sponsored by an individual member and not by the government, and India's Parliament has not passed a member-sponsored bill since 1970.
The bill must now be approved by India's lower house, the Lok Sabha. If it becomes law, it would require the government to establish a plan to safeguard the welfare of transgender people. This would fulfill a ruling from India's Supreme Court last April, which established that transgender people were entitled under the constitution to be protected from discrimination.
The April ruling seemed to directly contradict a ruling from December 2013 that upheld the country's law criminalizing sodomy, known as Section 377. "Discrimination on the ground of sexual orientation or gender identity, therefore, impairs equality before law and equal protection of law," wrote the judges who decided the trans rights case. Another challenge to the 377 decision is pending, but it has not yet been taken up by the Supreme Court.
Anand Grover, the attorney who led the 377 challenge and one of the petitioners in the trans rights litigation, told BuzzFeed News following the vote that the Rajya Sabha passed "quite a bill," but he said its passage was far from a sure thing despite the chamber's unanimity.
Grover said he believed "the government will try to stall it" so it can introduce a different version of the bill in the Lok Sabha.
He also said this should not be interpreted as a sign that India's politicians were warming to gay rights. This vote had more to do with the "very particular" politics around trans rights in India, which are very different from the politics of homosexuality.
India has long-established communities of trans women known as hijras with a history stretching back before European colonization. Though hijras often face discrimination and harassment, they also have an important symbolic place in India.
"Traditionally, the hijra community has been seen as part of Indian culture," Grover said. "The politicians voted [for the bill] because they don't want to alienate the transgenders."
Tasneem Nashrulla contributed to this story.