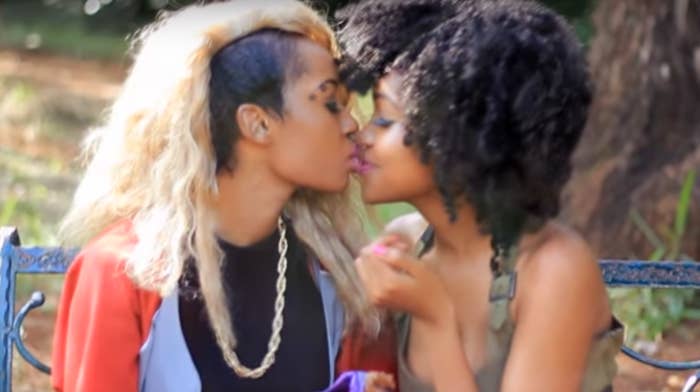 A group of LGBT artists in Kenya calling itself Art Attack came together to record a remix of Macklemore and Ryan Lewis's "Same Love" addressing homophobia in Africa. The accompanying music video was banned by Kenya's Film Classification Board one week after it appeared online earlier this month.
All the artists involved in making the video are LGBT, said Jojibaro Barasa, an activist and singer who appears in the video. Most of the musicians didn't want to be named out of fear of reprisals, Barasa said in message to BuzzFeed News, and he and others in the video have received threats since the video premiered.
"We wanted to tell real stories using real gays and lesbians," Barasa told BuzzFeed News. "We felt we have to continue talking about our rights because they were still being violated."
Footage in the video references the anti-LGBT legislation in neighboring Uganda, an anti-LGBT march in Kenya's capital, Nairobi, and even last year's pride march in Istanbul, Turkey, which police shut down with water canons.
Though no sustained anti-LGBT political campaign has taken hold in Kenya and the country's courts have handed LGBT activists some victories, there have been efforts to target LGBT people using the justification that Kenya law criminalizes homosexuality. The Kenya Film Classification Board reportedly censored the video because it was shot without required licenses and "it does not adhere to the morals of the country."

The ban was not a surprise, Barasa said, but it came faster than expected.
"We have no apologies whatsoever because it took us a lot of courage and resources to put everything together," Barasa said. "That is why the government was shaken to a point of releasing a press statement. To us the message reached home."