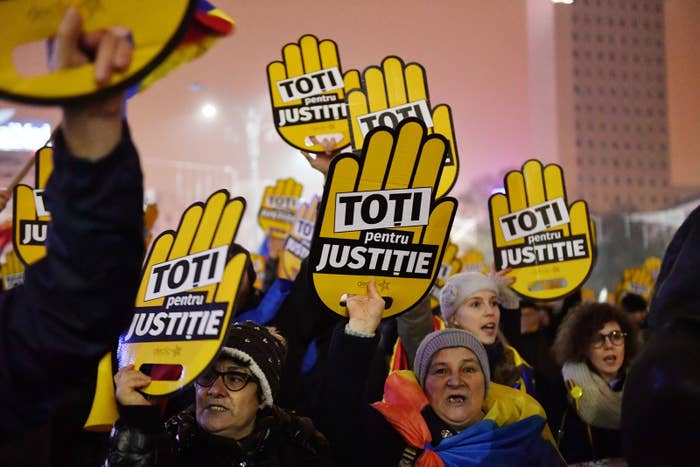 Anti-corruption campaigners in Romania say Facebook suddenly blocked dozens of their personal accounts, which they suspect was the result of a coordinated effort by opponents to suppress support for protests against the ruling party.
A Facebook spokesperson told BuzzFeed News in a statement that "a number of pages were temporarily blocked due to an error in our automated systems." She did not respond to questions about whether that could have been triggered by a coordinated campaign to flag content critical of the ruling.

Romania's ruling center-left Social Democratic Party (PSD) has faced protests throughout the year in opposition to proposals to alter the country's legal system that critics say are designed to weaken anti-corruption measures. This follows a wave of prosecutions against officials, including the country's former prime minister, several members of Parliament, and many other officials. The PSD's leader, Liviu Dragnea, is also facing allegations that he formed a "criminal group" to illegally access funds from the European Union.
Activists have taken to the streets throughout the year, including last Sunday, in a movement largely sustained by a number of Facebook groups. But as the latest protest approached, reports began to surface that activists, journalists, and others posting about the demonstration were discovering their accounts were frozen or restricted.
Florin Badita, an administrator of a Facebook page with more than 73,000 members and a name that translates to Corruption Kills, told BuzzFeed News that he was unable to post for 48 hours because Facebook's system was flagging his post as spam. He shared with BuzzFeed News a list of 90 people compiled through the Facebook group who reported having their accounts restricted after posting about the weekend's protest or posting comments critical of the government and corruption.
One of the most high-profile accounts that was blocked was that of the 101-year-old philosopher Mihai Sora, who later posted that Facebook abruptly blocked his account until he submitted to an ID check. His account had apparently been flagged for a violation of Facebook's real name policy.

Dragos Stanca of the Romanian marketing firm ThinkDigital also collected dozens of reports of account disruptions in response to a call he posted on Facebook. Though there could theoretically be purely technical reasons for these accounts to be blocked, the fact that there seemed to be a clear pattern targeting anti-corruption supporters suggested a systematic effort by government supporters to report their accounts to Facebook.
"There are a few hypotheses that can be easily put on the table: one, it was a massive action of reporting the posts and tripping somehow the Facebook algorithm," Stanca said. "My educated guess is massive reporting done by real accounts that tricked a little bit the robots from Facebook."
Romania has a long history of orchestrated troll campaigns, said Oana Popescu, director of the policy think tank Global Focus and a foreign policy adviser to the then-leader of the PSD during the 2008 campaign. "You'd have hundreds of hired people, and literally every party had them. You would pay some students ... to post on forums and news websites."
BuzzFeed News could not reach a PSD spokesperson for comment about the account suspensions by phone or email on Tuesday evening. The government is under increasing pressure to abandon its changes to the judiciary, including a call from the US State Department on Monday urging the Parliament to "to reject proposals that weaken the rule of law and endanger the fight against corruption."
The PSD shot back in a statement that the US's position "does not appear to be the result of a balanced, objective and comprehensive analysis of the facts, but rather echoing opinions circulated in the Romanian public space." Dragnea has said the allegations against him are a plot orchestrated by billionaire activist George Soros.
"It all starts from George Soros, this malefic character, to whom I say: I will not surrender," Dragnea said in July.
Like in many other places in the world, said ThinkDigital's Stanca, the fight in Romania is "a war between the bubbles: the bubble of the people that sustain the protest, or [the bubble that is] trusting the propaganda saying the protest is baked by George Soros."
He continued, if there was an orchestrated effort to suppress the protest movement, it will backfire. With another protest scheduled for Dec. 1, Romania's national day, he said, "The effect was exactly the opposite — now everybody's talking about the fact that they tried to censor opinions."
CORRECTION
Florin Badita's name was misspelled in an earlier version of this post.