Three organizations announced a petition on Wednesday asking the International Criminal Court (ICC) to bring charges against ISIS for persecuting the people under its control on the basis of gender — including the public execution of men alleged to be gay.
The petition is being submitted to the ICC by the New York-based women's rights group Madre, the Organization for Women's Freedom in Iraq (OWFI), and City University of New York School of Law. It will be formally presented Wednesday afternoon at an event with ICC Chief Prosecutor Fatou Bensouda.
The ICC is not obligated to take up these charges, but if Bensouda were to convinced to do so, they would be the first criminal cases for LGBT persecution before an international tribunal. The ICC prosecutor has been considering bringing charges against ISIS fighters for a wide range of crimes, but not yet moved forward because neither Syria nor Iraq are signatories to the treaty that gives the court jurisdiction. In 2015, Bensouda said she might consider bringing charges against foreign fighters who joined ISIS from countries that are party to the treaty, however, including the UK, Germany, Belgium, and Jordan.
The case laid out against ISIS in the petition is based in part on extensive evidence compiled by activists working on the ground who had contacts inside the territory ISIS controlled until July 2017.
The more than 300 pages of documentation that supports the petition includes accounts of more than 60 people accused of being LGBT who were raped, set on fire, beheaded, thrown off buildings, or otherwise tortured and publicly executed over a 14-month period in and around Mosul. Accounts of executions of LGBT people have been posted on ISIS media accounts as it captured territory in Syria and Iraq, suggesting this is just a small fraction of the victims of LGBT persecution by ISIS.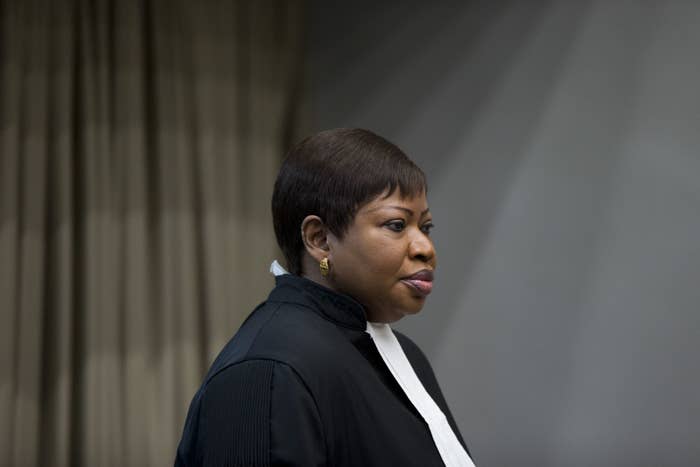 Lisa Davis, Madre's Human Rights Advocacy Director and CUNY Law professor, told BuzzFeed News that such prosecutions could be precedent setting because "this is the first time in history we have a robust documentation of crimes committed against LGBT people in an armed conflict."
The petition argues that the LGBT cases should be included as part of a much broader set of charges against ISIS for persecution on the basis of gender.
In short, the petition argues, the ISIS regime used torture and execution to brutally force people into narrow gender roles. Along with targeting people perceived to be gay, this ranged from executing women in professional roles to threatening to behead men who did not grow robust beards.
Such a range of gender-based persecution has never been prosecuted in the ICC, Davis said, adding that she hoped such a case could help expand the way the international community understands gender-based crimes. International tribunals have generally considered gender-based violence in the context of rape and other sexual crimes, not in terms of a broad regime regulating gender expression.
"It's reframing how we see 'gender'," Davis said. Before, "we'd have these waves of hate crimes that happen that we don't recognize as hate crimes. Now we'd have a name for it."
Leisl Gerntholtz, executive director of the women's rights division at Human Rights Watch, said that is exactly what could pose a challenge to charges like this.
"The court doesn't have a great track record on gender or sexual-based crimes," Gerntholtz said. "It has almost no track record at all on using the persecution on the basis of gender to protect the rights of LGBT people in conflict."
That's in part, she added, because a "number of countries that didn't want to see LGBT concerns be included in [the ICC's jurisdiction], and that's one of the challenges for this case."
Some nations fiercely opposed language in the treaty that created the ICC in 1998, known as the Rome Statute, precisely because they worried it could lead to legal protections for LGBT people. The Rome Statute was the first international criminal law treaty that used the word "gender" rather than "sex," a change in language that states including the Vatican and members of the Organization for Islamic Cooperation continue to contest in international agreements partly for the same reason.
But the office of the ICC prosecutor signaled that it is ready to consider such charges. In a 2014 position paper that said it would consider sexual orientation as one factor in "multiple forms of discrimination and social inequalities," adding that it would "take into account the evolution of internationally recognised human rights."