The New Cold War Over Human Rights
As the U.S. and European nations expand their support for LGBT rights, Russia has became a powerful ally to countries like Uganda and Nigeria in their homegrown crusades against LGBT people.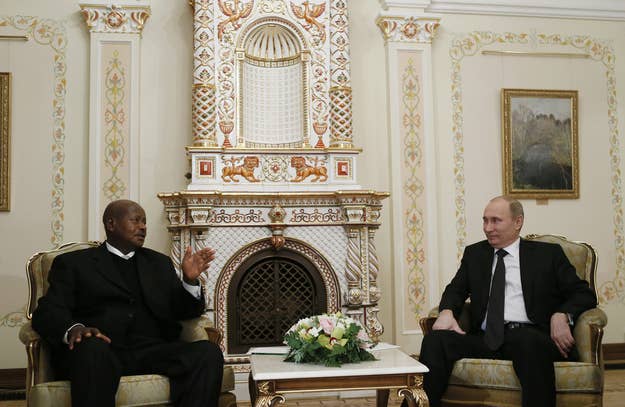 In the past year, a muddy debate about LGBT rights in international diplomacy has crystallized into a clear clash between two blocs — for and against — with positions that seem to be growing further apart.
Moving forward, that clash likely will force global institutions to take sides — especially if there is money involved.
The recent showdowns over anti-gay laws — from Russia, in the run-up to the Olympics, to Uganda and Nigeria in the new year — followed a period in which some of the largest and wealthiest nations in the world granted federal recognition to same-sex couples' marriages. The United States, United Kingdom, France, and Brazil are just the largest nations that granted national recognition to same-sex couples' marriages in the last year. Domestic LGBT movements triumphed by making the case that LGBT rights are fundamental rights, and they now want to see the same conviction incorporated into foreign policy.
This movement, though, is happening in a world where more than 80 countries worldwide still criminalize homosexuality, and it seems likely that this number will grow. There already are efforts to duplicate Russia's anti-LGBT "propaganda" laws in Eastern Europe and Central Asia, and there are attempts to emulate Nigeria and Uganda's new laws in other African countries. With a single decision by the Indian Supreme Court in December, homosexuality was recriminalized in a nation home to 1.23 billion people.
Dominoes are going down fast in both directions, and the governments and institutions that haven't fully engaged on the question are going to have to choose which way to fall.
For many years, of course, there have been several countries in the Americas and Europe whose diplomats have been pushing to expand the place of LGBT rights in the human rights agenda. After years of trying in the United Nations, the most substantial victory was the Human Rights Council's passage in 2011 of a South African resolution calling for a study of the global state of LGBT rights. There were many other states — led by members of the Organisation of Islamic Cooperation and the Vatican — aggressively combating these attempts. But they have mostly fought skirmishes around language in diplomatic resolutions, seldom drawing public attention.
The fight over LGBT rights only became a true battle of nations when President Vladimir Putin forced a showdown over LGBT rights in the lead up to the Olympics, and his country leveraged the issue in the Ukraine and other neighboring states being courted by the European Union. And then Nigeria and Uganda upped the ante by calling the bluff of the U.S. and European donor nations by passing long-pending anti-gay laws.
We are witnessing "a systematic Cold War played out on the field of human rights," said Bisi Alimi, a Nigerian LGBT rights advocate now in exile in London.
A sign that this debate has shifted within multinational institutions is the strong declaration in opposition of discrimination on the basis of sexual orientation from World Bank President Jim Yong Kim late last week. The bank suspended the approval of a $90 million health care loan to Uganda, and Kim published an op-ed in the Washington Post declaring, "Institutionalized discrimination is bad for people and for societies. Widespread discrimination is also bad for economies."
The bank is a development institution, not a human rights one, so it has been a challenge to make the case that the bank needed to take a stand on this question. A small group inside the bank had been trying to make the argument by establishing a link between homophobia and poverty, funded by a grant from a group of Nordic nations. Embracing LGBT rights meant taking on the many bank shareholders that still criminalize homosexuality, including Russia, Uganda, and Nigeria. But Kim took a stand when faced with a concrete question over giving health care money to a country that might not deliver services to its LGBT population and might jail those who try to provide them services.
Not all global institutions will be following this example, of course. In some, deeper divisions will just make movement harder. But especially where aid decisions are concerned, the battles won't be quiet affairs — governments on both sides are no longer shying away from open confrontation.
The United States and European countries have historically treaded lightly where funding is concerned; the few cases when they explicitly threatened to cut off funding over the question — as British Prime Minister David Cameron did in 2011 — provoked a backlash from African leaders and LGBT activists who worried it could make things worse.
But the U.S. Ambassador to Uganda, Scott DeLisi, seemed no longer to be concerned about this charge after President Yoweri Museveni attacked "the West" during a signing ceremony for the anti-gay law, accusing it of "social imperialism" and warning, "if they make it an issue [of LGBT rights] the more they will lose."
DeLisi, in a Wednesday interview with the BBC, said, "Keeping mothers alive, helping people with AIDS, dealing with food security — that's all about our values as Americans," alluding to the more than $409 million in health funding the U.S. Congress appropriated for Uganda in FY 2013, $316 million of which was earmarked for HIV. "And if that's cultural imperialism or social imperialism, [then] I'm a social imperialist."
For now, donors are speaking of redirecting funding to Uganda so that it doesn't go to the government, not cutting it outright. Norway's foreign minister said he would "hold back" just over $8 million in government funding and instead "increase our support to human rights and democracy defenders." Denmark's development minister said he would "restructure" a little more than $9 million so that it goes "to civil society and activities within the private sector."
The United States — which provides substantial security aid to Uganda, as well as health care — has not said what it will do beyond President Barack Obama's statement that the law will "complicate" the countries' relationship. Administration officials have so far declined to be specific on how U.S. policy will change as a result, however.
It's not yet clear how deeply these shifts of funds will bite governments like Uganda's, and this stance isn't being applied universally. In Nigeria, where foreign donors have less influence because of the country's own oil wealth and the president's weak position, the U.S. ambassador has expressly disavowed sanctions in response to the Anti-Same-Sex Marriage law passed in January, which also criminalizes LGBT rights advocacy and requires LGBT people be reported to police.
This is not necessarily a bad move in the minds of some LGBT activists — there is still deep disagreement about whether tying dollars to an LGBT rights agenda is productive. It plays into anti-western sentiment that is good politics for anti-gay forces in many post-colonial nations. And Western governments are often viewed as turning a blind eye to corruption and political repression when it suits their interests — it can come across as hypocritical for them to speak up for the rights of a group as marginal as LGBT people in countries where homosexuality has been illegal for more than a century.
Western governments are "not strong enough" to pull out all the stops against anti-gay laws in places like Nigeria "because their hands are not clean," activist Bisi Alimi said.
Scott Long, founding director of Human Rights Watch's LGBT rights program, said at this point, stepping back may be the most productive for western governments now.
"There's no easy way to get past the outrage and the global perception that sexual rights are a U.S. conspiracy — but de-escalating is almost the only way I can imagine rights really moving forward," he said.
But the new tone regarding developments in Uganda show that governments are engaging in a way they never had before, said Sunil Pant, a Nepali LGBT activist who has worked internationally for many years.
"For the first time, international communities, multinational institutions, and Western governments have taken … discrimination and violence faced by LGBTI communities across the globe seriously," Pant said. "It used to be lip service only, if there were any voices."
It seems unlikely that a more aggressive stance from donor nations before the laws passed would have made a difference in Uganda or Nigeria. In both cases, the domestic pressure to sign the bills might have been too overwhelming for any amount of international pressure to overcome.
In Uganda, the bill was forced through parliament by Speaker Rebecca Kadaga and with strong backing of President Museveni's political party, the National Resistance Movement, just as he was trying to cement support to run for president again in 2016. Museveni could probably survive American wrath, especially since he was a key partner in the U.S.'s security interests against terrorism in East Africa and in tamping down the civil war in South Sudan. But he might not survive a head-on challenge to his leadership if he seemed to be protecting homosexuals.
This was an internal Ugandan battle — not one fueled by the Western evangelicals whose role in stirring up anti-gay sentiment around the time the bill was first introduced has received much attention — explained Frank Mugisha of Sexual Minorities Uganda. "The evangelicals have done their work and they have left," he said.
Nigerian President Goodluck Jonathan had his own domestic pressures. He's seen key defections from his People's Democratic Party, and he is trying to hold onto his job while the country is facing a bloody insurgency from rebels in the north. The legislation had deep support among both of the country's main religious groups, Christians and Muslims, and he needed backing in both constituencies if he is going to hold onto his job.
These domestic dynamics might have been enough to lead Museveni and Jonathan to defy international pressure, even if Putin hadn't been thumbing his nose at LGBT activists for months. But at least Museveni clearly had Putin on his mind when he made the decision to sign the Anti-Homosexuality Bill.
A few days before signing the bill, Museveni went to an event commissioning a flight simulator for a fleet of Sukhoi fighter jets Uganda's military had purchased from Russia. "If you see someone who goes into other people's homes and starts giving instructions — do this, do that — you know there is something wrong with him," he said, apparently referring to U.S. President Barack Obama's call for him to block the bill. "The Russians work with us, they don't mix up their politics with our politics."
Russian activities even before passage of its "homosexual propaganda" law may have already been freeing up countries like Uganda from U.S. and European pressure. Russian trade with African nations has grown ten-fold over the past two decades, and it has also written off tens of billions of dollars of African debt. African countries have gained even greater resources from China, which had trade with the continent worth $200 billion in 2012 alone.
U.S. and European resources are no longer the only game in town, and these powers show even less concern about human rights in their financial diplomacy — a reality forcing western and international institutions to make decisions about LGBT rights that they have avoided previously.
Nations moving away from LGBT rights may have stronger allies than ever before at exactly the moment that American and European constituencies are more determined than ever to come to the defense of LGBT rights abroad.
This is a recipe for bitter fights not only in health care institutions like the UN, but in global health care organizations that fund HIV work and in the countless aid organizations working to fight poverty. And this is a fight that governments — not just activists — are ready to take to higher levels than ever before.