The Anti-Immigrant And Anti-LGBT Rhetoric That Helped Propel The Right Into The European Parliament
"We are a Negro conglomerate, [in] total chaos."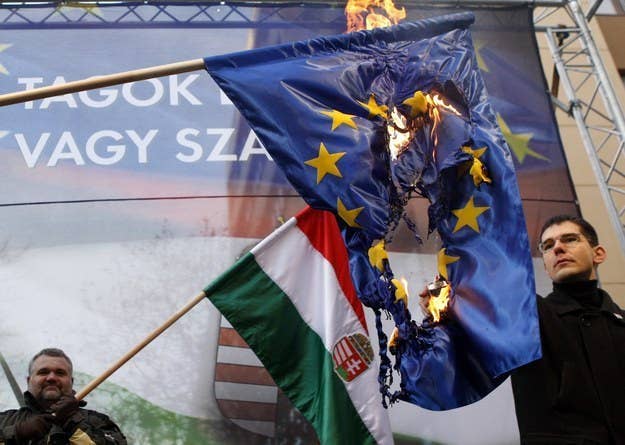 Many of the right-wing parties that won big in the European Union elections that concluded on Sunday ran heavily against immigrants and, in many places, LGBT rights. Some of these parties still hold only a small share of their countries' seats, but their numbers could be crucial if the right wants to form an official bloc within the European Parliament.
A joint report by the European branch of the International Gay and Lesbian Association and the European Network Against Racism catalogues 30 incidents of what the groups call "hate speech" from candidates during the election. Here are some highlights:
Hungary's Jobbik party released posters earlier this month in which Eurovision winner, Conchita Wurst, a character of drag performer Tom Neuwirth, is superimposed on an EU flag, facing off against a blond woman before a Hungarian flag. Emblazoned across both images were the words, "You choose!" Following a debate earlier this month, party spokesperson Dóra Dúró said that opposing "bearded women" was a way Jobbik supports a "family-based social construction and national traditional values."
Jobbik won 14.68 percent of the Hungarian vote.
An Austrian MEP said Europe is becoming a "Negro conglomerate."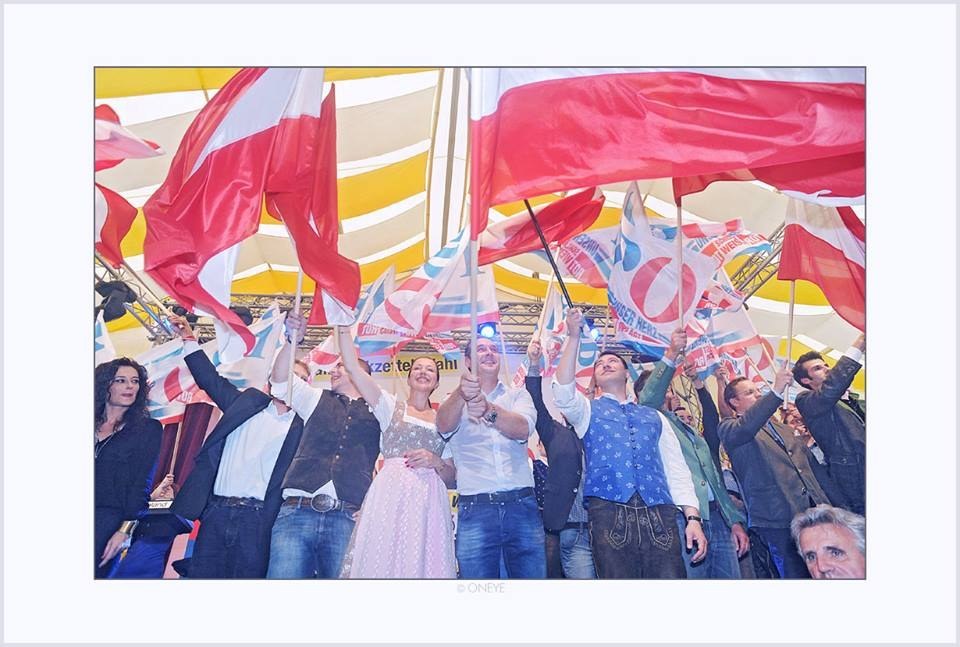 Andras Mölzer, a sitting Member of the European Parliament (MEP) with the Austrian Freedom Party, said that Europe's sliding work ethic was leading it to become a "Negro conglomerate" in "total chaos." At an event in February, Mölzer said:
Everyone is laughing at us Germans and Austrians. We are the only ones that are on time for an appointment. We are the only ones who are work at 9am and not 11am. And it's really true. It is a question of the workplace, the work ethic, that Europe is built from. Either we are a Negro conglomerate, [in] total chaos. I say this now even though it's brutally politically incorrect. That is where the chaos multiplies, where mass immigration, where institutional chaos, where tangled corporate interests [are].
Möler also compared the European Union to the Third Reich.
His party won 19.7 percent of the vote in Austria.
During an election night rally in The Hague, Geert Wilders, leader of the Party For Freedom, asked supporters, "What do you want in this city? More Moroccans, or less?" The crowd responded by chanting, "Less!"
"We'll fix it," Wilders replied.
The Party For Freedom won 13.2 percent of the vote.
A Latvian MEP suggested pride parades should be banned to prevent opening the door to "pedophile marches."
Alexander Mirsky of the Alternative Party endorsed a Russian-style ban on "homosexual propaganda" and suggested a gay pride march could be followed by a march of pedophiles.
"It is necessary to prohibit children under 14 from participating in sexual discussions, and also to prohibit the conduct of public demonstrations that propagandize unhealthy sexuality," Mirsky said in remarks reported in April. "Now homosexuals will hold gay parades, and then what — pedophiles will have their own marches?"
The Alternative Party won 4.5 percent of the vote.
An Italian MEP pledged to "stop Mosques."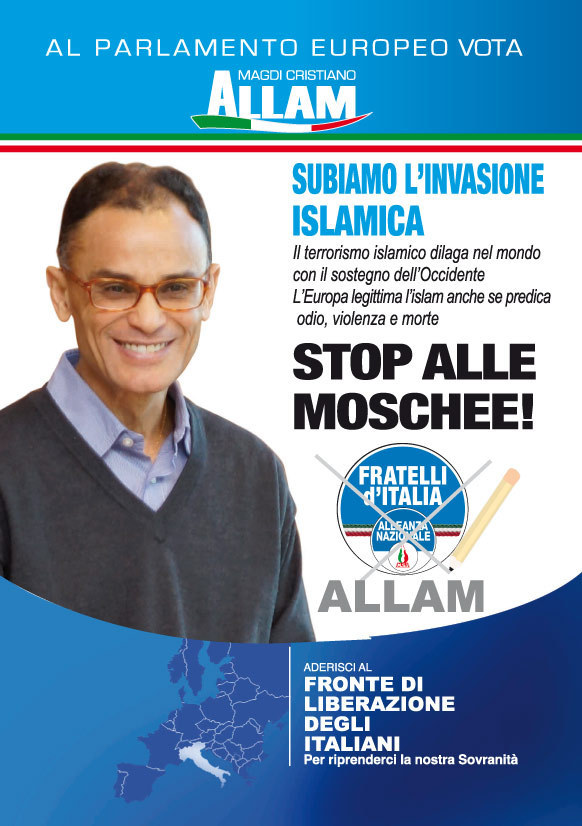 The Fratelli d'Italia's Magdi Cristiano Allam, who was born in Egypt and converted to Catholicism at the age of 55, pledge to "stop Mosques" in this campaign leaflet, decrying the "Islamic invasion." The leaflet also says, "Islam preaches hatred, violence, and death."
His party won 3.66 percent of the vote.
A Danish MEP called EU support for LGBT rights groups "sexual blackmail," saying, "How about we all leave one another's genitals alone?"
Danish People's Party MEP Morten Messerschmidt blasted EU funding for the European branch of the International Gay and Lesbian Association (ILGA-Europe) in an April Facebook post. Though he doesn't attack LGBT rights, he accuses activists of "using force" in newer EU member states to promote their cause.
The Danish People's Party won the largest share of the vote in Denmark, 26.6 percent.
Czech party recycles anti-immigrant poster developed by Nazi parties.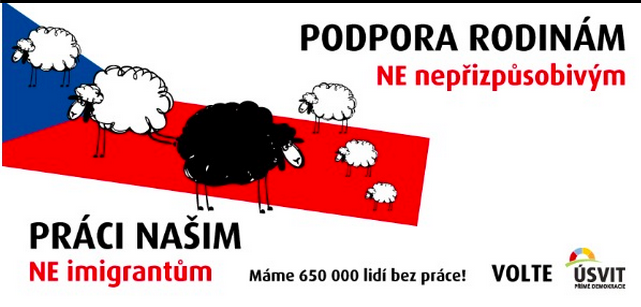 The Czech Republic's Úsvit Přímé Demokracie party, known as "The Dawn," developed campaign posters featuring a flock of white sheep kicking a black sheep off the country's flag. It features the mottos, "Jobs for us, not immigrants" and "Support families, not inadaptables." The outlet Romea.cz documents that similar imagery had been used by the Czech National Party and right-wing parties in Switzerland and Germany.
"WE DON'T WANT ANY INADAPTABLE IMMIGRANTS, INADAPTABLE MINORITIES OR RELIGIOUS FANATICS IN OUR COUNTRY," the party said on its Facebook page. "We are the only party in the Czech Republic advocating this and saying it upfront... We want to preserve the Bohemian, Moravian and Silesian character of our republic, which was built over the centuries by our predecessors. NO TO IMMIGRANTS AND INADAPTABLES."
The Dawn won 3.12 percent of the Czech vote.