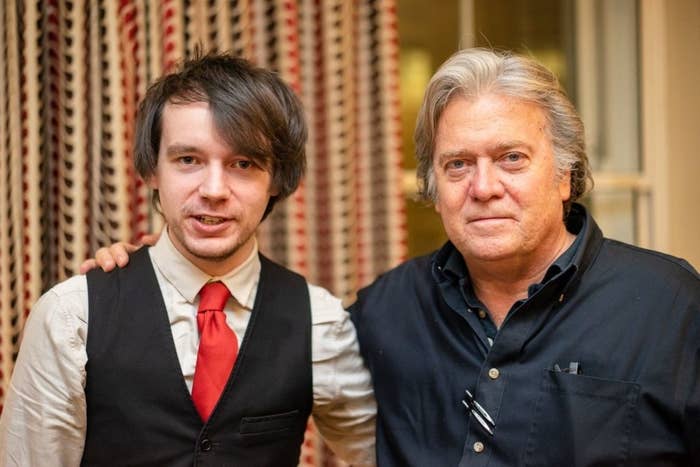 Steve Bannon was photographed in London on Wednesday with a white nationalist who was outed last year as the moderator of a private Facebook group that posted Nazi memes.
The British advocacy group Hope Not Hate obtained a photograph of Bannon with Michael Brooks, who was identified last year as a moderator of a Facebook group filled with anti-Semitic conspiracy theories, called the Young Right Society. In the group, which also had a Breitbart author as an administrator, Brooks suggested incorporating a swastika into the YRS banner image and posted about creating a "white identitarian, paramilitary association."
Brooks also once described himself as a "14 and an 88," using codes well known among white nationalists as shorthand for "Heil Hitler" (H is the eighth letter of the alphabet) and a slogan known as the 14 words.
Bannon has long said he believes racism and anti-Semitism get "washed out" of populist movements, though Breitbart is accused of courting support from white nationalists during his time running the site. He is now working to build a coalition of nationalist parties in Europe and reaching out to several leaders accused of human rights violations and xenophobic rhetoric, including Italian Deputy Prime Minister Matteo Salvini and Hungarian Prime Minister Viktor Orbán.
A spokesperson for Bannon confirmed that Brooks was at Bannon's hotel as a camera operator to film an interview between Bannon and a YouTuber named Carl Benjamin. Bannon agreed to be photographed with Brooks, the spokesperson said, but did not know who he was. Brooks did not respond to a request for comment.
Carl Benjamin is known as Sargon of Akkad, who first gained notoriety during Gamergate. He said in a statement to BuzzFeed News that he was "aware of [Brooks's] past as a racial identitarian" and has "spoken at length with him about the moral and philosophical failings of identity politics. He has renounced these beliefs, understanding that they were a dark part of his past that he would like to move beyond."
Benjamin continued, "When people fall into a bad place in their life they often find solace in beliefs like racial identity politics, and I believe it is up to us to pull them out of these pits of hate and help them get their lives back on track."
Benjamin describes himself as a "classical liberal" and "free speech activist," but an analysis by the Data Society found that Benjamin is one of the most important figures in an online network popularizing far-right ideas. He caused outrage in 2016 by tweeting "I wouldn't even rape you" at a British lawmaker who was denouncing threats of sexual violence online. In February 2018, he also said during a video chat, "Maybe you're just acting like a niggers, mate. Have you considered that? You think white people act like this? White people are meant to be polite and respectful to one another." Later, he added "don't expect me to have a debate with one of your faggots."
Benjamin confirmed using this language in an interview with BuzzFeed News but said it was not directed at black people and gay people. He also said "nigger" is not offensive in Britain like it is in the United States.
Bannon met Benjamin and Brooks just as he arrived in the UK on for an appearance at the Bloomberg Invest London forum on Wednesday. The former Trump advisor has been spending an increasing amount of time in Europe, where he is working to establish a network dubbed "The Movement" of nationalist parties across the continent. The project has won support from key leaders like Italy's deputy prime minister, but another early ally, France's Marine Le Pen, this week seemed to bristle at the suggestion that Bannon was leading efforts to bring right-wing parties together.