South African Court Sentences Man To 30 Years In Prison For Rape And Murder Of Black Lesbian
The brutal murder of Duduzile Zozo forced the South African government to get serious about an epidemic of violence targeting black lesbians.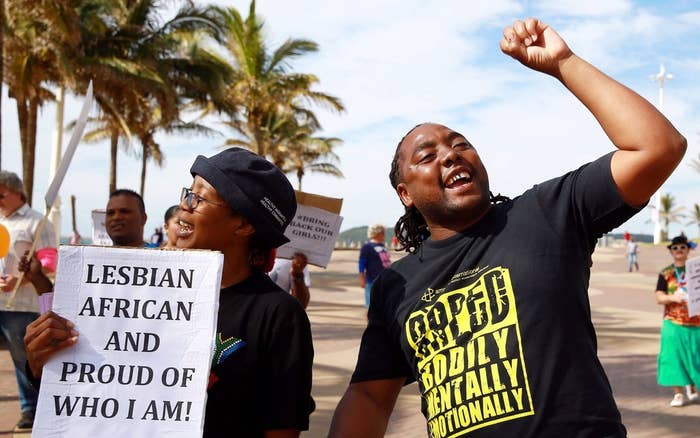 A South African court has sentenced Lekgoa Lesley Motleleng to 30 years for the rape and murder of Duduzile Zozo, a 26-year-old black lesbian from a township east of Johannesburg, according to representatives of the organization Forum for the Empowerment of Women (FEW) who were inside the courtroom.
Motleleng, a 22-year-old who lived near Zozo and even attended a vigil before her burial before being identified as the killer, reached a plea bargain with the prosecution on October 22.
Zozo was found half-naked with a toilet brush shoved up her vagina in June of 2013. The gruesome details of her death brought national attention to an epidemic of sexual assault targeting black lesbians in South Africa and the failure of the criminal justice system to respond to them. While there are no reliable statistics on how frequently black lesbians are targeted for so-called "corrective rape," a 2013 study found that almost one in three lesbian or bisexual women in South Africa reported being the victims of "forced sex." Those who survive these attacks are often too afraid to come forward, and police and courts have a history of not seriously investigating such crimes when they are reported.
Zozo's murder put pressure on the national government to mobilize a task force on the problem in 2011, but it was dormant until after Zozo's death. A 22-year sentence handed down five months after Zozo's murder to a man who raped and killed a black lesbian in 2010 also gave activists hope that the justice system was beginning to take these crimes more seriously.
Siphokazi Nombande, an advocacy officer with FEW — a black lesbian organization based in Johannesburg — who was in the courtroom for Motleleng's sentencing told BuzzFeed News that 30 years was still not enough for what he had done.
"I'm not totally happy about the sentence," Nombande said. "He deserved a life sentence. ... He killed an innocent woman that he knew was a lesbian."
But she said she was encouraged by remarks the judge made condemning "corrective rape."
She said the judge said that LGBTI people "just want to be left alone" and that "no one has the right to correct anyone." It was unusual to hear a judge acknowledge that anti-LGBTI bias was a motive in such cases, she said.
"Most cases that we've attended, it is rare that the judge mentions the fact that the person has been killed because the [attacker] was trying to 'correct' them in a way," Nombande said. "At least now they're getting to understand that it's not just any rape or murder case — there's an element of hate."