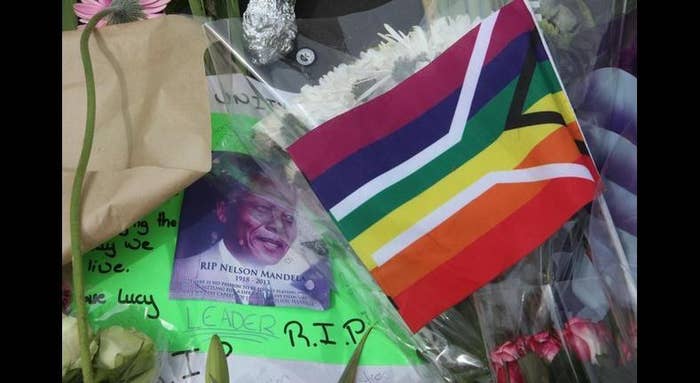 South Africa was once the essential nation to advancing LGBTI rights in international diplomacy. Now it has become a potential roadblock.
Back in 2011, South Africa sponsored a resolution before the United Nations Human Rights Council (HRC) that, for the first time, recognized LGBTI rights as human rights. Other nations, especially from Latin America, had been working to advance LGBTI rights in less high-profile ways for several years before, but South Africa's leadership was critical to taking the effort to the level of a formal resolution. Such a proposal had to have at least one prominent African backer, its supporters believed. Otherwise, it would play into the hands of LGBTI rights opponents in Africa and other parts of the world that had once been colonized who argue that homosexuality was a Western perversion brought by colonial powers.
An updated version of the resolution was tabled Thursday at a Human Rights Council meeting underway in Geneva. It was sponsored by Brazil, Colombia, Chile, and Uruguay. A vote is expected next week.
Not only is South Africa's name not on it, but some LGBTI rights supporters tell BuzzFeed News that South Africa's diplomats are behaving so strangely in negotiations that they worry the country could even turn against the resolution. A South African defection might not only help torpedo the proposal, it would also be a stunning symbolic reversal for a country that set the standard for protecting LGBTI rights. When South Africa adopted its first post-apartheid constitution in 1993, it became the world's first nation to protect LGBTI rights in its fundamental rights declaration. This came out of a commitment to fighting a broad range of oppression, and it commanded even greater moral authority because it was rooted in the experience of fighting white supremacy.
So some LGBTI rights supporters are looking at South Africa's reluctance to clearly support the new resolution as a fundamental betrayal.
"We currently have leadership that fails to represent the ethos of what the constitution says and the equality principles they have to uphold," said Mmapeseka Steve Letsike, a lesbian activist who chairs the South African National AIDS Council's Civil Society Forum. "We have leadership going out of this country putting their personal beliefs before its own people. We have leaders that fail to protect their own."
South Africa's pullback on LGBTI rights internationally comes as homophobia has become an increasingly common political tool across Africa, framed as a form of standing up to the West. Nigeria and Uganda both passed sweeping bills criminalizing LGBTI rights advocacy this winter, the governments of The Gambia and Chad both have pending proposals to stiffen laws against homosexuality, and LGBTI people are being targeted by police from Zimbabwe to Egypt to Senegal.
"Silence in the context of the African Bloc suggests a kind of complicity with the homophobic rhetoric," said Graeme Reid, a South African who directs Human Rights Watch's LGBT program. "It speaks of a kind of misplaced solidarity … not aligning with the [LGBTI] people who are the victims of human rights abuse, but with the perpetrators under the rhetoric of supporting our 'African brothers and sisters.'"
LGBTI rights supporters were also hopeful that some smaller African countries could be persuaded to abstain on the vote — a kind of soft yes — and one or two might even be convinced to back it. This could tip the balance if the vote is close. The 2011 resolution was a nail-biter, passing 23-19 with three abstentions. But that becomes very hard if South Africa can't counterbalance conservative continental heavyweights that might be lobbying the smaller countries.
"As soon as [South Africa] pulls back, it gives countries like Nigeria and Egypt room to bully and push the smaller countries," said an LGBTI rights advocate from another southern African country who asked to speak anonymously in order to avoid a backlash in negotiations. "We need South Africa to maintain the same position if not better" than in 2011.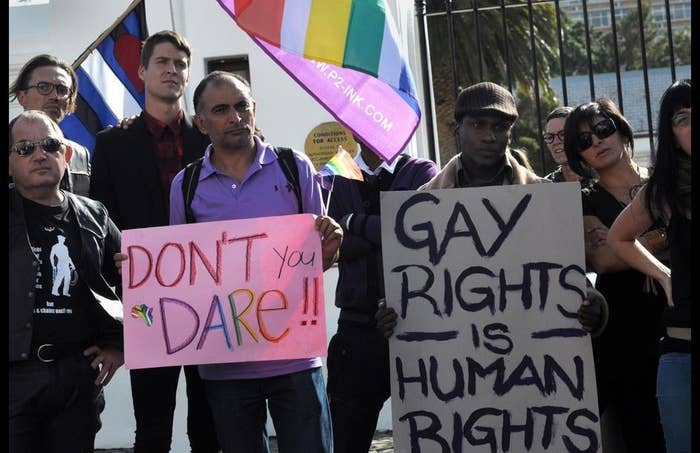 It's hard to see why this resolution is so important by reading the plain language — all it really does is order a bi-annual study of LGBTI rights by the United Nations High Commissioner for Human Rights. But there are only a few places where language referring to LGBTI rights exists in any international agreements. This small resolution is a way of giving U.N. staff authority to work on LGBTI issues and means that it will be a regular focus of discussion in Geneva. And it will be a precedent that can be used to broaden the inclusion of LGBTI rights in other human rights agreements.
Most LGBTI rights supporters came into the negotiations that began last week assuming that South Africa would be supportive even if it no longer wanted its name on the resolution. Regional coalitions are very important in the U.N., and other major powers within the Africa bloc, especially Nigeria and Egypt, have been at the forefront of pushing anti-LGBTI policies. South Africa had taken a lot of heat for the 2011 resolution, and many LGBTI supporters might have understood if officials chose not to take a public role in support this year.
But they've withheld their support even in private discussions, say sources familiar with the negotiations. The head of South Africa's Geneva delegation, Ambassador Abdul Samad Minty, took the unusual step of coming personally to an informal meeting on Wednesday, something usually left to staff. But he said virtually nothing in the meeting, said a source in the room, which showed other nations that South Africa isn't about to go to bat for the proposal.
This posture follows a move by South Africa's ruling African National Congress party to block a parliamentary motion to condemn anti-LGBTI legislation enacted by Uganda in February (which has since been struck down by the court). It also comes after a vote by South Africa during the June HRC session that stunned LGBTI rights supporters: South Africa joined with conservative nations on a procedural vote to exclude a sentence stating "various forms of the family exist" in an Egyptian-led resolution on the "Protection of the Family." The resolution passed without this language, and LGBTI rights supporters were concerned that the language could be used as precedent for excluding families from protections under international law if they are not led by a heterosexual couple.
"In the room they're being a little bit weird," said a diplomat from a Western country working on the resolution, referring to South Africa's behavior in the negotiations. But this isn't entirely new. "They've been behaving weird for two or three years on this," the diplomat said.
The diplomat attributed that more to a change in personnel than an intentional shift in policy: Jerry Matjila, who was South Africa's ambassador to the Human Rights Council when work began on the 2011 resolution, has since returned to Pretoria to take a senior post in the Department of International Relations and Co-operation. His replacement, Ambassador Minty, lacks his personal commitment to the issue, say sources who have worked with the delegation.
South Africa's Geneva mission and the Department of International Relations and Co-operation in Pretoria did not respond to requests for comment.
But some South African activists see this dilution of South Africa's commitment to LGBTI rights internationally as part of a larger trend in the country's leadership. The late Nelson Mandela and other leaders of the African National Congress embraced LGBTI rights as part of a commitment to fighting a broad range of oppression as they brought South Africa out of apartheid — Matjila is seen as part of that school. But that commitment is not as strong among the younger generation of leaders, most notably President Jacob Zuma, who called same-sex marriage "a disgrace to the nation and to God" around the time the unions won legal recognition in the country.
The shift doesn't mean South Africa has done a 180 on LGBTI rights. Rather, it's led to a kind of schizophrenia that is frustrating to LGBTI rights supporters. The lack of support for this resolution is all the more confusing because it comes at a time that there is a new commitment from the government to fighting anti-LGBTI hate crimes inside the country, spurred by a series of horrific rapes and murders of black lesbians.
"Domestically, there is a sense of a real commitment and energy and political will," said Human Rights Watch's Graeme Reid. But the international stance is incoherent — the Latin Americans only introduced the resolution at the last minute because South Africa wouldn't let go of its ownership of the issue until just before the Human Rights Council session began earlier this month.
"There is an air of uncertainty about their position because they have been dragging their feet on this for the last three years, not moving on the resolution and not dropping it," Reid said.
The resolution's supporters are optimistic that they will have the votes to pass the resolution if it gets an up or down vote next week, and no one who spoke to BuzzFeed News for this story said they thought it was possible that South Africa would vote against the resolution on the final vote. It could abstain on a final vote, a possibility that some of the resolution's supporters fear is more likely as the negotiations wear on. Or it could vote for a procedural motion that would kill the resolution by denying an up or down vote — exactly what it did to keep the inclusive language out of the Protection of the Family resolution in June.
"It would be unacceptable, incomprehensible, and almost unconscionable for a relatively new democracy like South Africa to support shutting down debate at the UN's human rights body [to affirm a principle] that's in its own constitution," said Marianne Møllman, program director of the International Gay and Lesbian Human Rights Commission, in an interview from Geneva.
Here's the draft resolution: