Russian-Style "Gay Propaganda" Law Introduced In Kyrgyzstan
If passed, the law would impose a sentence of up to one year in jail.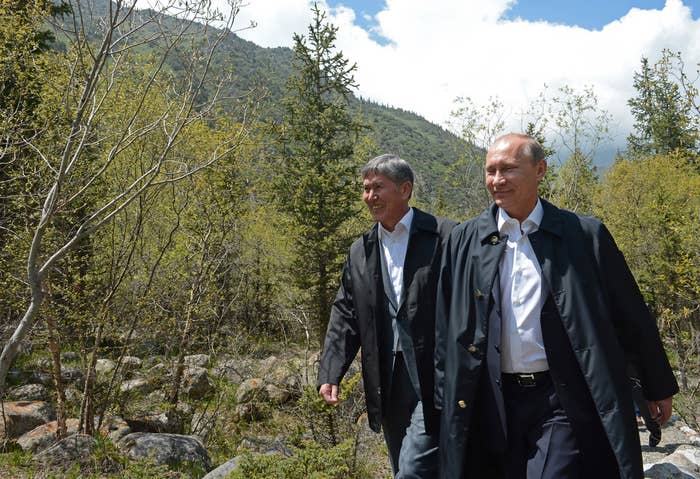 A bill that would make it a crime to establish "a positive attitude towards non-traditional sexual relationships" has been introduced in the ex-Soviet country of Kyrgyzstan.
The legislation, introduced to parliament on Wednesday, goes beyond Russia's "homosexual propaganda" law, which prohibits "promoting non-traditional sexual relationships for minors" and is punishable by a fine. The Kyrgyz bill would make any statement that could create "a positive attitude to unconventional sexual orientation" a crime punishable by a jail sentence of up to one year for found guilty of doing so through the internet, telecommunications, or the media.
"The goal of this bill is the safety and protection of the traditional family, and the human, moral and historical values of Kyrgyz society, by limiting the spread of information comprising the formation of positive attitudes to nontraditional forms of sexual relations," the bill reads.
The bill seeks to limit "the spread of media, photos, video, written materials that include open and hidden calls to nontraditional sexual relations (homosexuality, lesbianism and other forms of nontraditional sexual behavior." It also seeks to restrict "the organization of and participation in peaceful gatherings that aim to make available to society any information regarding positions on any form of nontraditional sexual relations."
A memo justifying the bill claims that countries like the UK, Russia, Moldova, Ukraine, Lithuania, Latvia, and eight states in the U.S. have imposed similar restrictions. The U.S. laws referred to are presumably the laws in eight states restricting teaching about homosexuality in schools. The United Kingdom repealed its ban on teaching about homosexuality in 2003, and Moldova repealed its homosexual propaganda law in July under pressure from the European Union, one month after having enacted it. A bill is pending in Ukraine, but it has not yet been enacted.
According to Anna Kirey of Human Rights Watch, a 30-day comment period has begun now that the bill has been published online, after which it can be taken up by parliament.