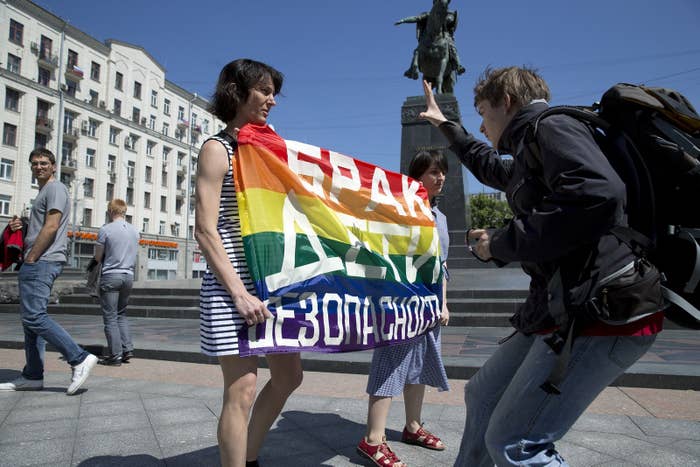 Russia's parliament is poised to take up a bill next week that LGBT advocates say is the most significant anti-LGBT legislation it has considered since passage of the so-called gay propaganda law, which was adopted in 2013.
The bill, introduced in October by two members of the opposition Communist Party, is being described as banning gays and lesbians for coming out. The text as it stands would penalize "the public expression of nontraditional sexual relations, manifested in a public demonstration of personal perverted sexual preferences in public places." This would be punishable by a maximum fine equivalent to around $65 and, if the infraction happened in schools or a "cultural institution," detention of up to 15 days.
Other anti-LGBT laws have been proposed by Russian lawmakers, but this would be the first the parliament will formally take up if it the bill actually gets a first reading in the Duma's lower house — it's currently scheduled for Jan. 22. LGBT rights supporters in the country were hoping this would disappear from the agenda, like an earlier proposal that would have stripped gays and lesbians of all parental rights, but they are growing nervous now it has been put on the Duma's official schedule.
"When this draft bill was initiated, it was so incredibly absurd that we were hoping it was going to be one of those initiatives that didn't get any attention," Polina Andrianova of the St. Petersburg LGBT rights organization Coming Out told BuzzFeed News in a phone interview. "But the fact that it's scheduled for the first reading is a pretty bad sign."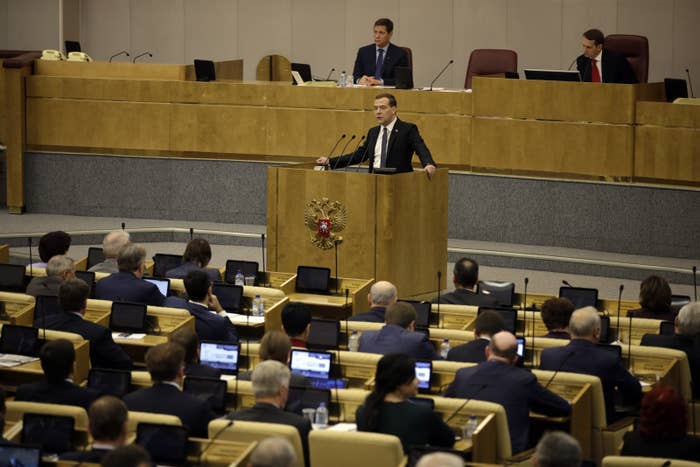 Ivan Nikitchuk, one of the lawmakers who sponsored the law, said in an interview with the Russian outlet Meduza published on Thursday that he drafted the proposal to stop "sick and crazy people" from "displaying their demonic desires which the West has forced on us."
The preamble to the proposal includes a rebuttal of 2011 speech Hillary Clinton gave at the United Nations declaring "gay rights are human rights," which Nikitchuk said he included because "human rights aren't everything!"
"This is getting to be absurd," he told Meduza. "There are people who like to piss on the street in public. Let's go ahead and defend their rights! We've reached the point of absurdity, when it comes to talking about human rights. This is especially true in the West. Just look at what's happening in Cologne!" — an apparent reference to allegations of widespread sexual assault by immigrants that took place in the German city on New Year's Eve.
"And all these bearded men kissing is nothing but nauseating," he said, later asking the interviewer with Meduza, "Are you a normal, decent person? Do you start pitching a tent in your pants every time you see another man? So you can shove it into the guy's backside? That kind of thing is okay by you?"
Human Rights Watch's Russia Researcher Tanya Cooper said the fact that the proposal is prompting a new outpouring of this kind of anti-LGBT rhetoric from lawmakers could ultimately do greater harm than the bill itself if it is passed.
"What concerns me even more is the bill's authors hate comments in the media," Cooper wrote in an email to BuzzFeed News. "Russians don't need this law to be passed ... to start (or continue) attacking LGBT people on the street, firing them from work, discriminating in other areas of life."
Supporters of LGBT rights in Russia say it's not clear what practical impact this law would even have if passed — laws are often randomly enforced in Russia and charges are often brought under provisions that seem only loosely connected to the letter of the law. The "gay propaganda law" technically prohibits the "promotion of non-traditional sexual relationships to minors", but can be invoked to cover a broad range of official harassment of LGBT people.
Coming Out's Andrianova said LGBT advocates are generally keeping a low-profile until they see if the law passes the first reading, though they are circulating a Change.org petition against the law. They worry that more visible protests against the proposal would actually make it more likely to gain traction. If it passes, she said, "it will probably create a second wave" of harassment of LGBT people, following the one that followed passage of the "gay propaganda" law.
"This will give more of a green light to people who are willing to discriminate [and] to beat people up," she said.