Russian Orthodox Church Spokesman Endorses Referendum To Recriminalize Homosexuality
"I'm certain that such sexual contacts must be entirely excluded from the life of our society ... If we need to involve the law then let's ask the people if they're ready for this," a priest who acts as the church's spokesman said on Friday.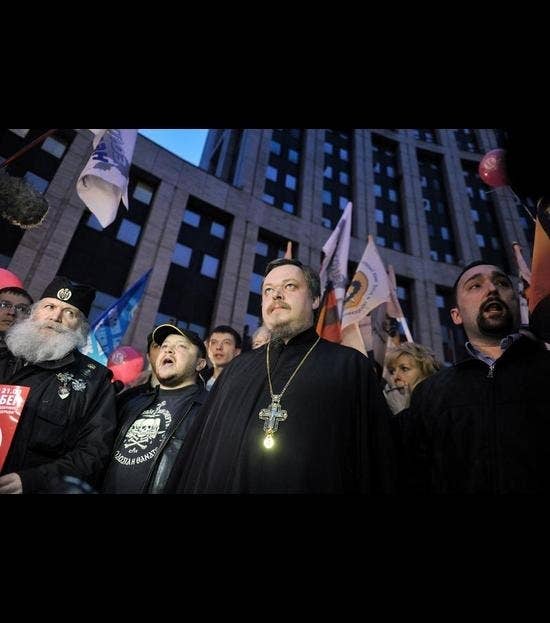 A top priest who acts as a spokesman for the Russian Orthodox Church has endorsed a proposal for a referendum recriminalizing homosexuality in Russia, which was first proposed by a popular Russian actor earlier this week.
"In various societies at various times same-sex sexual relations were approached differently, but the most widespread was relating to them as a crime," said Vsevolod Chaplin, who heads the church's department on engagement with society, in an interview with the Interfax news agency Friday. "I'm certain that such sexual contacts must be entirely excluded from the life of our society. If this can be achieved through means of moral persuasion, that's better. If we need to involve the law then let's ask the people if they're ready for this."
Chaplin gave the church's stamp of approval to an idea first proposed by actor and defrocked priest Ivan Okhlobystin, who became a face of Russia's anti-gay crackdown after he called for burning all LGBT people "alive in ovens" last month.
In an open letter to President Vladimir Putin posted to Twitlonger on Tuesday, Okhlobystin proposed a referendum to restore Russia's Soviet-era sodomy law. Thousands of gay men were imprisoned under the provision, known as Article 121.
Allowing homosexuality to remain legal, Okhlobystin wrote, "threatens to give sodomites the status of a 'social group' … and hence a chance to defile the oncoming generation under the constitution."
Twitlonger quickly removed the letter as a violation of its terms of service. Okhlobystin later posted,
If you continue to gloss over and overlook this problem, in a very short time a spiritual catastrophe awaits Russia and as a consequence — social and political chaos. Some questions have only one correct answer, all the rest is a lie. Let's be honest to ourselves and God — sodomy, in all its guises, is Satanism and violates God's laws. And there is no excuse for sodomites and their insane minions. And there is no other freedom but freedom from sin!
Though the Kremlin was initially cool to the idea, the call for a referendum was picked up by other leaders of the campaign to curtail the rights of LGBT people, including the sponsor of St. Petersburg's ban on "homosexual propaganda" that became the model for the national law passed by Russia's parliament last June.
Okhlobystin is a celebrity spokesperson for Russia's largest mobile phone retailer, Euroset. LGBT activists have been calling for the company to cut ties with the actor since his December comments. Apple Inc., which sells iPhones through Euroset, also got caught up in the controversy earlier this week when a group of 19 LGBT organizations petitioned the company to end its partnership with the company because it has refused to fire Okhlobystin.
Euroset Director Alexander Malis defended Okhlobystin again on Thursday in a statement on Twitlonger.
We don't think either good or about about gays. Because we do not think of people from the point of view of their sexual orientation. For us, all people are equal. We are not going to fire Ivan Okhlobystin. As long as he expresses his own point of view and is not calling for violent actions, whether we agree with it or not, we are willing to take risks, because we believe that he has every right to express his point of view. As Evelyn Hall paraphrased the words of Voltaire, "I don't agree with a single word you are saying, but I'm ready to die for your right to say it."
Malis also attempted to demonstrate that his company does not necessarily endorse Okhlobystin's comments during a television interview by saying, "If I would shout that I'm against gays, our sales in Russia would likely soar. But I won't do that."
Apple has not responded to repeated requests for comment on the letter calling for it to break with Euroset.