Russian LGBT Activists Prepare For New Wave Of Violence Following Brutal Attack
Sunday's attack on a social gathering at an HIV organization has bred a new fear among activists in Russia, who say they believe it is the first pre-planned assault on a private event.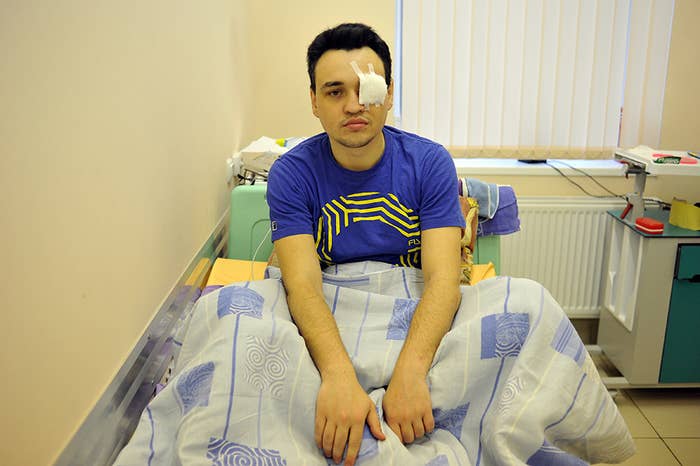 Russian LGBT rights groups have begun discussing new security measures following a brutal attack on a private event at an HIV organization that many fear indicates a new level of violence has begun to strike the country's embattled LGBT community.
"This was the first attack on an event that was NOT a street demonstration, and was not widely publicised as a public event," Polina Andrianova of the St. Petersburg organization Coming Out said in an email. "Attacking a closed event for the LGBT community is the beginning of pogroms of LGBT people."
The nervous strategizing comes in the wake of an attack on Sunday that left two people injured, with one, Dmitry Chyzhevsky, in danger of losing his sight in one eye, after two masked men carrying baseball bats and pneumatic pistols disrupted a private event hosted by Lasky, a St Petersburg HIV testing and counseling group.
"I do believe this is the first of a series of planned attacks, with the aim of silencing the LGBT community and putting a stop to LGBT activism," said Adrianova. She said Coming Out's psychological support group had had three suspicious visitors last week, one of whom set off a fire cracker at the end of the session. Soon after, someone scrawled "faggot" on the center's door.
Smirnova said anti-gay organizations were also posting pictures of and personal information about LGBT activists on their social networking pages, making them easy targets for another attack. "I've never been afraid [before], but now I've started noticing that I do not feel safe," she said.
Adrianova said that Coming Out, like other LGBT organizations, was now discussing upgrading security measures, including installing video cameras, an intercom system, and a panic button. They also plan to start offering self-defense training for activists.
"Now it is even more important for us to continue to work, to contribute to movement building, and to support the LGBT community. We cannot become afraid and hide," Adrianova said. "In fact, I believe this kind violence will only contribute to unity and resistance on the part of LGBT community, human rights community, and civil society."
Anti-gay violence has long been a fact of life in Russia, but it was mainly been confined to assaults during street protests or entrapment of individuals by hate groups.
Sunday's attack appeared to be the first time LGBT rights activists could someone seeking out a private social event to carry out an attack.
Chyzhevsky, who was shot in the eye and eventually operated on as doctors fight to save his eyesight, told Slon, a respected Russian website, in an interview published on Tuesday how the masked men burst into a "Rainbow Tea Social" at the Lasky offices this weekend just as the group was discussing the March Against Hatred, a rally supporting for rights of many minorities that had taken place the day before. The two men entered the office waiting room with their faces partially covered, Chyzhevsky said. He felt a blow to the eye and was struck on the back of the leg before finding cover. He then heard the men yell: "Where did the faggot go?"
Following surgery, doctors were able to save his eye, but he will likely not be able to see again, he told Slon.
Another person at the meeting, Anya Prutskova, apparently rushed the attackers and was injured before the men ran out. Activists with the Russian LGBT Network, a local NGO, reported that she was struck on the back with a baseball bat and seriously bruised.
Anastasia Smirnova, spokesperson for a working group of six Russian LGBT organizations, said that when police arrived on the scene they said there was no evidence of a crime. But since Chyzhevsky ended up in the hospital and several witnesses went to the police station to file reports, they were ultimately forced to open an investigation.
Police are now investigating the attack as a case of "hooliganism," rather than a pre-meditated hate crime. Even though Russian law does not specifically prohibit hate crimes targeting LGBT people, higher penalties can be sought for crimes targeting specific "social groups." But police and prosecutors have consistently opted to classify attacks as hooliganism, Smirnova said.
She echoed other activists' concerns that the attack may have been the start of a broader campaign of LGBT violence, with several groups reporting unfamiliar people showing up at events and behaving peculiarly — something that could indicate possible scouting missions after Sunday's assault.
Posts by anti-LGBT groups on social networks might also hint that these attacks were foreshadowed before they occurred. A post on the social network VKontakte page belonging to a group called "Wolf-Homophobe" carried an eerie warning on the morning of the attack: "We'll discuss a second piece of news about St Petersburg this evening, we ask St Petersburgers to pay attention and be ready to spread this information." It was unclear, however, what exactly the post was referring to.
From his hospital bed, Chyzhevsky told Slon that his injury has steeled his resolve to fight on.
"I understand that if I run away, other people will understand that I got scared and that means that things are really scary and bad," he said. "Yes, everything is serious, but that's why I say: people, wake up, we need to go to organizations and ask how to help."