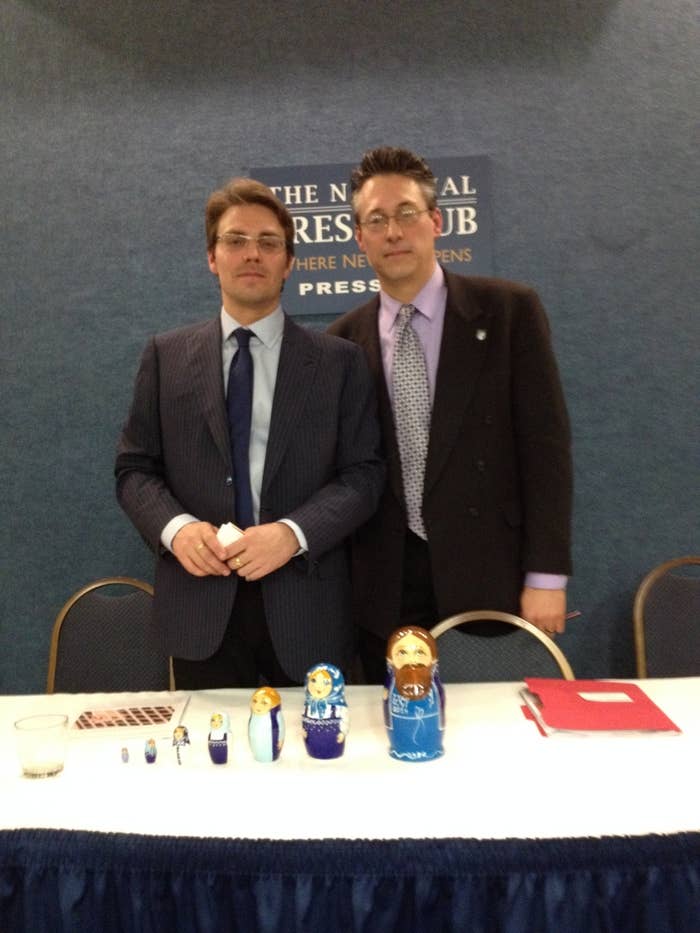 WASHINGTON — The Western media is generating "hysteria" about Russia's law against "homosexual propaganda" in the run-up to the Olympics, said leaders of the World Congress of Families during a Wednesday press conference to tout a global summit of social conservatives being organized in Moscow in September.
For 20 years, the World Congress of Families has helped connect opponents of abortion and LGBT rights in biannual conferences. The September event will be held in the Kremlin and is being funded partly by Vladimir Yakunin, who heads the state-run Russian railroads and is a close ally of President Vladimir Putin and major backer of the Russian Orthodox Church.
Alexey Komov, who is responsible for international relations for the Russian Orthodox Church's Commission on the Family and Motherhood and the World Congress of Families' representative in Russia, was the special guest at the press conference held Wednesday at the National Press Club in Washington. Defending Russia's law against "promoting non-traditional relationships to minors," Komov suggested the United States was the nation heading toward totalitarianism while Russia sought to protect the family and economic liberty.
"Russia is becoming more and more pro-family, conservative, pro-capitalist Christian nation, and America and Obama is [sic] moving in the opposite direction," he said. "That's why we don't want Russian children to be subject to this new ideology [of LGBT rights], which is emerging with some trends to become totalitarian ideology going forward."
He asserted that the Western press has fabricated incidents of violence of LGBT people to smear Russia's reputation.
"I will say that there's no direct correlation in increased level of violence after those laws were passed," he said. "This is more hysteria by liberal media; they are making up the cases."
It is hypocritical for the West to raise objections about civil liberties or corruption in Russia, he asserted, pointing to examples of what he claimed were the West's own anti-democratic track record. Human rights violations "don't happen [in Russia] on a larger scale than in the Western Europe and the United States," he said:
In Guantanamo Bay in Cuba there is a base with many political prisoners; there is political correctness in Western countries and people go to jail more and more for stating, for example, their biblical views. You cannot quote Bible in Canada anymore where it says that homosexuality is a sin … If you repeat those passages from the Bible you can go to jail, and this is happening more and more in the United States as well... If you look at how [President] Kennedy was killed, there were I think 200 witnesses who were killed — this movie is telling you, with Kevin Costner, it's like the military-industrial complex killed JFK... Who killed them? Who did 9/11?
He also suggested the protests against Ukrainian President Viktor Yanukovych for his decision to walk away from closer ties to the European Union "is a special operation being financed by Western powers that want to start a revolution and get riots in the streets" to overthrow a democratically elected leader.
The push for LGBT rights is a Trojan horse "to advance a radical social revolution and impose it on society," he said, denouncing what he said was an effort to to turn the Olympics into "a gay pride parade."
"If we want the Olympics to be [about] sports and health, we know that homosexual lifestyles are not healthy," he said. "By 10 or 20 times — there are different statistics — homosexual people die more often and suffer from depression or suicide or substance abuse, so this is just not the healthiest lifestyle."
But, he added, "We're not hating anyone — we love everyone, actually."
The U.S. participants in the panel — World Conference of Families Vice President Larry Jacobs, Catholic Families and Human Rights Institute President Austin Ruse, and Concerned Women for America Senior Fellow Janice Shaw Crouch — echoed Komov's sentiment that reports of human rights violations were overblown and expressed their hope that Russia would lead the world toward standing more strongly for family values.
"I'm struck by the number of bloggers, the number of dissidents, that haven't been arrested" in Russia, said Jacobs, alluding to homeschooling activists who criticize government restrictions on homeschooling.
"I hope that the United States will learn some lessons, quite frankly, from Russia," said Crouch. An even more important competition than the Olympics, she said, is "Who's going to prevail in terms of culture? Who's going to prevail in terms of life, in terms of marriage, in terms of the family?"
"They are doing some things that are very right [in Russia]," said Ruse, including passing the homosexual propaganda law. "There is no right, there is no human right, to tell the gay narrative to school children."
CORRECTION: Vladimir Yakunin does not own the rail system in Russia; he is its president, but it is owned by the Russian state.