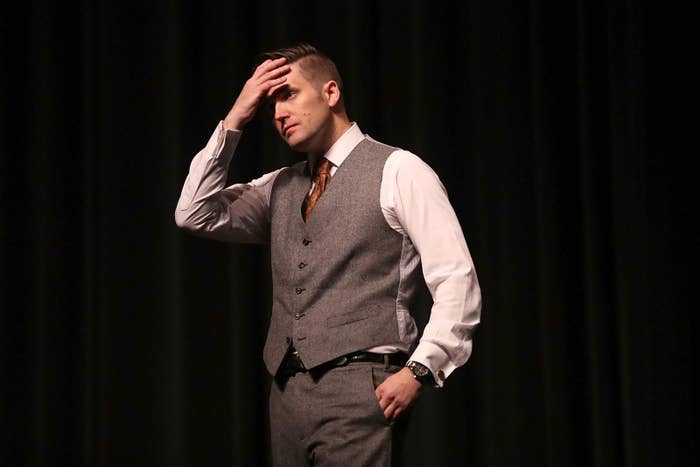 White nationalist Richard Spencer announced Monday that he was canceling visits to Sweden and Poland in November, fearing he might be denied entry at the border and banned from the 26-country common immigration area known as the Schengen Zone.
"I don't think right now is the best time to risk another Schengen ban for me," Spencer told BuzzFeed News. Spencer was kicked out of another Schengen country, Hungary, when he tried to participate in a conference there in 2014.
The Polish foreign ministry formally protested Spencer's plan to attend a conference of nationalists on Nov. 10 that also includes people affiliated with the Ukranian political party affiliated with the Azov Battalion, which has neo-Nazi ties.
On Friday, the Polish foreign ministry said Spencer's views are "in conflict with the legal order of the Republic of Poland."
Richard Spencer, who helped popularize the term alt-right, was one of the most visible alt-right activists during the white nationalist protests in Charlottesville in August, during which participants chanted an old Nazi slogan, "Blood and Soil," and "Jews will not replace us." Several universities in the US have since prevented Spencer from speaking on their campuses, and student protesters drowned him out when he attempted to give a speech at the University of Florida on Sept. 19.
The Polish foreign ministry had not announced that Spencer would be denied entry into the country, but Spencer told BuzzFeed News, "That's what they were threatening."
Spencer also canceled an appearance on Nov. 4 at a conference in Sweden called Identitarian Ideas, organized by a partner organization of his AltRight.com site, Arktos Publishing. Spencer said Arktos's CEO, Daniel Friberg had been facing pressure in Sweden and he was worried he might face problems at the border if he tried to fly into the country.
"Daniel was hearing similar things from the Swedish government as in Poland," Spencer said.
Friberg confirmed Spencer's account to BuzzFeed News. In a statement posted on Arktos's website, he said the group was also canceling the conference because of "a wide-spread campaign to prevent us from hiring venues in the Stockholm area."
"The fact that our opponents fear what we have to say that they stoop to threats of travel bans and extensive sabotage to prevent peaceful conferences is a testament to the power of our message and proves that the alt-right are indeed the only true opposition to the globalist agenda," the statement said.

"I'll be back, but just not right this moment," Spencer said. "There are ways that we can do things that don't create this kind of dispute. ... Daniel and I actually have a plan, but we just need a bit of time."