This Priest Came Out As Gay Because His Country Is Voting On Marriage Equality
"There is a battle going on within the Irish Catholic Church at the moment." J. Lester Feder reports from Dublin on how a referendum on marriage equality exposes the depth of the divide within the Catholic Church.
DUBLIN — Father Martin Dolan faced a difficult decision. With Ireland's referendum on marriage equality looming, he could either go along with his bishops' official opposition to it, or he could be honest with his Dublin congregation.
He made his choice during a Saturday evening mass in January. Not only did he urge his congregation to vote Yes on May 22, he also took the opportunity to come out as gay.
The worshipers greeted the revelation with a standing ovation.
Dolan is one of at least 10 members of Catholic orders who have publicly endorsed marriage equality. They have been willing to defy their bishops, suggest progressive priests, because they see the referendum as just the latest skirmish in a long-running war. As church attendance has plummeted, progressives argue they are trying to save the church from the wounds inflicted by a moribund and authoritarian leadership.
"There is a battle going on within the Irish Catholic Church at the moment," said Father Iggy O'Donovan, a priest from Limerick who called for a Yes vote in a letter to the Irish Times in March. "There's a group of us, we try to still hold on to the belief that Catholicism is compatible with modernity … [while] the church is dying at [the bishops'] feet," he said in an interview with BuzzFeed News.
Progressive factions across the Catholic world have been emboldened by Pope Francis to confront the conservatives who dominated under Popes Benedict and John Paul II. The church has a particular interest in overhauling itself in countries like Ireland, where weekly attendance fell from around 86% in 1990 to less than 40% in 2012. That decline was largely due to revelations of widespread child sexual abuse, which coincided with economic changes that took more and more Irish people to more secular European countries for work.
With popular support for the referendum consistently showing overwhelming support in opinion polls, many Irish bishops appear worried that a misstep on the referendum could further marginalize the church. Indeed, their initial public statements were so muted it seemed they simply wanted to get through the campaign unscathed.
But the bishops have never wavered in their opposition to same-sex marriage, making it hard to maintain a conciliatory tone in an environment where LGBT rights supporters have successfully framed the referendum as the ultimate test of equality. And Pope Francis hasn't provided a clear answer to this conundrum; while he has tried to moderate the church's language on homosexuality and even raised the possibility that civil unions could be acceptable to the church, he has always firmly opposed full marriage rights for same-sex couples as well.
And so, for the global church, there is more at stake than the outcome of the vote itself — Ireland is the clearest test case yet of the strength of the progressive movement under Francis.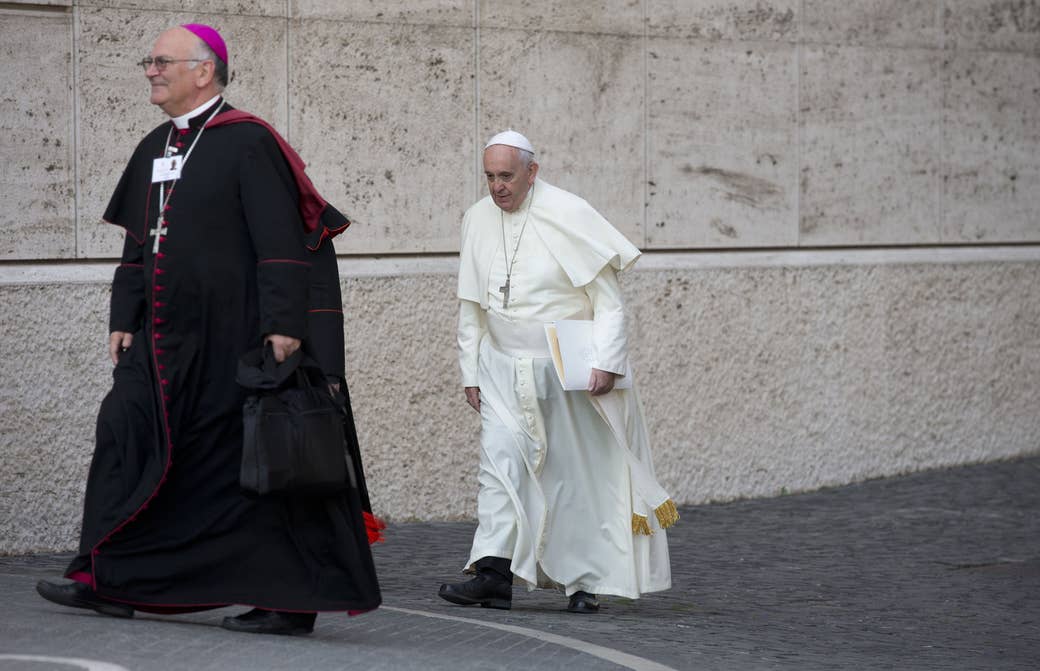 In a sign of how deep this disagreement may run within the Irish church, it is possible that hundreds of Irish priests could vote Yes on Friday, based on the internal discussion of the left-leaning Association of Catholic Priests. The group was formed in 2010 out of frustration with the bishops' handling of child sex abuse allegations, and now has 1,070 members — around one-third of the country's priests, according to one of its organizers, Father Brendan Hoban.

When the Association asked its members what position to take on the referendum, Hoban told BuzzFeed News, the group "split down the middle," so it decided to take no public stand. The group's founder, Tony Flannery — a priest who was suspended by the Vatican in 2012 for challenging the church's historical legitimacy and advocating positions like the ordination of women — told BuzzFeed News he thought around 25% of the country's clergy might yet cast a Yes vote.
Opponents of the marriage equality referendum disagree with the way some of its advocates have framed the debate as a question of whether Ireland is a modern secular country or still beholden to a backward-looking church. Opponents — even the bishops — maintain that their arguments against the referendum aren't based in religion at all but rather they are making a secular case warning that marriage equality will cause harm to society. Their primary case against it is that treating heterosexual and homosexual couples the same would harm children, who, they claim, would no longer be legally entitled to grow up with both a mother and a father.
"If this is framed as Catholic Ireland versus modern Ireland, it's the wrong way to frame it," said David Quinn, head of the Iona Institute, a conservative Catholic think tank in Dublin and a driving force behind the No campaign. "The arguments for and against are ultimately secular, not religious."
But, Quinn told BuzzFeed News, there was "no question" that the push for same-sex marriage rights was part of a "secular reaction against the years of Catholic dominance in Ireland."
In this environment, Ireland's bishops have been so cautious in their opposition that their major statement against the referendum at the start of the campaign didn't even call for voters to cast No ballots. The closest thing to a battle cry offered by a resolution released in March was this: "We say to all voters: Marriage is important — reflect before you change it."
A March speech by Archbishop Diarmuid Martin showed how some of the bishops are looking to apply the model offered by Pope Francis.
"There is a radical difference between marriage between a man and a woman and the union of two people of the same sex. But we must also welcome people as they are," he said at a talk hosted by the Iona Institute. He also chastised those who have spoken against the referendum in language that is "not just intemperate but obnoxious, insulting, and unchristian in regard to gay and lesbian people."
But this tone has won the bishops a different kind of backlash — the editor of a Catholic newspaper later suggested Martin would "have to accept some responsibility" if the referendum passes because there hasn't been "a clear campaign by the hierarchy" against it. And Martin even faced hecklers during his speech who questioned whether he actually opposed the referendum at all.
The bishops now seem to have grown concerned about such criticism from the right — or, with opinion polls still showing a firm lead for Yes despite a tightening race in the campaign's final week, their caution has been overtaken by a concern the referendum will pass.

Archbishop Diarmuid Martin began a speech on May 6 saying, "I think I should begin by saying that I intend to vote No in the upcoming referendum on marriage," a disclosure he said was a response to the suggestion that he had "given constant solace to the Yes campaign."
That was part of a broader shift to more active opposition from the bishops. On May 1, archbishop of Armagh Eamon Martin issued a statement urging people to "speak up courageously for the union of a man and a woman in marriage." Over the following weekends, bishops circulated further statements opposing the referendum throughout Ireland, though many hewed closely to the argument that urged people to "think before you change" marriage.
"In a sense, the church has placed itself in a no-win situation"
"In a sense, the church has placed itself in a no-win situation," said Father Brendan Hoban of the Association of Catholic Priests. "If the Yes vote wins it'll be seen as a defeat for the church; if the 'no' vote wins there will be more anger heaped on the church as being responsible for its defeat."
The clergy publicly supporting the Yes side have given a range of reasons for their vote. In his March letter to the Irish Times, Father Iggy O'Donovan argued that the church members should vote Yes in the name of pluralism in a secular state. Some, like the well-known activist nun Sister Stanislaus Kennedy, seem ready to question church teaching on homosexuality more fundamentally.
"I am going to vote Yes in recognition of the gay community as full members of society," she told the Irish Times last week. "They should have an entitlement to marry. It is a civil right and a human right."
Perhaps as extraordinary as these statements from members of Catholic orders is the fact that the bishops don't appear to be disciplining them — or at least not yet.
The hierarchy has in the past taken steps to silence internal critics; Father O'Donovan, for example, was sent to Limerick after being removed from the congregation he had long led in the town of Drogheda in 2013. But he said he had "heard nothing from the hierarchy" about his letter, and Father Martin Dolan told BuzzFeed News that "no one has told me I cannot speak" about the referendum after he came out in January, though he said he was "not giving interviews at this time."
This is the most hopeful sign that the Irish church is growing under Francis, suggested Association of Catholic Priests' Father Tony Flannery.
"The fact that these people nowadays feel they can oppose the official church in public … that in itself is a real indication of the Francis effect in the Irish church," he said.
But it's not clear how Francis' desire to extract the church from culture wars can be applied when the church is directly confronted with a marriage equality movement. Francis' gentler tone as pope followed his own experience unsuccessfully combating a 2010 marriage equality bill in Argentina when he was the country's top bishop, deploying rhetoric that even church conservatives concede embarrassed the church. And he has appeared to wade into marriage fights even as pope when conservatives were favored to win.
If the amendment passes, Ireland will be the first country in the world to establish marriage equality by a popular vote. This historic vote comes just five months before bishops from around the world are due to come to Rome for what is known as a synod, which follows a three-year process launched by Pope Francis to review church teaching on the family. The process has largely been viewed as a litmus test of how much the church can moderate its condemnation of homosexuality — a draft discussed in a meeting last October included language that spoke of "welcoming homosexual persons," but it was rejected by the bishops and no language on same-sex couples got enough votes to be adopted in that meeting.
The Irish campaign is unlikely to make reaching an accord any easier in this year's synod. But it's a stark reminder as to why it's so important that the church continues to work toward a third way in marriage fights, which are spreading faster and faster in many countries where the church has only just begun to slip from the center of power.
And the stakes are high in Ireland, said Father O'Donovan.
"There's an angry sea, and the hierarchy are the first rocks on the shore who will have to face it," he said. "If [the referendum] fails … it will be a pyrrhic victory" that will damage the church in the long run.
And if it passes, he said, the vote will be "the latest nail in the coffin of old Catholic Ireland."