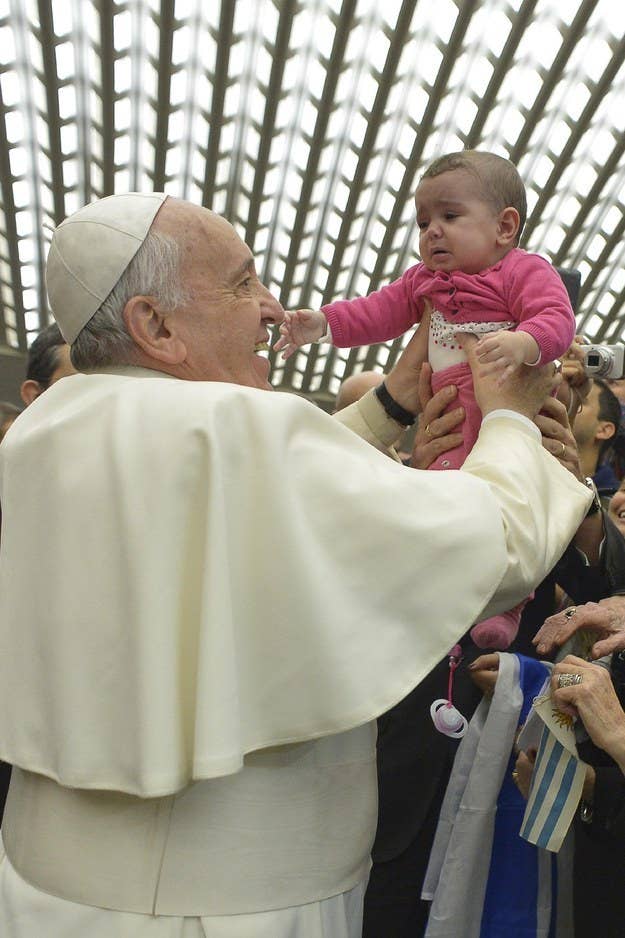 Pope Francis gave his blessing on Wednesday to a referendum that would ban marriage and adoption rights for same-sex couples in Slovakia, which will be voted on this Saturday.
"I greet the pilgrims from Slovakia and, through them, I wish to express my appreciation to the entire Slovak church, encouraging everyone to continue their efforts in defense of the family, the vital cell of society," Francis said during Wednesday's general audience in Rome.
Slovakia is the latest battleground over LGBT family rights in Europe, which is increasingly divided between east and west. Slovakia's parliament actually added language denying marriage recognition to same-sex couples to the country's constitution in June, making it one of four countries in Eastern Europe to do so since 2012. The first of three questions before voters on Saturday's ballot, which asks if marriage should be defined as between a man and a woman, won't change the legal status quo in Slovakia. But the second question would also ban adoption for same-sex couples, and the third allows parents to withdraw their children from sexual education classes.
It is not unusual for popes to comment on domestic political debates around the world, and these remarks are consistent with the church's long-standing opposition to family rights for same-sex couples, which has not changed under his papacy even though he has generally sought a less confrontational tone to engaging with LGBT people. But his remarks come as the Slovakian church has been under criticism from the country's LGBT rights supporters, who say the church is to blame for the recent push against LGBT rights in the country.
"For first time in Slovak modern history the Catholic Church is heavily involved in political campaign," said Martin Macko, executive director of the LGBT rights group Inokost. The Slovak referendum follows the success of a similar ballot measure in another Catholic-majority Eastern European country, Croatia, which adopted a ban on recognizing the marriages of same-sex couples in December.
Before the church held a "March for Life" opposing abortion and LGBT rights in late 2013, Macko said, "there were organizations and groups opposing rights of LGBT people in Slovakia before, but they were marginal and also this issue was marginal in public debate."
Even if a majority of voters approve the referendum, LGBT rights supporters are hopeful that it not enough people will vote to make it legally binding. At least 50 of voters must cast ballots in order for it to become law under Slovakian election rules.
The leadership body of the Catholic Church in the country, the Conference of Slovak Bishops, has walked an awkward line around the referendum. On the one hand, the bishops have given full-throated support to the proposal, including endorsing the referendum in a televised mass and pastoral letter on Feb. 1.
The conference also appears to have solicited funds to support the Alliance for Family through a page on its official website. On the other hand, it has bristled at the suggestion that the referendum is the creation of the church.
"The referendum itself is an initiative of civil society; it's not primarily of the church," said the conference's spokesman, Father Martin Kramara, in an interview with BuzzFeed News.
When asked about the church's fundraising for Alliance for Family, Kramara at first denied that the conference had provided financial support. When BuzzFeed News pointed out that the fundraising page for the conference's "pro-family activities" listed providing "support [for] Alliance for Family" as one of its "family-friendly activities," Kramara said, "I can't tell you how great [financial support] is … because I don't know."
The conference also objected when billboards appeared last month featuring Pope Francis giving smiling thumbs-up over the caption, "Slovakia's courageous fight for the protection of the family. Recommendation: 3x yes."
"We don't know who did it," Kramara said. "The Holy Father, for the record, did say words of encouragement for the Slovak church in her fight for the defense of family ... but that doesn't give anybody the right to use his photo in the campaign."
Alliance for Family also denied responsibility for the billboards in remarks to a Slovakian news outlet. In an interview with BuzzFeed News, he stressed that his organization is nonsectarian and nonpartisan.
"We don't depend on any church or political party," he said. "We are communicating with all relevant political parties, with all relevant churches and [asking] them for help."
LGBT rights supporters in Slovakia and internationally also say that an American social conservative organization, the Alliance Defending Freedom, is partly responsible for the move against family rights for LGBT people.
When asked how the support for the referendum fits with the more inclusive tone the pope has sought toward LGBT people, Kramara said, "We would be very unhappy if [the referendum] generates any animosity against homosexually oriented people." He also said the church did not oppose sexual education and that children "need to know about homosexuals, heterosexuals, [and] sexual relationships between men and women."
But, he said, that education should be based on recognizing the unique status of heterosexual marriage, because children "have the natural right to a mother and father." Even if that teaching might upset children being raised by same-sex couples, adults have a duty to teach them about that right.
"When someone deprives of them of their rights, are we gonna tell them?" Kramara wrote in an email. "And when? Right away, or when they are able to bear it? Or should we keep lying to them until they find out? "
Some LGBT rights supporters have also alleged that an American social conservative organization, the Alliance Defending Freedom, is meddling in Slovakia's affairs and pushing the referendum. The group's European director, Roger Kiska, told BuzzFeed News that the group's participation has been limited to providing legal support to the referendum's backers when opponents went to court to try to have it struck from the ballot.
Though he is U.S. educated, he also is not a foreigner, and all lawyers who work for ADF in Europe are European, Kiska said.
"I am a Slovak citizen. I live in Bratislava. That's primarily why I was involved in the case, but I was not involved in the referendum."
This post has been updated to include an explanation that at least 50 percent of voters must cast ballots for it to be valid under Slovakian law.