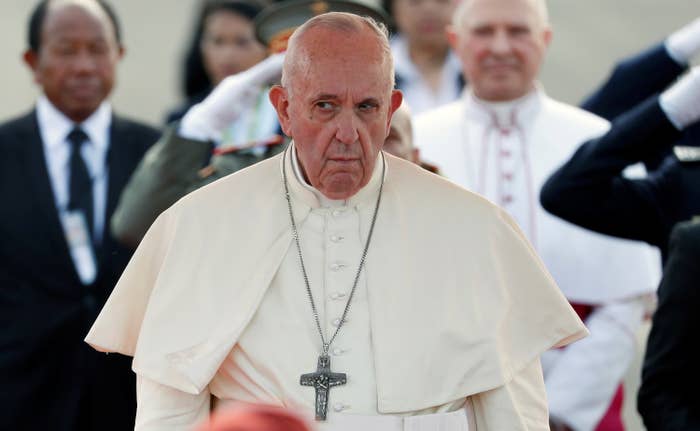 Recently published remarks by Pope Francis comparing arguments for trans rights to nuclear weapons are the latest in a series of mixed messages the pontiff appears to be sending to LGBT rights supporters.
"Let's think of the nuclear arms, of the possibility to annihilate in a few instants a very high number of human beings," Francis is quoted as saying in a book first published in Italy in January but that caught the attention of the English-language media over the last week. "Let's think also of genetic manipulation, of the manipulation of life, or of the gender theory, that does not recognize the order of creation … With this attitude, man commits a new sin, that against God the Creator."
LGBT rights supporters regard such comments as a betrayal of the pope's statements suggesting he wants the church to reconcile with LGBT people. They come just as the pope has received widely published praise by an American LGBT group, which this Wednesday was the first LGBT-rights organization ever invited to sit alongside Francis during his weekly general audience in the Vatican.
But the leader of the organization, New Ways Ministries' Executive Director Francis DeBernardo, said the episode shows the church's growth on LGBT issues is not as simple as many LGBT rights supporters want it to be. Those hoping the pope will reverse long-standing Catholic teaching on questions like marriage are never going to be satisfied by this pope, DeBernardo said — but it's a mistake to measure the pope by whether he reverses church doctrine.
"I honestly don't think he's going to be the pope that brings the changes or makes the changes that we want to see happen," DeBernardo said in an interview with BuzzFeed News. "I don't think he's going to be the one to do that, but what he has done through gestures like this and other things that he's said, is that he's opened the discussion on LGBT issues and stretched out a hand to LGBT people. These are steps the Vatican should've done decades ago before Pope Francis, but he's the one who finally has the courage to take those initial steps."
New Ways Ministry is a 38-year-old organization that describes itself as "a gay-positive ministry of advocacy and justice for lesbian, gay, bisexual, and transgender (LGBT) Catholics." On Wednesday, they were given VIP tickets to attend Pope Francis's weekly public audience in the Vatican, in which the pontiff greets tens of thousands who gather in St. Peter's Square and leads a short service. The premium tickets meant the group sat near the pope on the steps of St. Peter's Basilica, an honor typically reserved for visiting dignitaries.
DeBernardo said his group of 50 "LGBT pilgrims and their supporters" were deeply touched by their special invitation to the general audience.
"Some people were in tears when they were out there," he said. "They [came to Rome] because they wanted to reconnect with their Catholicism."
But the Vatican did not acknowledge them as a delegation supporting LGBT-rights, identifying them in an official list of participants only as a "group of lay people accompanied by a sister," referring to the nun who helped start the organization, Sister Jeannine Gramick. This was a marked contrast to the pontiff's greeting to a delegation from Slovakia that attended a Feb. 4 audience, just before their country was to vote on a referendum" to deny marriage and adoption rights to same sex couples. He encouraged the Slovakian pilgrims "to continue their efforts in defense of the family, the vital cell of society." (Despite this endorsement, the Slovak referendum failed to pass because of low turnout.)
The VIP tickets to the general audience were also far less than what the group had asked for — they had requested a private meeting with the pope. So it's a reflection of just how marginalized LGBT Catholics have felt for the past several decades that just the chance to sit on the dias without being recognized brought tears to their eyes. In fact, said DeBernardo, even though their request for a private audience was denied, they were pleased just to have the request acknowledged with the VIP tickets, which they were offered by a letter signed by an important church figure, Georg Gänswein, who holds the title of Head of the Papal Household.
"[Because] we've just been ignored by the Vatican, the fact that he did respond and responded in a positive way is wonderful," said DeBernardo.
He considered this a huge step forward from the response they received when they made the same request to two of Francis' predecessors, Popes Benedict and John Paul II.
"Over the past 18 years ... we've come once or twice, [and] both times we had contacted the Vatican," DeBernardo said. "We were just basically ignored — we never heard a response."
They also secured their tickets with help from some quarters that LGBT activists would find surprising. DeBernardo said that Gramik asked that their request be forwarded to the Vatican by the Holy See's representative to the United States and the San Francisco Archbishop Salvatore Cordileone. LGBT-rights activists regard Cordileone as one of their most vocal opponents in the American church leadership. He is currently the target of protests because he wants to include a "morals clause" into the contract of teachers in Catholic schools under his control that would prohibit them from expressing support for LGBT rights. (The San Francisco Archdiocese did not immediately respond to a message seeking comment for this story.)
"I think Pope Francis … is a complicated person and his strategy is complicated," DeBernardo said. "We're not trying to gloss over the fact that he is not where we want him to be [but] we're grateful for what he's done. … We're still going to keep challenging him and the Vatican on the areas where they need to develop their thinking."
But, he said, "we were really very pleased" by the audience.