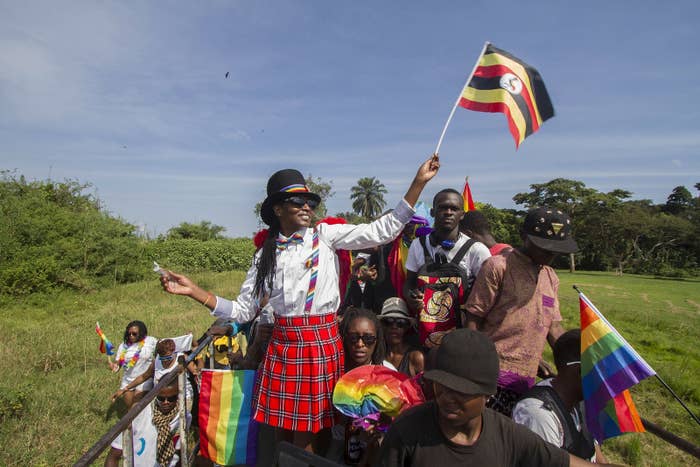 Ugandan police interrupted the Mr. and Miss Pride Uganda pageant at Kampala's Venom nightclub on Thursday night, detaining several well-known LGBT activists for about three hours before releasing them without charge.

Around 20 to 25 people were arrested, those detained told BuzzFeed News after their release. That number included Pepe Julian Onziema and Frank Mugisha of Sexual Minorities Uganda, who both posted on their Twitter timelines that they were being placed under arrest at around 10:30 p.m. local time. Clare Byarugaba, a former co-coordinator of the coalition opposing anti-LGBT legislation in Uganda who's now on the staff of the human rights group Chapter 4 Uganda, was also among those taken into custody, Chapter 4 director Nick Opiyo told BuzzFeed News.
Those released reported violence from police in interviews with BuzzFeed News.

"They were beating people ... mostly the trans women," Adebayo Katiiti Phiona, who won the title of Mr. Pride in 2015, told BuzzFeed News. "A police person even stepped on a trans woman."
Pepe Julian Onziema of Sexual Minorities Uganda told BuzzFeed News police said the event was held without proper permission from police, a claim he emphatically denied.
"There's no way we would hold an event without a clearance," Onziema said, saying organizers had always communicated with police before holding Pride events for the last four years. "They don't care as long as the word 'homosexuality' is mentioned. As soon as that is mentioned, everything else ceases and [police feel they] have to act."
Most of the 200 people attending the pride event were allowed to leave the club, according to Adrian Jjuuko of the legal aid group Human Rights Awareness and Promotion Forum (HRAPF); activists were primarily targeted for arrest. One of HRAPF's lawyers was among those arrested, said Jjuuko, who did not want her name published.
Jjuuko said that while police have occasionally interrupted LGBT cultural events and trainings, Uganda's pride events have largely gone without interruption in the past few years — even during the height of controversy following the Constitutional Court's August 2014 nullification of a sweeping anti-LGBT law passed earlier that year. Thursday's arrests come amidst widespread allegations of police brutality against supporters of jailed opposition leader Kizza Besigye following the re-election of President Yoweri Museveni to a fifth term as president.
"I think they're also trying to cover up the criticism for police brutality that's going on the country — now they want to cover it up with a gay story," Jjuuko said.
Andrew Green contributed reporting from Kampala.