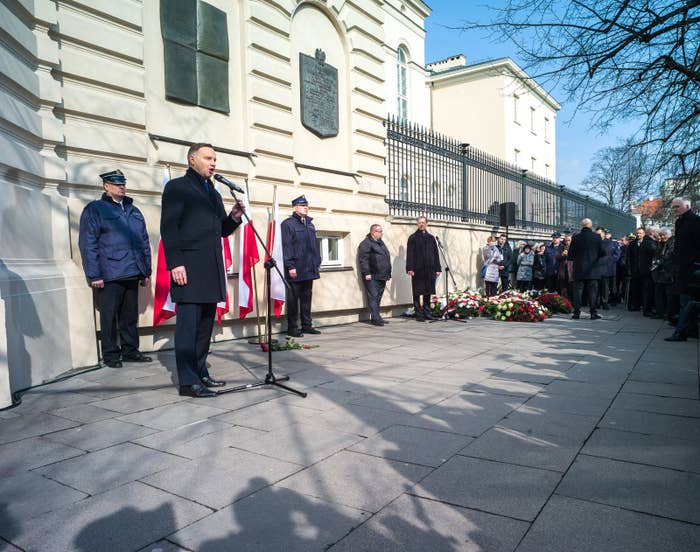 Poland's president issued an apology on Thursday for an anti-Semitic government campaign in 1968 that led some 20,000 Jews to leave the country.

"To those who were thrown out, I say, forgive us," President Andrzej Duda said in a speech marking the 50th anniversary of the campaign. "Through my lips Poland is asking forgiveness, asking them to be willing to forget, to be willing to accept that Poland regrets very much that they are not in Poland today."
A wave of protests 50 years ago led Poland's communist government to suggest the demonstrations were the work of a Jewish plot. Many Jews were expelled from Poland, while many others chose to leave voluntarily.
The apology comes amidst the ongoing international protest over a new law that makes it a crime to blame the Polish nation for the Holocaust. The law is aimed at making it a crime to call facilities like Auschwitz — run by Nazi soldiers in occupied Polish territories — "Polish death camps." Many Poles feel the phrase blames them for the deaths in a war that claimed the lives of 6 million Polish citizens.
But it has also been followed by a surge of anti-Semitic incidents, and Jewish groups, historians, and diplomats from Israel and the United States have strenuously objected to the law out of concern it would silence discussion of the multiple instances of Poles committing atrocities during the war. On Tuesday, the Polish news site Onet Wiadomości reported on a leaked memo from the US State Department telling Polish diplomats that President Duda and Poland's prime minister would be barred from meeting with President Donald Trump until the law was repealed.
Duda's apology seemed designed to allay concerns that Poland was trying to erase anti-Semitism in its past, and was well-received even by some of his party's fiercest critics. Such apologies have been politically fraught — Duda personally attacked his predecessor for tarnishing Poland's "good name" in an apology he issued for a 1941 incident in which a group of Poles herded several hundred Jews into a barn and set it on fire.
But Duda made clear it was Poland's communist dictatorship — not its people — that was responsible for the anti-Jewish campaign of 1968.
"The free and independent Poland of today, my generation, is not responsible and does not need to apologize," he said. "I'd like to say please forgive the Republic, Poles, the Poland of that time for having carried out such a shameful act."
Also on Thursday, Polish Prime Minister Mateusz Morawiecki said "we should have been much better in explaining all this" during an appearance at the German Marshall Fund's forum in Brussels. He said the law was intended to make clear that Poland was a victim of the war, during which there was no functioning state and Polish territory was occupied by the armies of Nazi Germany and the Soviet Union.
He also said the law was like laws that make it a crime to deny that the Holocaust took place, which are on the books in several countries, including Israel.
"In 18 countries today, there is a very similar law which is predominantly around Holocaust denial," Morawiecki said.
The Holocaust law is broadly popular in Poland, but on Thursday a coalition of NGOs released a letter apologizing for the new law and said that the statements by leaders who "seek to whitewash Poles' involvement in the Holocaust" and "arouse anti-Semitic sentiment " are "not being done in our name."
The signers of the declaration include Lech Walesa, who won a Nobel Peace Prize for leading the uprising against the communist government in 1989, but is now a target of the ruling party, who accuse him of secretly colluding with the communist regime.