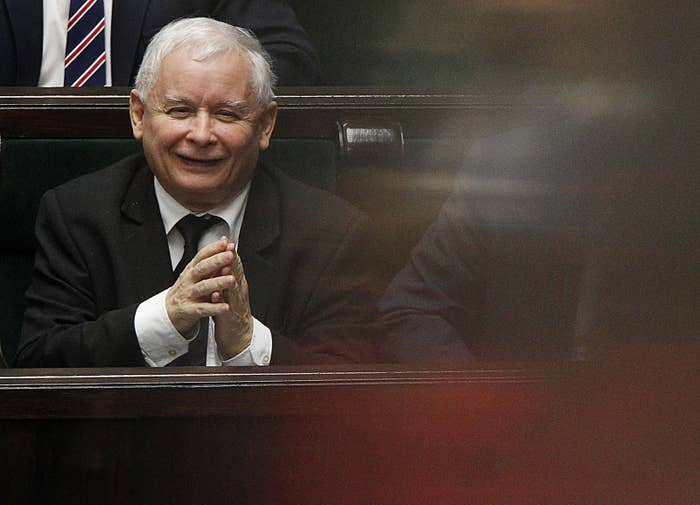 Poland's parliament could soon vote to restrict kosher slaughter, potentially pushing its already strained relationship with Israel to the breaking point.

It is part of a broad package designed to protect animal welfare that's been pending since November. But it could come up for a vote as soon as next week, opposition lawmakers and meat industry advocates tell BuzzFeed News. This could do permanent damage to Poland's international reputation, said Rafał Trzaskowski, an MP from the opposition Platforma Obywatelska party and a candidate for Warsaw mayor.
Unless lawmakers can de-escalate the situation, Trzaskowski said, "This can really destroy our relation not only with Israel, but also the United States."

Israel's ambassador to Poland, Anna Azari, declined to be interviewed for this story. But a Polish Jewish leader in Warsaw who requested anonymity to discuss sensitive diplomatic relationships told BuzzFeed News that, if the legislation passes, "It's game over for Poland's relationship with Israel. They will recall their ambassador. It's the nail in the coffin."
Poland has faced international condemnation since it made it a crime last month to suggest Poland had any responsibility for the Holocaust. The bill was largely aimed at ending use of the phrase "Polish death camps" to describe Auschwitz and other concentration camps run by Nazis in occupied Poland. Six million people died in Poland during World War II, three million of them Jews.
Poland, which has long been one of Israel's closest allies, seemed stunned that many Jewish groups, foreign leaders, and historians interpreted the law as a way to prevent discussion of the ways some ethnic Poles participated in the genocide of Jews. The fact that the ruling Law and Justice Party (PiS) is now considering taking up the kosher slaughter ban is a sign of just how poorly its leadership is misreading the international situation, critics say.
"I think they really don't know what to do," said Trzaskowski.
PiS's powerful chairman, Jaroslaw Kaczynski, seemed personally surprised by the fallout from the Holocaust bill, Trzaskowski said, adding that Kaczynski is not an anti-Semite and did not understand that the legislation could be seen as anti-Semitic. (The PiS press office did not respond to request for comment for this story.)
There has been a surge of anti-Semitic incidents in Poland since the bill passed. On Thursday, a PiS senator was suspended from the party after he shared Nazi propaganda footage of Jews being beaten in the Warsaw Ghetto on his Facebook page and a "Jewish Dictionary" that defined an anti-Semite as "a person that has the audacity to defend his rights from the arrogance and rapacity of Jews."
Some Jews in Poland are talking about leaving the country, while many Poles feel under siege from abroad and sometimes blame foreign Jews for the outcry. The fury in Poland reached a fever pitch on Wednesday, after a Jewish foundation based in Boston posted a video of people saying "Polish Holocaust" as a protest against the law and calling for the US to break off diplomatic relations. (It was later deleted.)
But many opponents of the kosher slaughter ban say that if it advances, it won't be primarily due to lawmakers' malice towards Jews. Instead, it will mostly be because of Kaczynski's myopia and inability to understand how Poland's actions will be interpreted abroad.
Kaczynski is a famous animal lover who once called the suffering of animals raised for fur "one of the worst sufferings that exist in the world," and the kosher rules are part of a broad animal rights package he has long championed. The bill would also shut down the country's $350 million fur industry, which risks alienating the PiS base in rural areas.
The law would forbid kosher and halal slaughter for export. Many animal rights groups consider these methods cruel because the animals are commonly lifted or suspended alive before having their throats slit. The law includes a provision allowing ritual slaughter for domestic consumption, a carveout designed to address religious liberty concerns that led to an earlier version of the bill being struck down by the constitutional court. But kosher meat industry advocates say it could still forbid all ritual slaughter in practice, because another provision forbids suspending animals before killing them.
This proposal is generally in keeping with EU regulations, which require animals to be stunned to prevent suffering except in cases of religious slaughter. The practice of slaughter without stunning is also condemned by the Federation of Veterinarians of Europe.
"The scientists and veterinarians are against killing animals without stunning them, calling such actions barbarian," said Cezary Wyszynski of the Polish branch of the animal welfare organization Viva.
But this legislation would likely have been especially controversial in Poland even before passage of the Holocaust history law, because kosher and halal exports have become big business for Poland. Meat exporters in Warsaw told BuzzFeed News that the Polish cattle industry mostly raises cows for dairy, which means the bulls are not of the quality required to compete in the European market. Israel, which used to import most of its beef frozen from South America, became an ideal market for the cattle, as it is close enough for meat to be shipped fresh from Polish slaughterhouses.

The exporters, who asked to remain anonymous fearing retaliation against their business, also say kosher slaughter is not inhumane, and that religious prejudice may be a reason that some lawmakers believe the practice is cruel.

Kosher and halal exports now account for a large portion of Poland's substantial meat export business, according to the Polish Alliance of Farmers' Trade Unions and Farmers' Organizations, and it would be a disaster for farmers if it were enacted. Polish beef exports were worth about $1 billion between January and August 2017. The group's president, Sławomir Izdebski, told BuzzFeed News that he would announce Friday a coalition of agricultural organizations to stop the bill, and would call for street protests if Kaczynski and Prime Minister Mateusz Morawiecki won't promise to shelve it.
"We always fight till the end," Izdebski says. But, he said, Kaczynski is an "animal welfare fanatic." A major reason they have a shot to defeat the bill is because of the international outcry about the Holocaust law, but even so, he believes Kaczynski will push forward.
"As far as i know, a lot of MPs and PiS members oppose this bill, but it seems that Kaczynski is really determined to put it through," Izdebski said.
No PiS politicians would speak to BuzzFeed News for this story. Rafal Trzaskowski, the opposition MP, also thought PiS lawmakers opposed to the bill felt they couldn't speak out.
"There are quite a few of Law and Justice members who are terrified," Trzaskowski said. "They are dismayed by the Holocaust history bill, they are from rural areas [that rely on agriculture], but no one speaks out against the chairman, especially on an issue on which he feels so strongly. They just don't dare."
Trzaskowski, who supports the animal cruelty bill with an exception for ritual slaughter for local consumption, is hopeful that Kaczynski could still be persuaded to at least delay the vote. And there were signs in recent days that the government may be looking to ease tensions.
On Wednesday, the speaker of the senate said during a TV interview that he believed the Holocaust history bill would not be enforced until the Constitutional Court finishes reviewing its constitutionality, though there is nothing in Polish legal procedure that would prevent its enforcement before the Court rules.
But if Polish and Israeli diplomats are trying to find ways to preserve their historically close relationship, they are trapped by public opinion that seems to support escalating tensions. Support for PiS leaders has increased since the law was signed, and Prime Minister Mateusz Morawiecki added fresh fuel to the fire last weekend when he said that there were "Jewish perpetrators" during the Holocaust during a speech in Munich.
Kaczynski seemed to acknowledge that anti-Semitism was gaining ground in the face of the criticism.
"Today the devil suggests a very bad solution, a very bad disease of the soul, the disease of the mind. This disease is anti-Semitism," he said earlier this month. "We have to reject it, definitely reject it."
But the kosher slaughter ban would be giving into that temptation, said one of the kosher meat exporters.
"If you touch the kosher, it's like you kill the Jew," he said.