Philadelphia Archdiocese Makes Students' Parents Sign a "Moral Integrity" Memo Before Pope's Visit
Philadelphia, which will host Pope Francis's visit later this month, is the largest archdiocese to require parents of Catholic school children to sign an affirmation of "fidelity to Catholic teaching and identity."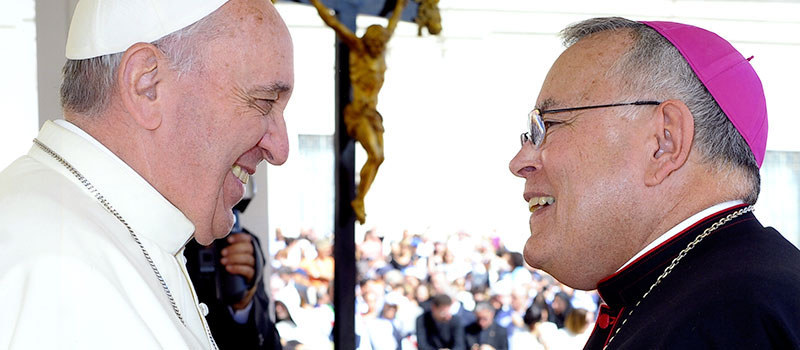 The Archdiocese of Philadelphia rolled out a pledge this week that will require parents of Catholic school students to affirm "support for the Catholic identity and mission of this school" and to "commit myself to uphold all principles and policies that govern the Catholic School."
The archdiocese calls the document a "Memorandum of Understanding" and was first published by Philadelphia Magazine. It comes just two weeks before Pope Francis is due to visit Philadelphia to participate in a Vatican-organized event called the World Meeting of Families.
The visit is being closely watched because of Francis's calls for a less confrontational tone towards LGBT people is seen by many as at odds with the approach of Philadelphia Archbishop Charles Chaput, one of the most vocally conservative of the American Catholic bishops.
It also follows the firing of a teacher named Margie Winters at an independent Catholic school in the suburb of Merion, because of her marriage to a woman.
The archdiocese's communications director, Kenneth Gavin, said in a message to BuzzFeed News, "it's not meant to exclude anyone or police anyone." He stressed that it was "in no way connected to the matter involving Waldron Mercy Academy earlier this summer." The agreement is being circulated only to schools directly administered by the archdiocese and not independent private Catholic schools.
The document begins by declaring, "Attending a Catholic school is a privilege, not a right," stresses that the schools' "fundamental priority is fidelity to Catholic teaching and identity," and that "in all questions that involve Catholic teaching, morals, and Church law, the final determination rests with the archbishop."
"There is nothing punitive about any of this. The bottom line is that Catholic schools are Catholic and it was deemed important to issue a document of this nature so that all attending (Catholic and non-Catholic alike) are aware of the Catholic components and values that are integral to our education system," Gavin said.