Olympics Don't Stop Russia From Enacting International Gay Adoption Ban
Russian Prime Minister Dmitry Medvedev has signed a decree that bans adoptions by same-sex couples and single people in countries that recognize marriage equality.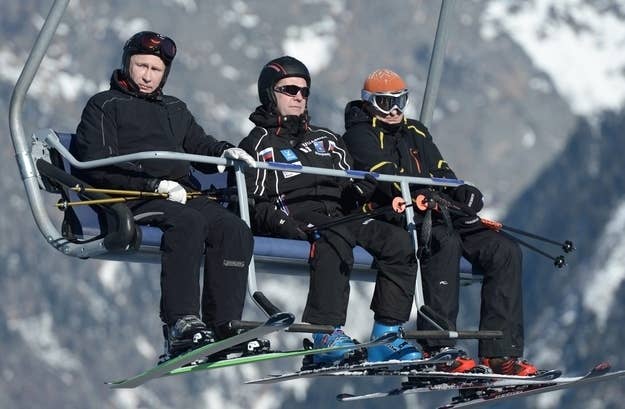 Russian Prime Minister Dmitry Medvedev issued a decree Thursday banning international adoptions by same-sex couples and unmarried people in countries with marriage equality.
The decree implements a law passed last July and adds an amendment to the country's adoption regulations that says "persons in a union concluded between persons of one sex, recognized as marriage and registered in accordance with the law of the state in which such marriages are permitted, and also unmarried persons who are citizens of said country" may not adopt. It appears that straight married couples in those countries may still adopt children. Single people in other countries must provide supporting evidence when applying to adopt that same-sex marriage is not recognized in their country.
Thursday's decree puts those provisions into Russia's adoption regulations. A law signed by President Vladimir Putin in July, which used similar language, added the provision to the country's family code.
The timing of the administrative step has revived the debate over Russia's anti-gay policies, which had largely died down as the media's focus has shifted to sporting events since the opening ceremonies. It was further exacerbated by reports in both Russian and English that appeared to imply that the edict bans all adoptions from countries where same-sex marriage is legalized.
Since the law's passage, the Russian government has basically frozen adoptions to all countries with marriage equality until it received assurances from those governments that they would implement measures to ensure Russian adoptees do not fall into the hands of same-sex couples. News reports in December suggested Spain would be the first to satisfy the Russian government's demands, including notifying Moscow if an adoptee had to be relocated — in events like the death of an adoptive parents — to make sure the child did not end up in the care of LGBT people. France, which altered its adoption agreement with Russia to exclude same-sex couples, and Italy, where same-sex marriage is not legal, have also ratified adoptions agreements with Russia.
Adoptions to the United States are unaffected by the July law and the new edict. Russia barred all adoptions to the United States in a separate law that took effect Jan. 1 last year.