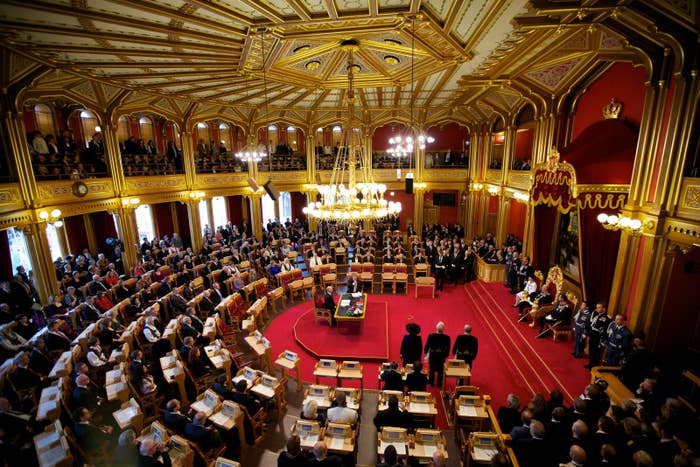 Norway's Parliament is expected to give final passage on Monday to a law that will allow individuals to change their gender simply by filing a declaration with a registrar, with no need for surgery or a doctor's certification.
The legislation won overwhelming backing of lawmakers in a preliminary vote held May 30, advancing with a vote of 79 to 13 to Monday's vote.
The bill "is historic because it is now the individual and not the health services that decide when he or she has changed legal gender," Health Minister Bent Høie said when the proposal was unveiled in March.
Almost every country in Europe allowing legal gender change requires individuals to get a diagnosis of "gender identity disorder" from a doctor and most require some form of medical intervention. Twenty-four countries require individuals be sterilized in order to have their self-identified gender legally recognized. The European Court of Human Rights called into question sterilization requirements when it ruled it violates international law to mandate sterilization for sex reassignment surgery.
The law will make Norway the fourth European country to adopt what is known as a "self-declaration" gender identity law. The first law of its kind was adopted in Argentina in 2012, and Denmark was the first European country to bring it to Europe in 2014. Malta and Ireland followed in 2015, and a parliamentary committee in the British House of Commons has called for a similar law to be adopted in the United Kingdom.
Transgender advocates have been working over the past several years to bring an end to forced sterilization in the country, said Stein Wolff Frydenlund, a Norwegian activist who sits on the steering committee of Transgender Europe. The new law, he told BuzzFeed News, "is very good," including paths to legal recognition for children over the age of six and a simple process to notify the registry by mail to obtain gender recognition.

These laws are part of a broader push by transgender advocates to bring an end to treating transgender as a mental disorder. Denmark put additional weight behind this effort last month, removing gender identity disorder from a list of mental illnesses their national doctors use for diagnoses. The World Health Organization is currently considering a proposal that would remove "gender identity disorder" from its list of diagnostic codes used by most countries' medical systems.
"Trans people are not sick, and other countries should follow by removing trans identities from their mental health diagnostic manuals," Transgender Europe Health Officer Adam Smiley said in a statement applauding the decision.
CORRECTION
The European Court of Human Rights ruled that it violates international law to require sterilization for people seeking sex reassignment surgery. A previous version of this post stated that the ruling concerned legal gender recognition.