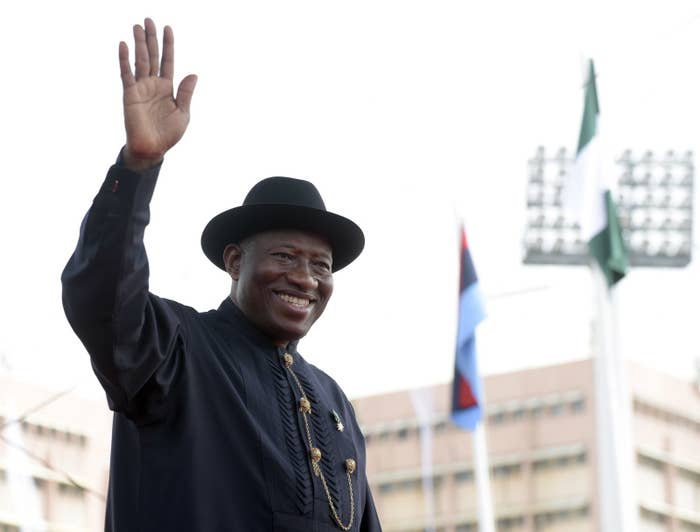 The man who signed a sweeping anti-LGBT bill into Nigerian law in 2014 suggested Wednesday the provision could be revisited in the name of promoting equality.
Former Nigerian President Goodluck Jonathan, who lost his bid for a second term in April 2015, made the remarks during an event hosted by Bloomberg in London. Technically called the Anti-Same Sex Marriage Act, the bill was signed into law in January 2014. But it also criminalized promoting LGBT rights or even public displays of affection between people of the same sex. The bill provided for punishments of up to 14 years in prison, and its passage was followed by a wave of arrests and violence targeting people alleged to be LGBT.
In his Wednesday comments, Goodluck Jonathan noted that the law had been passed unanimously by the National Assembly and enjoyed widespread popular support. But, he said, "in the light of deepening debates for all Nigerians and other citizens of the world to be treated equally and without discrimination, and with the clear knowledge that the issue of sexual orientation is still evolving, the nation may, at the appropriate time, revisit the law."
Though Jonathan did not talk much about the legislation during his bid for re-election, in the closing days of the race his campaign attempted to discredit his opponent, now-President Muhammadu Buhari, with allegations that Buhari had secretly promised Western nations that he would repeal the Anti-Same Sex Marriage Law.
In his remarks, which were cast as a reflection on citizenship and democracy, Jonathan also called for Nigeria to enact a bill of rights to "end discrimination and tribalism, and promote equality, enabling everyone to work towards the common goal for the development of the nation."
Though Jonathan stopped well short of calling for protections for LGBT rights, it is notable that he referenced the issue as part of remarks about equality. Many world leaders who have supported extreme anti-LGBT legislation have rejected the notion that LGBT people should be protected under international human rights norms and alleged that Western nations are engaging in "cultural imperialism" by pushing them to do so.
A spokesman for President Buhari could not be immediately reached for comment.