Nigerian President Accuses Opponent Of Pledging To Legalize Same-Sex Marriage
In the closing days of the election, President Jonathan's campaign now wants to draw attention to his support for sweeping anti-LGBT legislation he signed into law.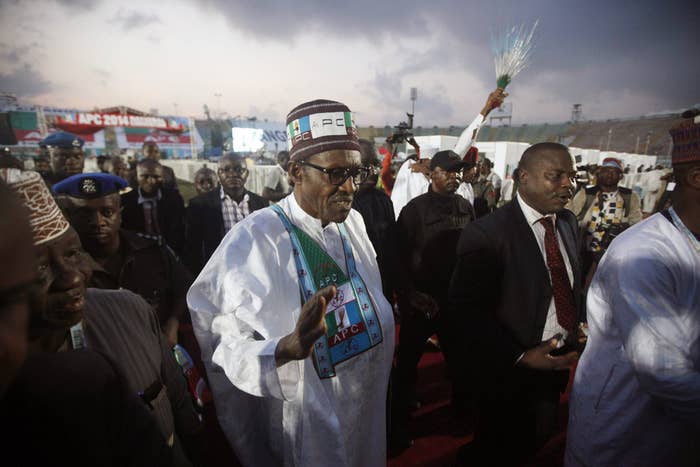 A spokesperson for Nigerian President Goodluck Jonathan said in a Wednesday press conference that his major opponent in the March 28th election, Muhammadu Buhari, had promised four unspecified western nations he would back legislation to allow same-sex marriage in exchange for their support for his candidacy.
Jonathan signed a sweeping law in January called the Same-Sex Marriage Prohibition Act, which goes far beyond criminalizing same-sex marriage to include long prison sentences for activities including supporting LGBT rights or even public displays of affection between people of the same sex. While there were reports of mass arrests and mob violence targeting people accused of homosexuality following the law's entry into effect, Jonathan has not made his endorsement of the legislation a major campaign issue.
The attack on Buhari — which follows a peculiar week-long break in London from the campaign trail — follows a strategy used by politicians in many African countries to rally anti-colonial sentiment by linking homosexuality to colonial powers.
"The proposition and offer was that if [Buhari] was prepared to support legislation in Nigeria to allow same sex marriage and if he was prepared to repeal the anti-gay laws in Nigeria they will, in return, endorse, support and fund him, initially covertly and eventually publicly, at the right time," said Jonathan spokesman Femi Fani-Kayode during a widely reported Wednesday press conference in Abuja. Fani-Kayode said he had been "reliably informed" that the offer was made during "talks with the representatives of at least four western countries," though he would not identify which countries participated in the alleged talks.
"We are using this occasion to challenge General Buhari to come clean and to tell the Nigerian people whether this is true and whether, in the unlikely event of his being elected president, he is seriously considering scrapping the anti-homosexual laws in our country and pushing through new legislation which would allow same sex marriage," Fani-Kayode said.
Garba Shehu, media director for Buhari's campaign, responded to the attack in a phone interview with BuzzFeed News by saying, "That man who is speaking for President Jonathan is a mad man. He is in the gutter, and we're not going to dignify it with a response."
Shehu added that the attacks reflected desperation from Jonathan's camp because they "have no issues" on which to run. The campaign's "real issues," Shehu said, include security, widespread unemployment, and rampant corruption, and "the government has no answers for this."
The election has already been delayed once by the Independent National Election Commission saying that the government could not guarantee the polls would be safe from attack by Boko Haram, a group that has been battling the government since 2009.