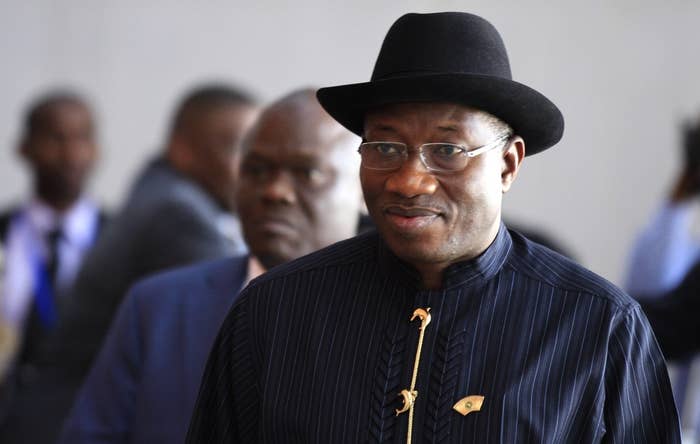 A bill that would effectively criminalize LGBT advocacy and outlaw same-sex marriage cleared one of its final hurdles on Tuesday, when the Nigerian Senate passed a compromise bill negotiated with the House of Representatives.
First introduced in 2006 and known as the Anti Same-Sex Marriage bill, it would impose a stiff prison sentence on couples who try to get married. But it goes well beyond marriage, also providing for the jailing of same-sex couples for public displays of affection along with anyone who advocates LGBT rights.
While the official text of the most recent version of the bill was not immediately available, Nigerian news reports suggested the version adopted on Tuesday closely follows the hardline version passed in the House, which would impose prison sentences of up to 14 years.
But a draft circulating that human rights activists believe to be the version adopted Tuesday would impose a maximum sentence of up to five years. It retains many of the House's proposals to criminalize of a broad range of LGBT activism.
"Any person who is involved in the registration of gay clubs, societies and organizations, sustenance, procession or meetings, publicity and public show of same sex amorous relationship directly or indirectly in public and in private is guilty of an offense and liable on conviction to a term of 5 years imprisonment," the draft states. It also would ban adoption by same-sex couples and would jail people who "aid and abet" same-sex marriages.
The opaqueness of the process around the bill has frustrated human rights activists, who were unable to piece together a clear picture of the bill's status two days after the Senate vote. Not only are details of the legislation uncertain, but it also is not clear whether the compromise version of the bill must also receive a final vote from the House of Representatives or whether it now heads to President Jonathan for his signature.
As local activists attempt to uncover the status of the bill following Tuesday's vote, foreign diplomats were also left scrambling. Pressure from the United Kingdom and other western governments has been important in keeping the bill from becoming law during the seven years it's been under consideration, and diplomats are also trying to figure out where the proposal heads next.
This international pressure is crucial, said the London-based global LGBT rights group Kaleidoscope Trust, which called on the British government to keep up the pressure.
"The Kaleidoscope Trust is asking the British government to use whatever diplomatic levers it has at its disposal to urge President Goodluck Jonathan to reconsider signing the bill into law," said Alistair Stewart, Kaleidoscope's deputy director.
Western governments face challenges if they seek to productively intervene, however. LGBT rights groups in the U.S. and Europe often call for overt action, while human rights activists in African countries have warned efforts could backfire if Western governments are too aggressive.
"We don't want an open confrontation," said Dorothy Aken'ova of the Nigerian sexual rights group INCRESE. "That would be bad for us."
British Prime Minister David Cameron was widely criticized for suggesting in 2011 that foreign aid be tied to respect for LGBT rights. Such a stance reinforces the argument put forward by LGBT opponents that the West was imposing LGBT rights in a kind of moral colonialism, activists said.
It seemed Cameron had taken this criticism to heart, treading lightly when asked in June about the UK's response to the Nigerian legislation.
"With countries like Nigeria — where we have a very good relationship, a very strong relationship — nothing should be off the table," Cameron said in an appearance on the BBC in June. "But we also have some very important objectives" in Nigeria beyond the LGBT issue, he noted, and said he wanted to engage leaders in "conversation" about the law.
Graeme Reid, director of the LGBT Rights Program for Human Rights Watch, called on Jonathan to veto the bill once it reaches his desk.
"The vaguely worded bill seeks to impose harsh prison sentences on those who associate with or assist LGBTI people," he said. "President Goodluck Jonathan should heed the call of Nigerian human rights organizations and not sign the bill into law."
But INCRESE's Aken'ova said that an outright veto was probably politically impossible for Jonathan; the legislation has passed overwhelmingly every time it has come up for a vote. Instead, she said, Jonathan could find a way to further delay it by asking for modifications to the parts of the bill that could violate the constitution.
This vote, she said, shows the legislature is determined to criminalize LGBT people, not simply ban same-sex marriage, she said.
"They did not hold back anything—now their true intentions are visible."
Version of the Senate-passed Anti Same-Sex marriage bill circulating among human rights advocates