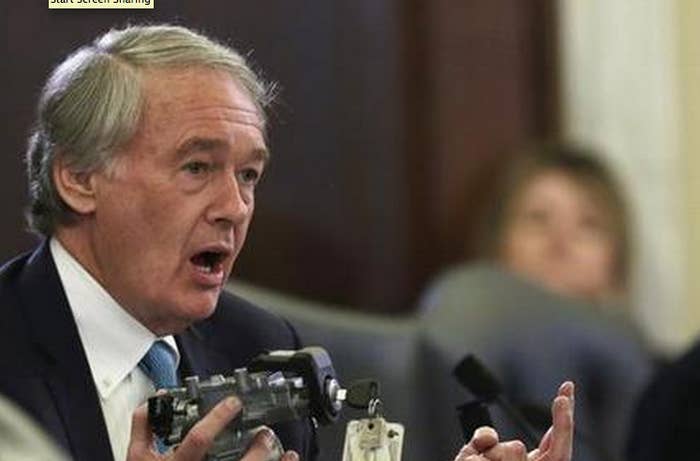 A special envoy for LGBT rights would be created under legislation to be unveiled later today by Massachusetts Democratic Senator Ed Markey.
The bill, titled "The International Human Rights Defense Act," was formally introduced in the Senate on Thursday along with more than 20 co-sponsors, all Democrats.
"For the United States to hold true to our commitment to defending the human rights of all people around the world, we must stand with the LGBT community in their struggle for recognition and equality everywhere," Markey said in a statement to BuzzFeed. "By fostering a coordinated effort across the federal government and relevant agencies, we can meet the enormous challenge before us and work to ensure equality for all people around the globe."
If it passes, this would signal how much U.S. foreign policy has changed under President Barack Obama. The diplomatic team of President George W. Bush had helped block efforts to make LGBT rights a priority for the human rights bodies of the United Nations.
However, American LGBT rights advocates have grown frustrated with the Obama administration's response to the new anti-homosexuality act in Uganda, since the White House has been delaying action on internal recommendations on how to change aid policy following the law's enactment in February.
In addition to creating the envoy's office, the bill would direct the State Department to "devise a global strategy" to prevent discrimination and violence against LGBT people and coordinate with LGBT-rights advocates in other countries and in international organizations.
The bill is endorsed by a dozen human rights organizations, including the Council for Global Equality, the International Gay and Lesbian Human Rights Commission, and the American Jewish World Service.
Chad Griffin of the Human Rights Campaign applauded Markey's proposal, saying, "In many nations around the world, [LGBT people]... persistently face the threat of harassment, discrimination, and violence, and we must do everything we can to ensure their rights are fully included in and championed by America's foreign policy. Passing this legislation is an important step in that direction."
But the bill faces an uncertain road to passage. Even if it were to clear the Senate, no House member has announced an intention to sponsor a companion bill in the Republican-controlled House. But the Obama administration could choose to create this post without congressional action, as it did in 2009 when it established an ambassador at large for global women's issues.