Moroccan Court Sentences Two Men Accused Of Homosexuality To Four Months In Jail
The sentence comes just after a new report that 20 people were arrested on charges of homosexuality in Morocco.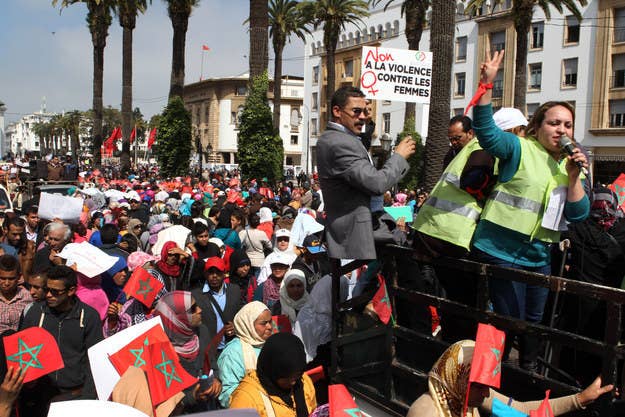 Two men charged with "violating public modesty" have been convicted and sentenced to four months in jail and a fine of up to around $135, according to a statement posted to the Facebook page of the Moroccan LGBT group Aswat Collective.
The two men — who have been identified as 25-year-old Mohsine and 38-year-old Lahcen — were arrested on June 3 while taking a photograph in front of landmark in the Moroccan capital, Rabat. A day earlier, two activists with the Paris-based feminist organization Femen took a photograph at the same spot while kissing topless with the slogan "In gay we trust" written on their bodies. The activists were deported, and Mohsine and Lahcen — who police said disclosed they were gay during interrogation — were accused of planning to stage a copycat protest.
A member of Aswat Collective, which has been helping the men try to secure their release, told BuzzFeed News that the men were simply taking a tourist photograph and had no intention of staging a protest. A representative of Human Rights Watch who attended their trial also told BuzzFeed News that the men said they had never been given a chance to read the statements police attributed to them in which they were said to have disclosed being gay.
Their arrest came amidst heightened sensitive around homosexuality in the country sparked in large part by the Femen protest and a few other foreign activists coming to the country to challenge its law against homosexuality, known as Article 489. On June 16, a Moroccan newspaper reported that 20 people had been arrested for homosexuality in the city of Agadir, and Aswat Collective says that it has documented five additional arrests for homosexuality in Agadir since February.
"We are outraged by this injustice," Aswat Collective said in the Facebook post following the verdict. "We will rise against Article 489 until the last breath is driven out of our union."