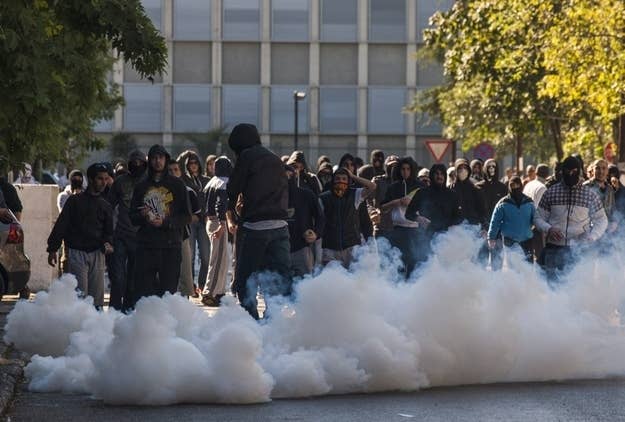 PODGORICA, Montenegro — The LGBT pride march held Sunday in Montenegro's capital, Podgorica, had 30-year-old Zdravko Cimbaljevic remembering his death notice.
Rimmed in blue — the color used to identify people who have died unmarried — and bearing his photograph, the death notice was plastered around the coastal town of Budva ahead of the country's first ever pride rally this summer, which he was instrumental in organizing. It read:
With his blown-out ass, we announce that on the day of July 24 2013 in 12 a.m., in front of the Walls of The Old Town Budva, his soul will depart in death, our afflicted and never overfucked brother ... ZDRAVKO CIMBALJEVIC. Commemoration of the dearly screwed deceased will be held in former Government building.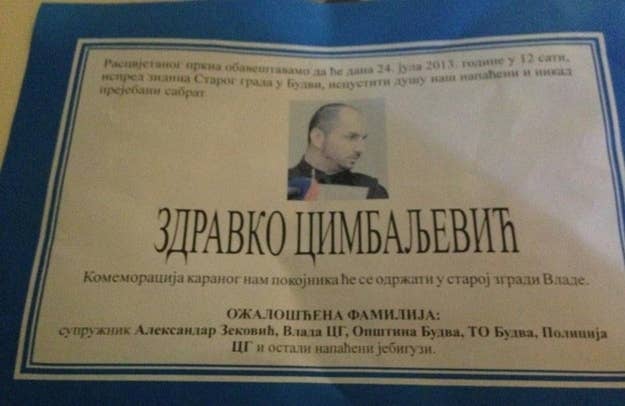 The death threats continued unrelentingly for weeks. For a month and a half, Cimbaljevic could not leave his apartment. He recalled walking out the door and hearing people walking their dogs joking about having them bite him.
When Cimbaljevic came out in 2010, he was described as Montenegro's first openly gay man. It was a peculiar title — by that point, the country had already adopted a law prohibiting discrimination against LGBT people in order to satisfy the requirements to someday join the European Union. But despite the official stance, the climate for gays and lesbians in daily life was still so hostile that no one in public life dared come out.
In November of that year, Cimbaljevic was walking his dog when a man ran up and attacked him. At first he thought it was a random incident. Then the attacker began to yell: "Faggot, you should be dead!"
"I realized that he knew that I'm gay," Cimbaljevic said in an interview by telephone from Vancouver, where he now lives. He later figured out that the man lived near the apartment that Cimbaljevic shared with his then partner.
As Cimbaljevic saw it, he had a choice. He could either report the crime to the police — which meant the fact that he was gay would become public in this small country where gossip travels fast — or he could let his attacker get away with it and risk him attacking someone else — or Cimbaljevic again.
"If I don't report him, then he will figure out that there are no police coming at the door and I was afraid, and he will do it again," Cimbaljevic said. "I decided no, I will not gamble here what he will do next time. I will come out."
Cimbaljevic, who at the time was working on social programs for Roma children, decided he would form an LGBT organization. He came out in an article in the country's biggest newspaper by announcing the formation of a gay rights organization, LGBT Forum Progres.
It was the beginning of a very difficult period: His father disowned him, his extended family cut him off, and he was also separating from his partner for unrelated reasons. To make things worse, his attacker never went to jail — instead, he was put on probation and continued to harass Cimbaljevic.
He had become accustomed to threats before the pride march in Budva, but they intesified in the weeks after. Despite his providing extensive documentation to officials, no one was ever prosecuted. Believing the authorities had no desire to put a stop to the threats, he decided to seek asylum in Canada this summer, where he had acted as the international grand marshall of Vancouver's pride parade right.
If just one person had been convicted following the Budva march, Cimbaljevic said, "I wouldn't be here."
"If they had charged one single person I would not have decided to go," he said. "They need to enforce the law."
On Sunday, as the country's capital hosted its first ever pride march, Cimbaljevic attended via Skype. One of his friends connected him to the event on her cell phone.
"People were waving at me, they couldn't believe [I was there], they were running towards the phone, waving, sending kisses," Cimbaljevic said by phone from Vancouver. He made his own protest sign and held it up to the camera. "I also am in Podgorica," it said.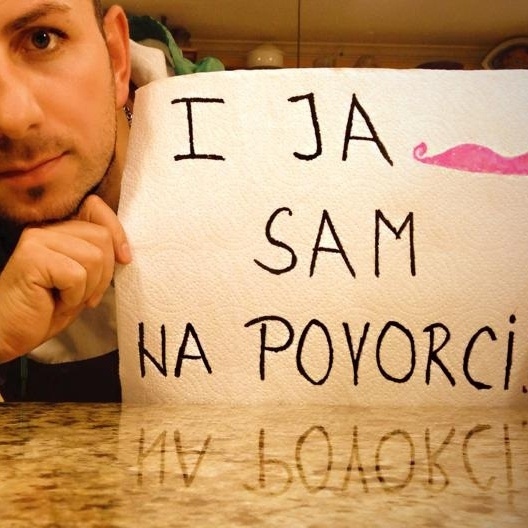 The march in Podgorica saw violence, as did the march Cimbaljevic organized in Budva. But unlike that rally, no marchers were injured, thanks to a total lockdown of the route by police. Officials came out to support the rally.
According to figures provided by march organizers on Monday, 1,907 police officers were deployed to protect the 219 participants — plus almost 100 journalists — who were allowed into the march zone. Officers clashed with protestors at ten different sites, arresting 21 minors and 39 adults. One officer wound up with a broken leg, and at least ten more were lightly injured.
Despite the official sanction, many activists face the same death threats Cimbaljevic once did. Following the march, police put some of the country's most visible LGBT activists under enhanced protection. One activist, whose face had appeared in the media, was assaulted the day before the march, and the leaders of Montenegro's two LGBT organizations have both received multiple death threats since it ended.
And yet these activists say the climate has shifted substantially in the short time since Cimbaljevic left the country. They say death threats are part of their everyday lives, and while they still must be careful, they are not as menacing as the ones he faced.
"We sometimes joke about it," said Stevan Milivojevic, who took over as executive director of the group Cimbaljevic founded, LGBT Forum Progres. "It is a daily routine and you open the social networks, you open email … [to find] two or three threats in your accounts. Over coffee you file them and send them to the police."
"I'm living with [death threats] since I came out publicly," said Danijel Kalezić, president of the group that organized the Podgorica pride, Queer Montenegro. "I do not pay attention and I'm not scared. Really, I'm not scared.... If anything happens, I think that I will immediately call the police officers and ask them to protect me; it is something that they should do because I pay my taxes."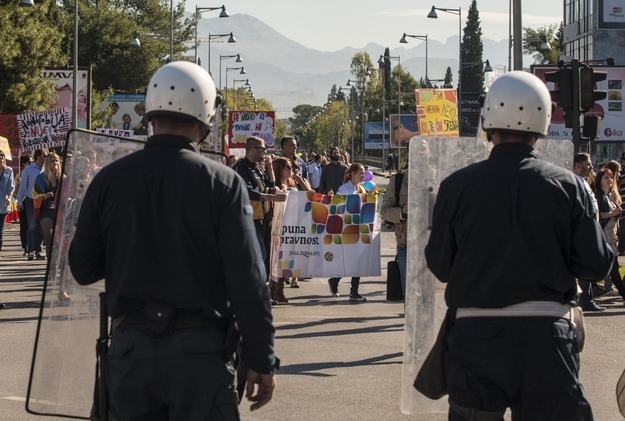 Cimbaljevic's coming out had a profound impact inside Montenegro.
Danijel Kalezić, who is just one year older than Cimbaljevic, was taken by surprise when he read about Cimbaljevic's coming out back in 2010. The two knew each other a little through their work in the NGO world, but not very well. Kalezić had been steeling himself to take the step Cimbaljevic was taking.
Kalezić had been working on LGBT rights at a human rights organization called Juventas and was part of an informal group that would later become Queer Montenegro. He was out to his family and he was even quoted on the issue in the press. But he never went so far as publicly declaring he was gay.
"It's a really, really brave step," Kalezić remembers thinking.
It had an even deeper impact on Stevan Milivojevic, who was only 22 when he took over LGBT Forum Progres from Cimbaljevic this summer.
"It was extremely important to me for the first time, you had a person who states that he's gay in my country," Milivojevic said. "I was extremely impressed and I couldn't believe that this man is courageous enough to say that he's gay."
Milivojevic began volunteering in the organization as an English-language translator, and then moved through a series of staff positions before becoming its director. In September of last year, he came out to his mother, and then, a few months later, to his father, and found them both supportive. He had a support group within LGBT Forum Progres that prepared him for his coming out.
"I was frightened in the beginning, but it really was easier for me than it was for Zdravko," Milivojevic said. Gay and lesbian issues have been part of the national discussion since Cimbaljevic came out — people are at least aware that LGBTs exist within Montenegro now. "My parents and friends and all my surrounding people supported me," he said.
Milivojevic and Kalezić have a sense of entitlement to safety that Cimbaljevic couldn't hold on to in the face of his experience. The country's police, and officials, appear more committed to protecting them, as evidenced by Sunday's rally.
But Kalezić said it's not enough for the police to stop the violence. If prosecutors are as lax with those arrested in the violence that struck Podgorica on Sunday as they were with those threatening Cimbaljevic, it won't drive home the message that hate crimes will not be tolerated, he said.
"I would be really disappointed if the prosecutors do their job as [badly as] they did it after Budva," he said. Prosecutions are the next step if "the state wants to show really good message."
J. Lester Feder is a foreign correspondent for BuzzFeed and a 2013 Alicia Patterson journalism fellow.