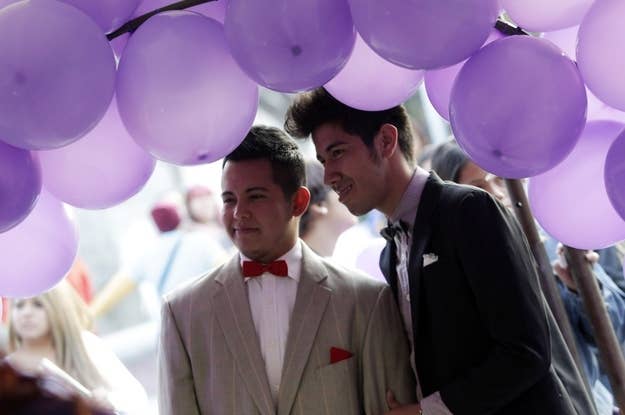 Denying same-sex couples the right to marry is unconstitutionally discriminatory, Mexico's Supreme Court announced in a sweeping ruling made public Monday.
The ruling not only makes a strong statement about Mexican law's treatment of equal protection guarantees, it also relies heavily on civil rights rulings handed down by the U.S. Supreme Court. Although several justices of the American court take pride in not caring what foreign courts say, any who read the Mexican decision will find the court makes an impassioned case for the United States to follow its lead.
Writing for a unanimous tribunal, Minister Arturo Zaldívar Lelo de Larrea invoked the U.S. cases Loving v. Virginia and Brown v. Board of Education to argue for marriage equality in a way that American activists would be overjoyed to see from a justice of the U.S. Supreme Court.
On Loving v. Virginia, which struck down laws against interracial marriage in 1967, Zaldívar wrote (translated from its original Spanish):
The historical disadvantages that homosexuals have suffered have been well recognized and documented: public harassment, verbal abuse, discrimination in their employment and in access to certain services, in addition to their exclusion to some aspects of public life. In this sense … when they are denied access to marriage it creates an analogy with the discrimination that interracial couples suffered in another era. In the celebrated case Loving v. Virginia, the United States Supreme Court argued that "restricting marriage rights as belonging to one race or another is incompatible with the equal protection clause" under the US constitution. In connection with this analogy, it can be said that the normative power of marriage is worth little if it does grant the possibility to marry the person one chooses.
Zaldívar also wrote that it would also be contrary to the principles of the 1954 school desegregation case Brown v. Board of Education to restrict same-sex couples to civil unions or domestic partnerships while barring them from marriage.
It can be said that the [other] models for recognition of same-sex couples, even if the only difference with marriage be the name given to both types of institutions, are inherently discriminatory because the constitute a regime of "separate but equal." Like racial segregation, founded on the unacceptable idea of white supremacy, the exclusion of homosexual couples from marriage also is based on prejudice that historically has existed against homosexuals. Their exclusion from the institution of marriage perpetuates the notion that same-sex couples are less worthy of recognition than heterosexuals, offending their dignity as people.
The ruling had been anticipated since the court announced December 5, 2012, that it would order the state of Oaxaca to recognize the marriages of the three same-sex couples that had filed suit. But the court waited to spell out its justification for this decision in a written ruling for two-and-a-half months, suggesting there may have been disagreement about just how broadly it should make the case for marriage equality. The couples' lawyer, Alex Alí Méndez Díaz, told BuzzFeed the opinion was posted on the court's site Monday.
The court broke important ground in the ruling by invoking another precedent from international law, a ruling handed down in 2012 by the Inter-American Court of Human Rights, Karen Atala Riffo y Niños v. Chile. Most Latin American countries recognize the jurisdiction of the Inter-American Court, which is the legal arm of the Organization of American States. (The United States and Canada do not submit to the court's jurisdiction.)
Karen Atala was a Chilean mother who was denied custody of her children during divorce proceedings with her ex-husband because she is a lesbian. The Inter-American Court said the Chilean courts violated Atala's human rights and for the first time said that gays and lesbians were protected from discrimination under international law, declaring that the American Convention on Human Rights, "prohibits … any rule, act, or discriminatory practice based on sexual orientation."
A trio of same-sex couples from Chile have already started proceedings in the Inter-American justice system claiming that the Atala precedent means that international law should also protect the right to marry. If they succeed, it could open the door to marriage rights throughout Latin America for same-sex couples.
The Mexican marriage case was the first test in any Latin American court of whether the decision in Atala's case can be applied to marriage rights. The court held that it could, writing that Atala requires the rejection of "a regime of separate-but-equal marriage."
Hunter Carter, a lawyer for the Chilean couples suing to marry in the Inter-American Court, told BuzzFeed, "This opinion is a huge win for marriage rights for same sex couples in the Americas."
Despite its breadth, this ruling will have only a small immediate impact in Mexico.
Technicalities of the country's legal system mean that only the three couples who brought this case will be able to marry right away. Mexico City is still the only jurisdiction inside Mexico where marriage between same-sex couples is fully legal; several more lawsuits will have to be brought before that right is available nationwide.
Unlike in the United States, it takes more than one ruling from Mexico's Supreme Court to strike down a law—the court must rule the same way in five separate cases before a law falls. This ruling concerns three separate cases; it will take two more for any same-sex couple in Oaxaca to be able to wed easily, and then the process may have to be repeated in other states. But this precedent means this is a procedural issue, not a legal one.
For the lawyer who brought this suit, Méndez, the verdict is still a big win.
"Without a doubt, we have made history … in Mexico. The next step is to extend this experience to other parts of the country," he said.
J. Lester Feder is a 2013 Alicia Patterson Fellow.