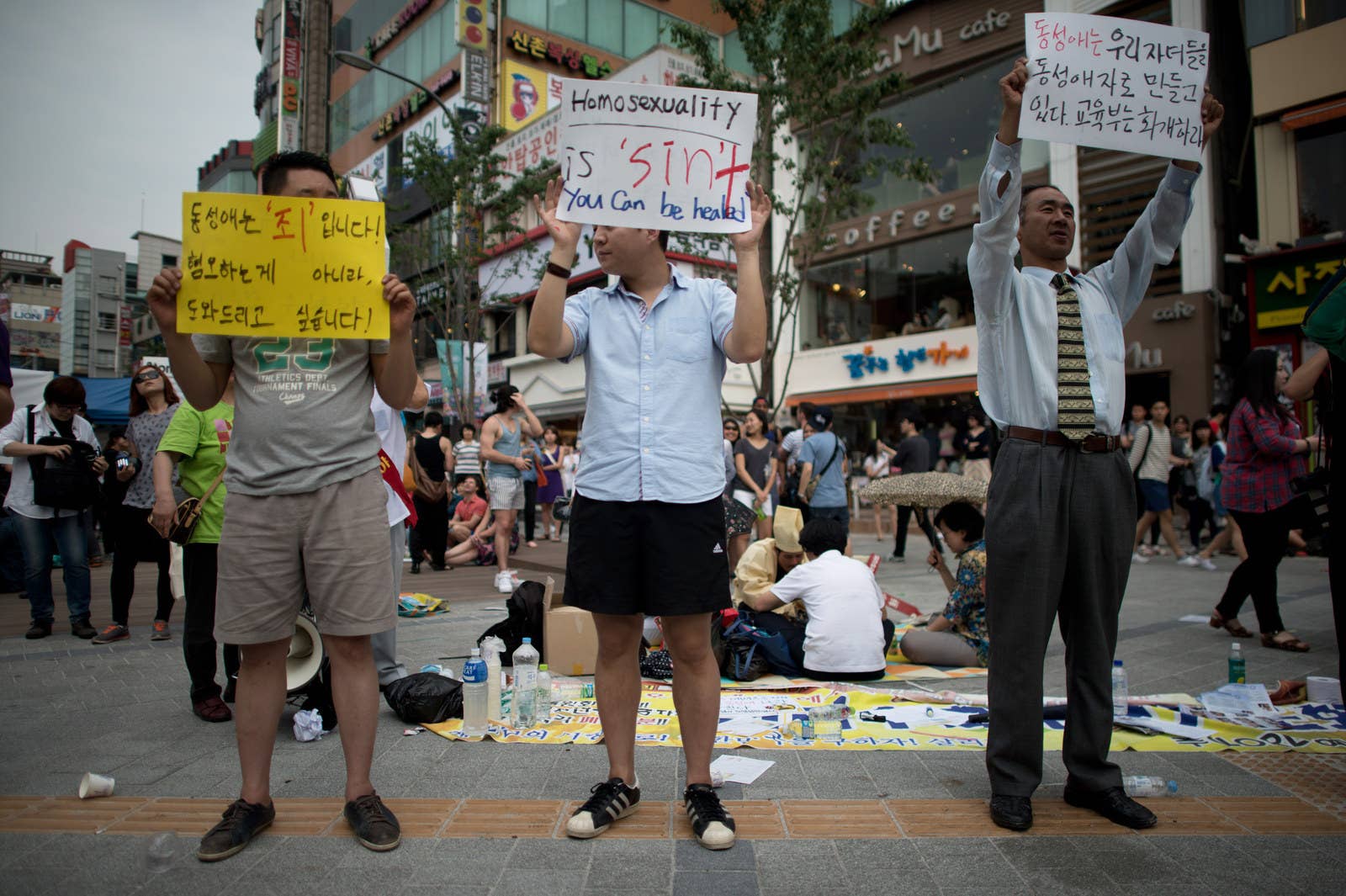 SEOUL — Jonah Lee, a round-faced 63-year-old with a swoop of graying hair, once spent his days running gay bars and drag clubs in Korea and Japan in the '70s and '80s. His flagship, Hot Love, was a hit in both Seoul and Tokyo.
Today, Lee is known for something else entirely. He claims, through a ministry he started in the Korean capital in 1994, to have counseled more than 1,200 people seeking to "escape homosexuality."
Lee's story — from gay entertainment pioneer to the leading spokesperson for Korea's ex-gay movement — was made possible by the trajectory of many of South Korea's Christian churches, which have grown exponentially since Lee first became a Christian almost 40 years ago. For most of that time, homosexuality was basically a non-issue even in the most conservative of these churches, and Lee said no one raised concern about his business for 11 years after he started attending South Korea's largest megachurch; he even started going to theology classes while dressed in women's clothing, according to a former teacher.
Today, many of Korea's most important Christian leaders have come to preach homosexuality as an existential threat. These churches believe their movement is doing more than just saving people from sin; they believe they are saving the nation itself. Lee's path to ex-gay leader is a story in miniature of how homosexuality rapidly went from an almost invisible issue in South Korea to one that is now bringing tens of thousands of shouting protesters to the streets.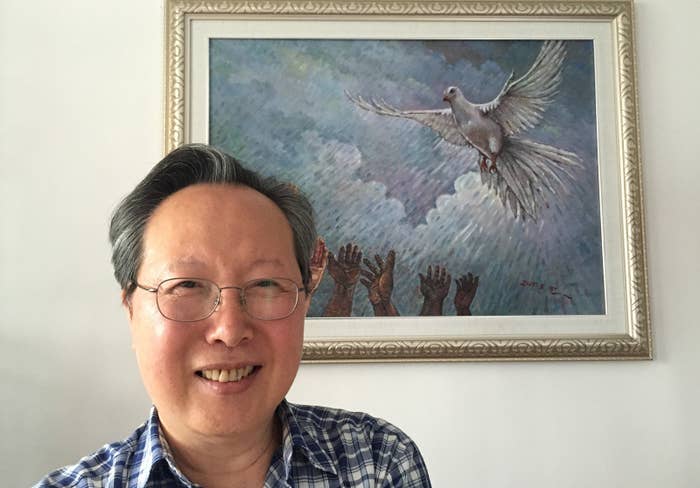 On June 28, Lee took to the stage at a rally organized by the Korean Churches Anti-LGBT Response Committee, an umbrella group that brought together five major Christian organizations to protest an LGBT march through the center of Seoul. He was on the same program as Pastor Lee Young-hoon, president of the Christian Council of Korea and head of the 800,000-member Yoido Full Gospel Church, where Jonah Lee first became a Christian.
"The church has to serve the nation faithfully in delivering the message of salvation to the homosexuals!" Lee told the crowd. Almost all of the several thousand people in attendance wore visors printed with the motto "Oppose homosexual provocation."
Back when Lee first converted from Buddhism to Christianity — in 1978 — this event would have been as unthinkable as his participation in it. While Christian leaders who spoke to BuzzFeed News maintain Korean churches have always subscribed to a doctrine opposed to homosexuality, barely anyone ever preached against it because there were virtually no out people in Korea, let alone an organized movement.
In an interview in the small office building that houses his church at the edge of Seoul's upscale Gangnam neighborhood, Lee said he became a Christian because he believed he was responsible for the suicide of his mother, a devout Buddhist, and needed a way to find forgiveness.
In the late '70s, Lee told his mother he could not marry because he was attracted to men. She told him she had been able to conceive him only after 100 days of beseeching Buddha for a son, and she now believed that his homosexuality was the price for having her prayers answered. His mother believed she could free him from his homosexuality by cleansing herself of her sins, and the only way to do that was for her to kill herself.
"My mom thought the reason why I'm gay was due to her sins. She thought it was her responsibility to resolve this problem — she wrote a will and committed suicide," Lee said.
Lee still carried tremendous guilt for her suicide, but he didn't run from his homosexuality. "I was heartbroken after my mother's death," Lee said. "But that didn't change things. I was still gay."
Soon after her death, he opened his first gay bar, called Hot Love, which Lee claims was the first in the Itaewon neighborhood that today has a thriving gay strip. He would perform drag there, too, taking the name Lee Ae Ma Ma, which translates to Lee Loves Mama.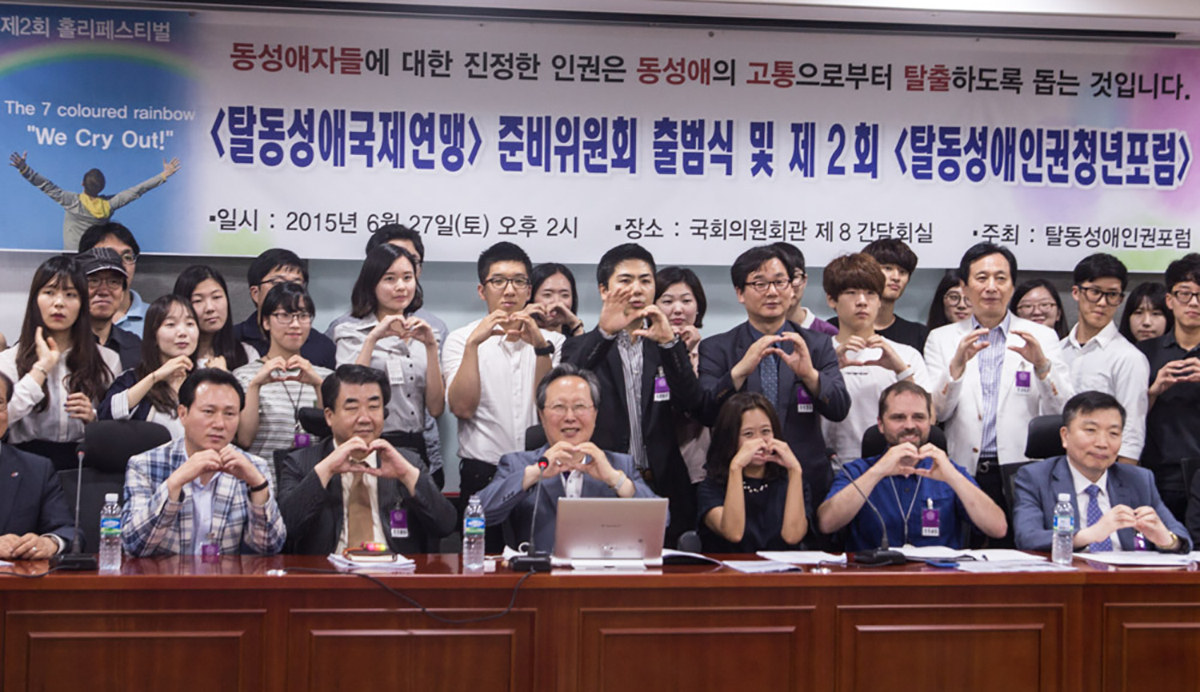 But he was lonely and miserable. So when an old drinking buddy returned from a stint living in Japan and told him she had become a Christian and Jesus had told her to bring him to Christ, he erupted in tears.
"I started having this feeling that I wanted to repent for my sins and I wanted God to forgive me," Lee said. "I wronged my mother and I wanted her to forgive me, but since she had passed away, I had no one to ask forgiveness from…. I repented, converted from Buddhism to Christianity, and I truly felt I was forgiven."
Accepting Jesus didn't mean turning away from homosexuality. He began attending Yoido Full Gospel Church even as his business took off, and he continued to run gay bars and drag clubs.
"I felt this happiness that I was able to communicate with God, but I was still homosexual," Lee said. "I didn't think it was a problem at the time — no one had mentioned to me that it was a sin."
Lee was one of hundreds of thousands of people who flocked to Yoido, one of the country's most popular and influential churches. Yoido was just one of many Protestant churches that were growing exponentially as South Korea's economy took off in the late '70s and '80s, fueled in large part by a "prosperity gospel" that preached faith would be rewarded by wealth.
Yoido was started by Pastor Cho Yonggi, a Buddhist convert, in the 1950s, when less than 3% of Koreans were Protestant. Though Korean diplomats first brought Christianity to the peninsula in the late 1700s, it really took off after the Korean War and the South's turn toward the United States as its most important ally and economic partner.
"I felt this happiness that I was able to communicate with God, but I was still homosexual."
American churches and Christian relief groups took a special interest in South Korea in part because Christianity had been especially well-established in the North before the communist regime. Korean Christians had been important leaders against Japanese rule in the first part of the 20th century, and its associated with nationalism grew stronger over South Korea's 60-year conflict with the North. As of 2010, almost 25% of South Korea was Protestant and another 7.5% was Catholic.
When Lee met with Pastor Cho to ask about the nighttime panic attacks he had been having and whether they might be a sign that God wanted him to become a pastor, Lee said Pastor Cho raised no concern about his sexuality.
"You've been selected by God," Lee said Cho told him during an encounter in Tokyo, where Lee had fled in 1988, when Lee said police shut down gay bars in Itaewon in response to the spread of AIDS. "I think he was aware that people are born gay."
Cho, through a spokesperson, declined to comment for this story. He stepped down as leader of Yoido in 2008 and was convicted in 2014 of embezzling millions from the church and of tax evasion.
The kind of culture wars then charging up U.S. evangelicals had yet to arrive in the region when Lee devoted himself to studying full-time at a Yoido-backed Bible school in Tokyo. He lived off the $3,000 a month he earned from renting out the Tokyo outpost of Hot Love and would regularly come to class dressed as a woman, according to his most important mentor, Pastor Koichi Hirano.
"I was shocked to find out he was a man," said Hirano, who is the pastor of the Horizon Chapel in Tokyo. Hirano said that Lee had "very fair, beautiful skin for a man of his age"; though Lee was almost 40, Hirano said, he "looked like a 25-year-old woman."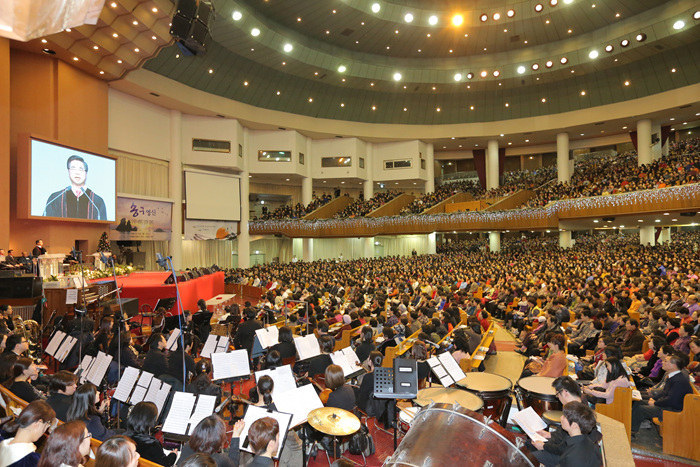 Then, 11 years into Lee's life as a Christian, something changed.
Hirano was the first to tell Lee that he could not be gay and become a pastor. And he went one step further: He told him he wasn't born gay and that Bible study could cure him.
"If you were indeed born gay then something is wrong with God — God created a male and a female, and he said that homosexuality is a sin," Lee recalls Hirano telling him. "There must be something wrong with God if he says being gay is OK."
Lee, eager to fulfill his calling to become a pastor, asked Hirano how he could stop being gay. Lee remembers Hirano pointed to him to Corinthians 6:11, promising he could be "sanctified by the Holy Spirit" if he devoted himself to scripture.
Hirano had lived in the United States for 21 years, from 1968 to 1989, where he had heard many stories of "ex-gays."
Though Hirano had been ordained at Duke University's liberal Methodist seminary, his preaching was heavily influenced by the Calvary Chapel in Costa Mesa, California, a megachurch that was the seat of one of the largest revivals of the 1970s. He had been posted to a church in nearby Huntington Beach after finishing seminary in 1975, and he witnessed Calvary's legendary Pastor Church Smith bring thousands of hippies and others on the cultural margins to the church. There, Hirano had seen alcoholics and drug addicts saved by faith — and, he said, he knew "a lot of gay people [who] recovered at Calvary Chapel."
For two years, Lee studied with Hirano and "refrained from leading a gay lifestyle," but then had sex with an ex-boyfriend despite his resolve. He went to tell Hirano he was abandoning his studies, but while listening to Hirano finish teaching a story about Jesus exorcising a man of demons, he felt a blow to the head and it seemed as though his soul had left his body, as if chasing a tornado. He started to cry and sweat as if something were escaping through his pores.
When it was over, Lee said, he "felt a change … like cool water running through my stomach." Though he'd had sex with a man just a few days before, he said, "I started feeling that a woman is beautiful and males are just males."
"There must be something wrong with God if he says being gay is OK."
Through Hirano, Lee said he developed a relationship with Calvary Chapel and received his certificate of ordination from its Santa Barbara branch when he visited California in 1995. Ricky Ryan, then-pastor of the Santa Barbary Calvary Chapel, declined through an employee of his current church to respond to BuzzFeed News' requests for confirmation.
At first Lee hid his gay past, and his churches struggled. By 2007, when South Korea was producing more missionaries than any country in the world other than the U.S., Lee was thinking of joining their ranks by evangelizing China.
But before he could leave, LGBT rights burst into the national debate for the first time. South Korea's legislature, the National Assembly, took up a human rights bill that would have barred discrimination on the basis of sexual orientation along with several other controversial categories, including "ideology," "military status," and "family type." The fight that ultimately sunk the bill finally gave Lee his niche.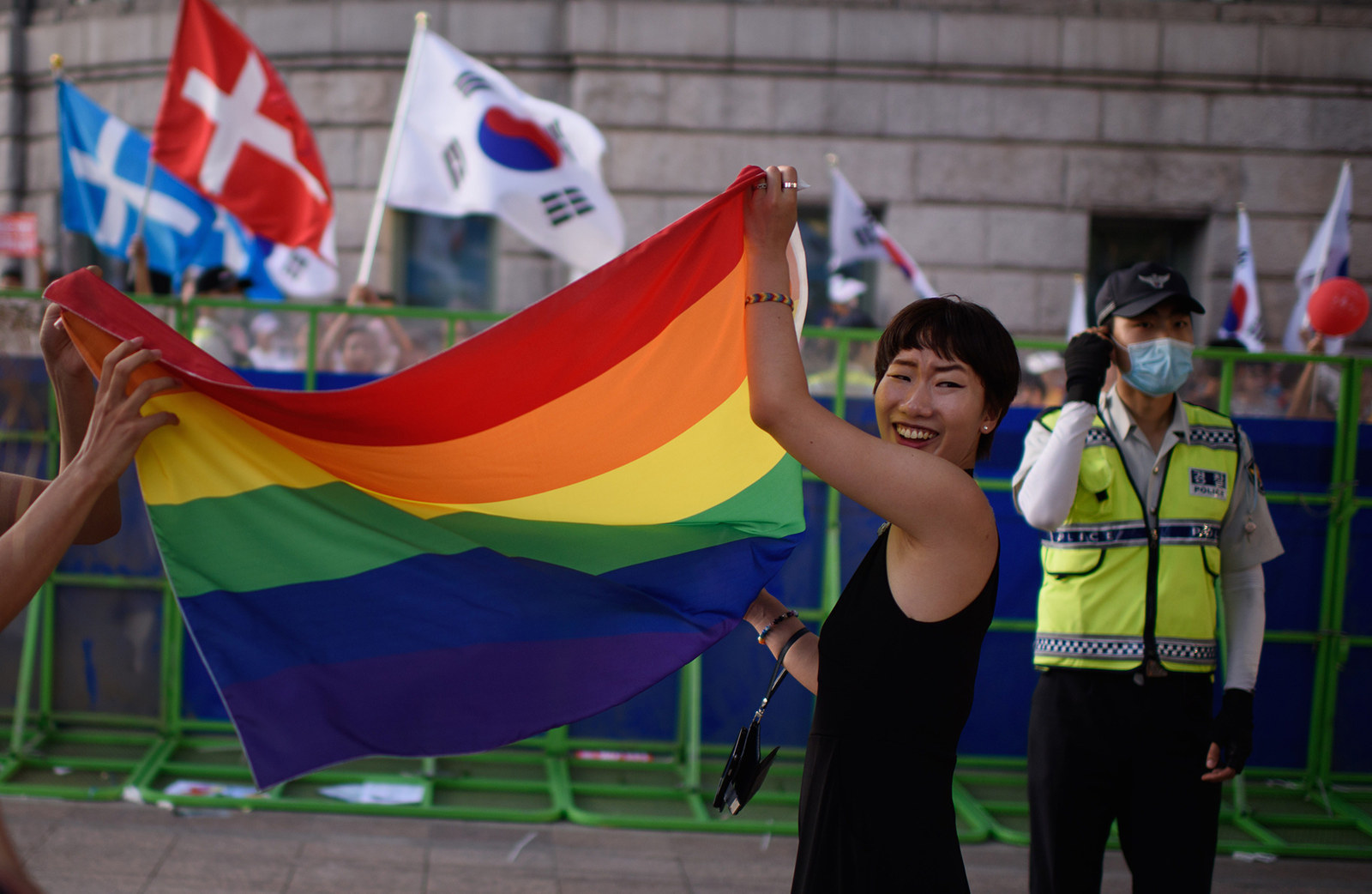 Lee became one of a handful of activists who thought the major churches and religious organizations weren't doing enough to defeat the bill. This was the first attempt to import LGBT rights laws primarily crafted in Europe and the Americas to Korea under the banner of human rights, a concept that was particularly sensitive in the country because its most popular politician, Ban Ki-moon, had just become secretary general of the United Nations.
Like anti-LGBT activists where such laws had passed, they warned this would lead to censorship of churches that preached against homosexuality. And, even though a homegrown LGBT movement had been hosting small pride marches since 1999, many viewed homosexuality as something that would never have become an issue if not for foreign influence.
Lee founded his own organization, called the Holy Life Center, to "treat homosexuals." The group also organizes events to promote "ex-gay rights," which Lee appears to primarily mean the right to continue to practice his brand of therapy at a time when many European and American jurisdictions are moving to prohibit it. Lee said that as word got around about his past, the groups mobilizing against the bill recruited him as a spokesperson. Ultimately, the sexual orientation language was stripped from the bill and the whole proposal was shelved.
Lee's fame began to spread beyond his small ministry. "I heard that there was a gay pastor in Korea that was treated, and we invited him to hear his story at one of our church meetings," said Lee Yong-hee, leader of a group called the Esther Prayer Movement. The group was originally created to "make the nation pure" in the hopes of reunification with North Korea, but it has become one of the most visible of the small Christian groups of Korea's growing anti-LGBT movement over the past few years.
Jonah Lee eventually split with the Esther Prayer Movement and groups like it, because, he said, "they were portraying gay people as bad people" while he views "gay people as someone who needs to be saved, not as my enemy." For the past two years, Lee's Holy Life Center has put on a series of seminars about helping people "escape homosexuality" that coincided with this year's Korean Queer Cultural Festival. The festival, which has been organizing pride marches and other events since 1999, became the focus of the churches' newfound fear of LGBT rights in 2015, when they organized their Anti-LGBT Response Committee in a failed attempt to get city leaders to shut down the march and LGBT rally in front of city hall.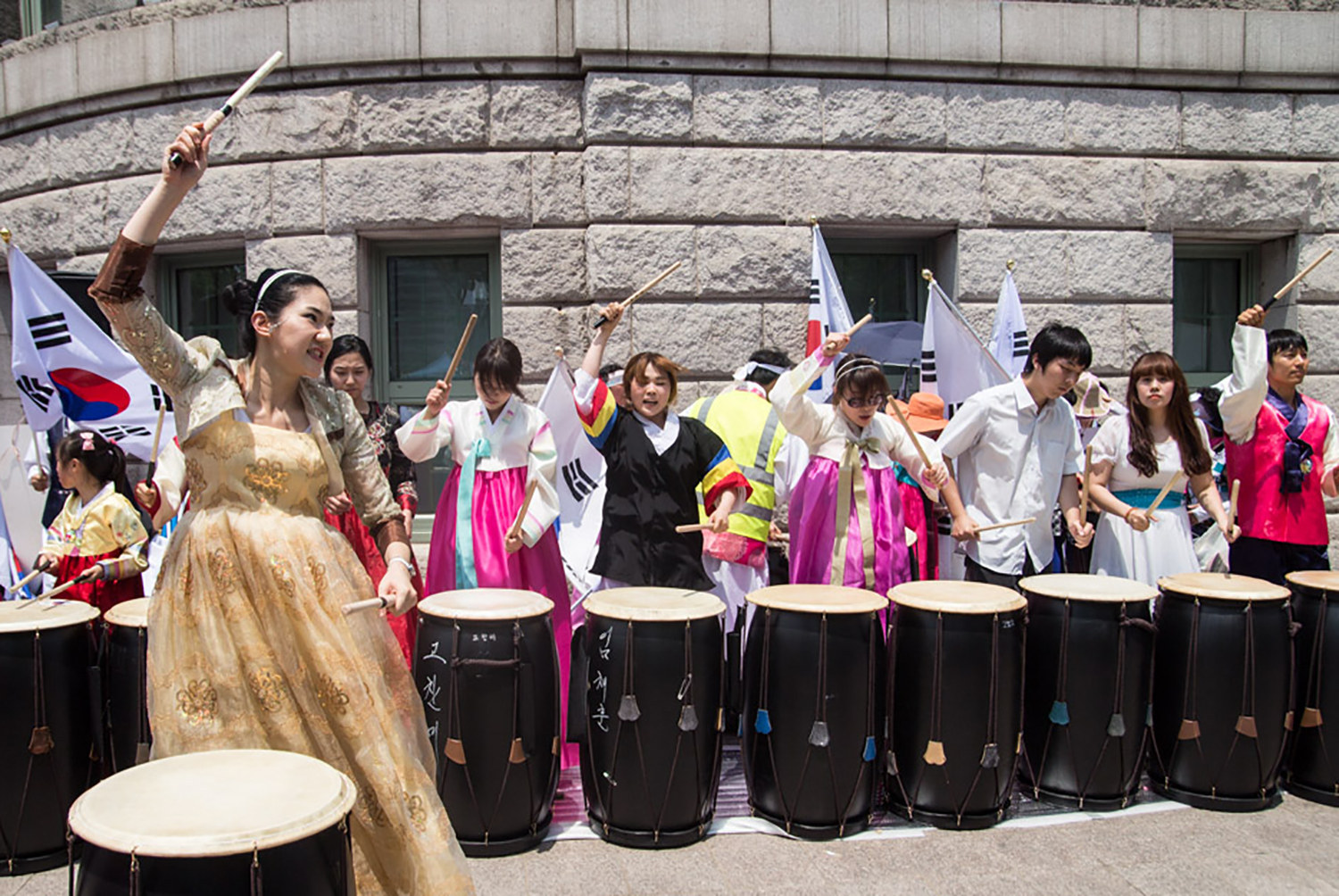 This year, Holy Life also organized an event at the National Assembly announcing the formation of a new international ex-gay organization to replace Exodus International, which collapsed in 2013. Lee also maintains a website where he fields questions from people seeking to be cured from homosexuality.
"Will you, Pastor Jonah, help me save myself from homosexuality? I cannot trust God. I believe that without believing in the miracles of the Lord, I cannot overcome homosexuality like this," one young woman wrote to him. He replied, "The reason that you cannot overcome homosexuality is because you are choosing to waste your life as a homosexual being, even if you will burn with an eternal judgement…. The Biblical command is for you to come forth with a heart for repentance, and also a clear mind wishing to change completely. You must fight for your faith and have a determination of patience."
Until this year, Lee, the Esther Prayer Movement, and a few other small organizations were the only ones consistently mobilizing against LGBT rights, though their reach was amplified by more established religious leaders who were influential in both of South Korea's major parties and helped kill a few attempts to revive the nondiscrimination language first defeated eight years ago.
That changed this year when the Christian Council of Korea, which claims to represent 60,000 churches with 12 million members, helped organize the Korean Churches Anti-LGBT Response Committee. The committee appeared to want to capitalize on the small success of a small band of protesters in 2014, who managed to delay a pride march through Seoul by lying down in the street.
"If values such as LGBT rights seep into our society, these traditional principles and our social structure [will be] torn apart."
This year, Yoido's top pastor and other high-profile religious leaders waged a months-long battle to get city officials to deny permission to hold the parade altogether — and nearly succeeded. The march went ahead only after a court ordered it be allowed to proceed. The Anti-LGBT Committee focused its energy on getting thousands of protesters on the streets in an unsuccessful bid to drown it out.
Yoon Deuk Nam, the general secretary of the Christian Council, told BuzzFeed News that as the pride marches began attracting crowds of more than 20,000 in the heart of the city, homosexuality had become a threat to South Korea. A special fear is that the military — the only South Korean institution that explicitly criminalizes sodomy — would be weakened if homosexuality were allowed to become accepted. The country is still technically at war with North Korea, and all South Korean men are required to serve two years in uniform.
"Of course these so-called values [of LGBT rights] will undermine our national strength," Yoon said. "We have to send all able-bodied men to the military when they reach a certain age…. and if values such as LGBT rights seep into our society, these traditional principles and our social structure [will be] torn apart."
Lee's mission is critical to the churches' efforts to defend South Korea, said Park Young-ryul, former general secretary of the Christian Council of Korea, speaking at an event Lee organized at the National Assembly in June.
"Many politicians and activists said that homosexuality is something you are born into, they must be recognized.… but Jonah was our only hope, our only alternative that proved this wrong — he showed us that homosexuality is something that can be escaped," Lee said. "This person's precious ministry is a milestone to the Korean history and society."