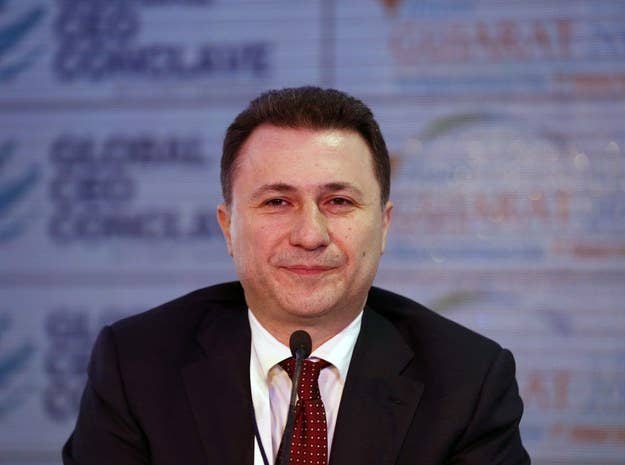 The Parliament of Macedonia voted Tuesday on a vote of 72 to 4 in favor of a constitutional amendment that defines marriage as "a life union solely of one woman and one man" and imposes a requirement of a two-thirds vote to pass any legislation that would create civil unions or other form of partnership rights for same-sex couples. It still needs another parliamentary vote and presidential approval to become law, but the lopsided vote shows it has deep support.
Macedonia, which was part of Yugoslavia before the country dissolved at the end of the Cold War, is the fourth country in Eastern Europe to ban marriage equality since 2012. The other European nations that ban marriage equality are all in Eastern Europe and enacted their bans between 1991 and 2006. But as Western European nations like France and the United Kingdom moved towards full marriage equality, forces across Europe opposed to LGBT rights became more vocal and organized, and they have won a string of victories across Eastern Europe in the past 3 years.
Hungary's parliament adopted a marriage equality ban in 2012, and Croatian voters approved a marriage equality ban in 2013. Slovakia's parliament adopted one in 2014, and an anti-marriage equality organization succeeded in bringing a referendum on further restrictions of LGBT partnership rights, which will be put to voters on February 7.
The European Union has successfully pressured several former Yugoslav republics to take steps to safeguard LGBT rights, most notably helping LGBT activists this September hold the first pride march in the Serbian capital, Belgrade, for the first time in four years. But the European Union's leverage in Macedonia, where there have been several attacks on LGBT individuals and organizations, is limited because its bid to join the E.U. has stalled. Greece, which also has a territory called Macedonia and was the site of most of the ancient kingdom of Macedonia that was once led by Alexander the Great, has blackballed the Republic of Macedonia's membership because it contests the country's right to use the name.
Sophie in 't Veld, a member of the Parliament of the European Union from the Netherlands who is Vice-President of the European Parliament's Intergroup on LGBTI Rights, denounced the vote in a statement issued Wednesday.
"LGBTI people in Macedonia face severe stigma and are all too often faced with hate crime, to which authorities fail to react," she said. "Macedonia would be better served by following the trend of an increasing number of countries in Europe and the Americas where same-sex couples are legally recognised and protected."