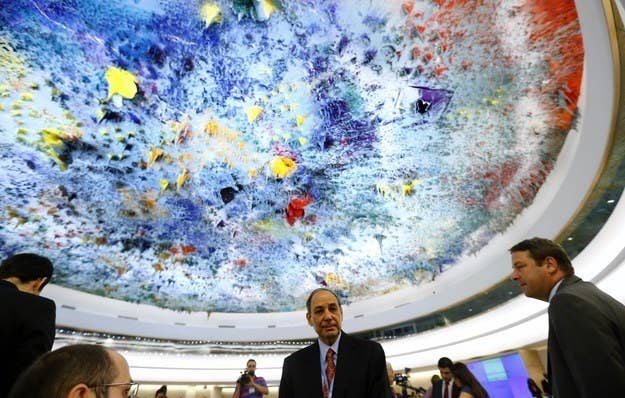 An LGBT rights resolution was adopted on Friday by the United Nations Human Rights Council on a vote of 25–14, with seven abstentions.
The resolution is rather anemic, simply calling for a report from the U.N. high commissioner for human rights on combatting human rights violations on the basis of sexual orientation and gender identity. But it is one of the few times a U.N. body has adopted a resolution affirming LGBT rights are human rights, and so LGBT advocates see it as an important precedent in empowering officials throughout the U.N. system to work on LGBT rights.
The proposal's opponents — led by Egypt and other members of the Organization for Islamic Cooperation — fought determinedly to defeat the proposal, which they framed as a form of cultural imperialism and an attack on Islam.
"We feel there is an attempt to impose uniculturality" that "runs counter to religious and cultural practices of some countries," said Saudi Arabia's representative during debate. The language "In my opinion, this [resolution] is a human rights violation."
Pakistan's representative was more explicit: "The wider connotation of the words 'sexual orientation' can be destructive and inimical to our Muslim [faith] ... and to our youth as a whole," he said.
But several amendments intended to gut the bill failed, and the final vote suggests the these arguments are losing ground even in the regional blocs that have historically been the most unified in opposing U.N. language supporting LGBT rights. Congo, Sierra Leone, and Namibia broke with most of the rest of the Africa bloc to abstain on the resolution, a kind of soft "yes" vote. Kazakhstan, a member of the Organization for Islamic Cooperation, abstained as well. The vote was far more lopsided than when a virtually identical resolution was voted on in 2011, when it passed by a vote of 29–19 with three abstentions.
The most closely watched nation in today's vote was South Africa, which had co-sponsored the 2011 resolution but had been so hostile in discussions that LGBT rights advocates were concerned it might help torpedo the effort until shortly before voting began. Though South Africa voted for the resolution in the end, LGBT activists close to the negotiations said it had helped water down the resolution before the vote: The original proposal would call for LGBT rights reports to be produced every two years, while the version voted on today only called for a one-time report.
In remarks delivered following the vote, South African Ambassador Abdul Samad Minty made clear he felt squeezed by its historic commitment to LGBT rights — it was the first country in the world to protect LGBT rights in its constitution — and a desire to preserve relationships with other African countries that have recently enacted severe anti-LGBT laws like Uganda and Nigeria.
"South Africa believes that no person should fear for their safety or be deprived of their dignity because of their sexual orientation or gender identity," Minty said, but blasted "divisive" steps taken by some donor nations to "use development aid to shift policies and laws in some countries," an apparent reference to adjustments made by the United States and some European countries in contributions to Uganda following enactment of its Anti-Homosexuality Act earlier this year.
Here's how members of the Human Rights Council voted on the resolution: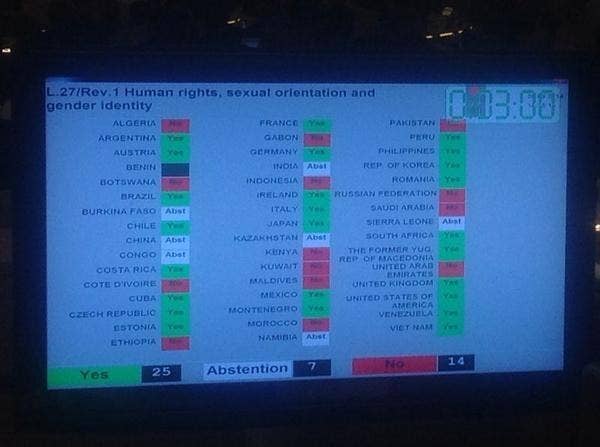 Here's the text of the resolution: