Killers Of "Chile's Matthew Shepard" Found Guilty
Daniel Zamudio, a 24-year-old gay man, was beaten unconscious and had swastikas carved into his skin in the fatal 2012 attack. His death led to the passage of a hate crime law in Chile and energized LGBT rights movements across Latin America.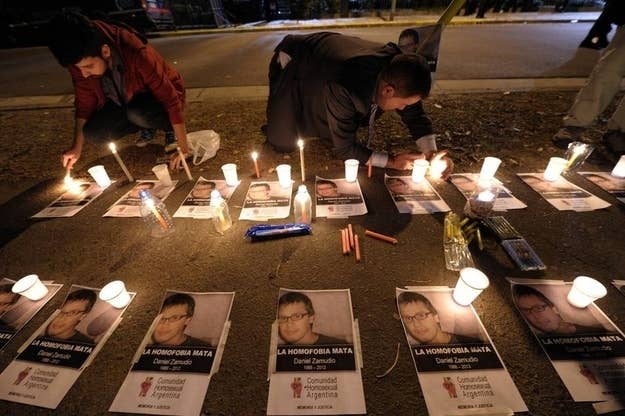 A Chilean court convicted four men on Thursday for the murder of Daniel Zamudio, who died after a brutal assault in a Santiago park on March 3, 2012.
Zamudio's death has been compared to the 1998 killing of Matthew Shepard in Wyoming because it led to the passage of a hate crimes law in Chile that protects LGBT people. The bill had been stalled for seven years in the country's Congress.
The convicted men are Patricio Ahumada, Alejandro Angulo, Raúl López y Fabián Mora, who were between 19 and 25 years old at the time of the attack.
They found Zamudio sleeping in San Borja park on the night of the attack. According to Mora's account, which was published by Emol.com, one of the attackers asked Zamudio if he was gay and he said yes.
They then beat him unconscious, broke bottles over his head, burned him with cigarettes, cut off a piece of his ear, and smashed his head in with a rock. They also carved swastikas on his back and chest. He died of his injuries 25 days later.
Thousands turned out for his funeral procession as it journeyed for three hours from his hometown, San Bernardo, to Santiago's main cemetery.
The case grabbed international attention, including calls from the United Nations and the Inter-American Commission on Human Rights for Chile to take action to protect its LGBT citizens. The case led President Sabastián Piñera to throw his weight behind the long stalled hate crimes bill.
Even after the attack, a right-wing party called the Independent Democratic Union, as well as Evangelical and Catholic leaders, opposed the legislation, arguing it would "open the door" to same-sex marriage.
But horrific details of the murder helped overcome this opposition and the bill ultimately passed in a 25-3 vote in September of last year.
It also bouyed attempts to enact a civil unions law, which Piñera's administration said in January would be one of his top priorities during his final year in office. A Senate committee approved a version of the bill on Wednesday.
The men convicted in the Zamudio killing are expected to be sentenced next week.
J. Lester Feder is a foreign correspondent for BuzzFeed and 2013 Alicia Patterson journalism fellow.