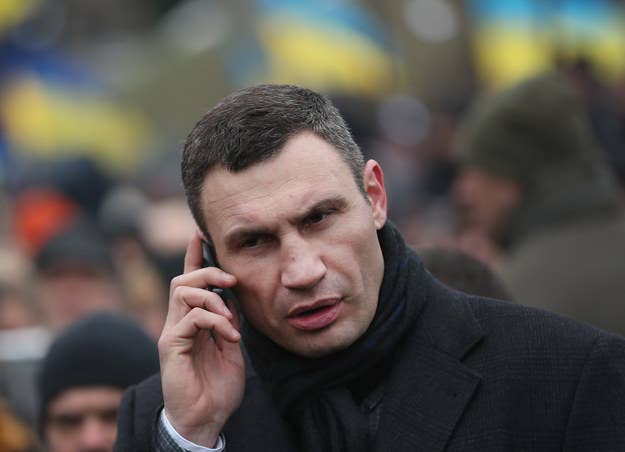 Ukrainian President Petro Poroshenko on Friday threw his support behind LGBT rights advocates who are planning to hold a "March for Equality" on Saturday.
"I relate to this [march] as a Christian and a European president, and I believe these two concepts are absolutely compatible," Poroshenko said, according to a report in the Russian news agency Interfax. "I will not take part in it. But I do not see any reason to interfere with this March, because it is the constitutional right of every Ukrainian citizen."
Poroshenko's comments follow a call from Kiev Mayor Vitaly Klitschko to cancel the march, suggesting it might "inflame hatred" at a time when the country remains embroiled in a conflict with Russia-backed separatists in east Ukraine.
"Today, as war continues in eastern Ukraine, it is the wrong time to be holding mass events that have a mixed reception in society," Klitschko said in a statement reported by the Russian news agency Interfax on Thursday. "Now we have one enemy — military aggression in the East. Therefore I ask everyone not to play into the hands of the enemy, not to inflame hatred and create another confrontation in the center of the capital."
Klitschko made a similar appeal last year, and march organizers ultimately canceled their event because they could not get police protection. Despite trying for several years, LGBT activists only succeeded in holding a formally sanctioned march in 2013, when the country was poised to start the process towards building ties with the European Union.
Anti-LGBT sentiment has flared over the past few years as the struggle between the EU and Russia over Ukraine's allegiance has intensified. As the date approached for signing the treaty to solidify ties with the EU, Russian allies in the country launched a campaign claiming that that it would lead to same-sex marriage, taking their cue from the Kremlin's anti-LGBT crackdown launched with the 2013 law against "gay propaganda."
Russian-backed separatists in East Ukraine adopted a "constitution" that included a provision criminalizing same-sex relationships in the Spring of 2014. Human rights groups report many LGBT people fleeing areas under rebel control and Crimea, the Ukrainian territory Russia invaded and annexed in early 2014.
Russia's law against "gay propaganda" was passed in 2013. A previous version of this story misstated the year.