Kenya, Zimbabwe Grapple With Rising Anti-Gay Sentiment In Wake Of New Anti-Gay Laws Nearby
One Kenyan activist said he was "in shock" at growing anti-gay organizing in his country, where "life has been good for homosexuals."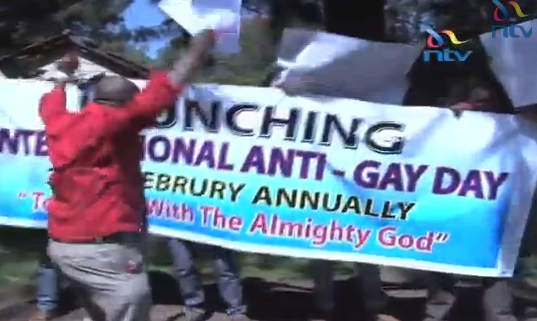 New anti-gay laws in Uganda and Nigeria have emboldened conservative activists and lawmakers in countries around Africa, raising fears that anti-LGBT sentiment and legislation could spread.
A group of anti-LGBT activists in Kenya declared Feb. 24 "International Anti-Gay Day" to mark the day that Yoweri Museveni, president of neighboring Uganda, signed an Anti-Homosexuality Bill into law. They also called for nationwide demonstrations.
One week earlier, a group of Kenyan lawmakers declared they were forming an "anti-gay caucus" in solidarity with Uganda's parliament, and called on police to begin arresting LGBT people in Kenya.
"In the penal code ... anybody who [is] found doing gayism is entitled for imprisonment for not less than 14 years," MP Stephen Kinyanjui told Kenyan television on Feb. 18. "So we fail to understand why these things are happening in Kenya and our government is keeping quiet."
In many African countries, there are concerns that Uganda's new law and a similar law in Nigeria, adopted in January, could turn into a broader crackdown on LGBT people in countries where they already are embattled. Political leaders from southern to western Africa have come to the defense of Nigeria and Uganda against Western criticism, which LGBT activists say could embolden forces within their countries to push for anti-gay legislation or to take the law into their own hands.
The initiatives in Kenya are perhaps the most blatant attempt to import anti-gay currents from Uganda. Kenya is known as having a relatively more open climate for LGBT people in East Africa, and the new movement has caused widespread fear in the community.
A handful of HIV clinics known to serve LGBT people shut their doors for all or part of the day of the anti-gay march on Feb. 24, several Kenyan LGBT activists and HIV workers told BuzzFeed, and there have been reports of specific threats against clinic workers that are now being investigated by police.
"Especially in Nairobi, life has been very good for homosexuals — I was surprised that it is happening in the country," said Peter Njane of the HIV organization ISHTAR MSM. "In fact, we're in shock."
"People feel at a heightened risk," said Eric Gitari of the Kenyan NGO the National Gay and Lesbian Human Rights Commission. So far, he said, this anti-gay backlash is "just smoke," unlikely to turn into a sustained movement. There is a strong network of civil society to push back on anti-gay forces, Gitari said, and so far government has been responsive — police are taking threats against LGBT people seriously, and the Health Secretary James Macharia made a statement on Friday decrying the "increased fear, stigma, discrimination and potential acts of violence against the key populations."
But, Gitari continued, if anti-LGBT groups continue to push anti-gay legislation year after year as they did in Uganda, there is a risk it could become a serious threat when elections approach in 2017 and it could be used as a wedge issue. This has been tried unsuccessfully before — when opponents of the 2010 constitution tried to defeat it by warning it would usher in new rights for LGBT people — but the issue could be more volatile with the model provided by Uganda's new law.
The influence of the Ugandan law is also being felt in the southern African nation of Zimbabwe, where President Robert Mugabe came to his Ugandan counterpart's defense over the weekend.
Western countries "want to tell us ... that it's a violation of human rights, that is what they are doing to Museveni right now," Mugabe said during a cocktail party celebrating his daughter's wedding. "The human right you have as a man is to marry another woman not to get another man to marry, we refuse that."
"I understand we have a group of homosexuals in this country ... so we want to check on who is in that group," Mugabe continued, an ominous phrase to members of the country's leading LGBT rights group, Gays and Lesbians of Zimbabwe (GALZ).
GALZ's office was raided by police and forces affiliated with Mugabe's party around the process leading to ratification of a new constitution in 2012 and elections last year, and its chairwoman, Martha Tholanah, was acquitted last week on charges of running GALZ in violation of rules for registering organizations.
Following the attention of her trial, Tholanah said, Mugabe's words sound like an invitation to violence.
"There are those who actually [believe that because] the president said this, we need to make sure" LGBT organizations are stamped out, she said.
Despite the history of anti-LGBT violence and harassment, Tholanah said, so far the climate in Zimbabwe is "nowhere near" as bad as in Uganda. Though homosexuality is criminalized, she didn't know of many cases of adults being jailed for consensual relationships. But if Mugabe decides to stoke homophobia once more, she worries, there is a "real threat" that Zimbabwe "might be going the way of Uganda."
Human Rights Watch's Monica Tabengwa, who is based in Nairobi, said she is optimistic that countries like Kenya and Zimbabwe, where LGBT rights have already been extensively debated, won't follow Uganda's path. She is more concerned about countries in West Africa, in Nigeria's shadow. It is the military and economic powerhouse in its neighborhood, and its smaller and weaker neighbors — some with Islamist movements — might be more influenced by Nigeria's law.
"I'm most worried more about Nigeria's impact now," Tabengwa said. "It plays the big brother to other small countries."
One country she is concerned about is Sierra Leone, where President Ernest Koroma criticized the U.S. and European countries during a visit to Nigeria over the weekend for trying to "impose" values on African countries.
"When a country arrives at a consensus, I think the country should be led by what it believes is right for the country and not what is necessarily right for the international community because of the variations in our traditions," Koroma said, according to Nigerian news reports.
Another surprising country where policy may be shaped in response to Nigeria's law is South Africa, its chief rival as a continental leader. South Africa, which was the first nation in the world to enshrine LGBT rights in its constitution, has been a key advocate for LGBT rights on the international stage. But its response to the new laws suggests it is shrinking from this commitment because it conflicts with other foreign policy goals, Tholanah suggested.
The ruling African National Congress blocked a motion presented by the opposition Democratic Alliance to condemn Uganda's Anti-Homosexuality Bill on Feb. 25.
"South Africa's interest right now is that they should challenge Nigeria in being the superpower of Africa," Tholanah said. "They've pulled back a little bit [in promoting LGBT rights internationally] ... because of the backlash that they've received in the region."
Correction: This story originally misattributed a quote. "I'm most worried more about Nigeria's impact now. It plays the big brother to other small countries" was said by Monica Tabengwa, not Martha Tholanah.