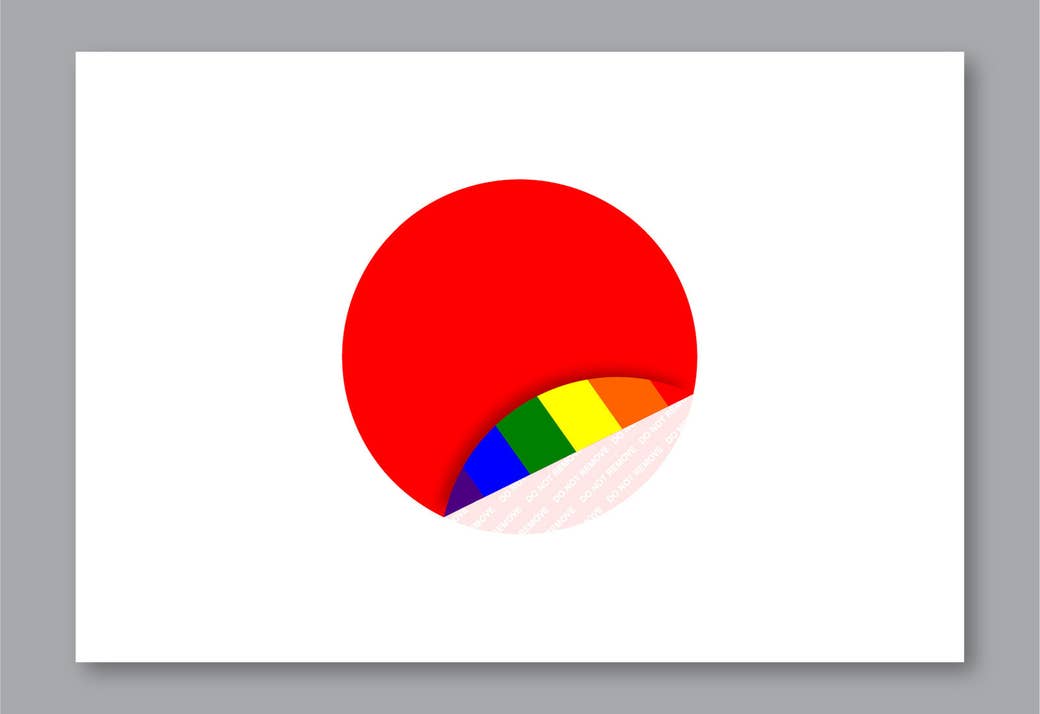 TOKYO, Japan — Shoko Usami decided she wanted to marry her girlfriend after watching her mother die.
It was October 2013, and Usami had rushed to the hospital. She was the only relative who had the power to make the decision the doctors needed: whether to end life support. When her mother died, Usami would be left completely without family — at least on paper. And she was forced to make the decision alone because her partner, Miho Okada, wasn't by her side. A nurse had shoved Okada aside when they entered the room, saying she was not a "blood relative."
Eight months later, on June 5, which was Usami's 46th birthday, the two women walked into the squat, white building that houses the local government of Aomori, a city of under 300,000 people at the northern tip of Japan's largest island. They marched into the building's marriage office, accompanied by around 15 friends, some of whom had flown in from Tokyo and Osaka after the couple announced their plan to marry on Twitter and Facebook. They'd heard rumors others had tried to register before, but as far as they knew, they were the first same-sex couple to publicize an attempt to legally register a marriage in Japan.
"I realized that I needed a way to make our partnership official and accepted," Usami told BuzzFeed News.
"We have to respect traditional Japanese family values"
Their friends later told them they had difficulty breathing as a tense silence fell over the office when they announced why they were there. The clerk sat dumbfounded — although almost all developed democracies recognize some form of same-sex partnership, it seemed not to have occurred to her that two women would want to get married in Japan.
Their request was denied. After waiting several hours, they were given a letter that said they could not marry because Article 24 of the Constitution states that "marriage shall be based only on the mutual consent of both sexes." The argument they'd made to the clerk — "We both consent and we both have sexes" — had failed.
From the outside, it's a mystery why Okada and Usami's stand was so lonely. Some polls suggest support for marriage equality in Japan tops 50%, and there are no religious blocs or socially conservative lobbies organized to oppose LGBT rights in the country. But one of the most striking features of marriage equality in Japan has been just how few same-sex couples are confronting their government to demand it.
Now, for the first time, a path to partnership rights may be opening — not because of a growing clamour from gays and lesbians, but because of the Olympics, which are coming to Tokyo in 2020. The organizers believed the showdown over LGBT rights that led up to the 2014 games in Russia guaranteed Japan's record on the issue would be put under the microscope as their games approached, and they wanted to show the world they stood with countries like the United States and Germany on the issue.
Some local governments have set up largely symbolic registries for same-sex couples, even though partnership protections aren't on the table in parliament — the Diet — for now. But the question is being forced by some of Japan's most powerful institutions: global corporations, which are giving spousal benefits to gay employees for the first time.
But very few couples have come forward to claim these new benefits, and even fewer are publicly demanding their rights like Usami and Okada. Just a handful of other couples have followed their lead since, and even the two-year-old group Equal Marriage Alliance Japan (EMA-Japan) seems deeply uncomfortable with personalizing the issue. Though Usami and Okada kept up their protest by again attempting to register in 2015 and are considering doing it again this year, Okada said, "We've never been asked by anybody to come and talk about our experience for such a campaign, including EMA-Japan. I'm not sure if they're even looking for this."
They're not, said EMA-Japan's director, Kazu Terada.
"I don't want somebody to sacrifice their life" by publicizing their relationship, Terada said. And he shies away from speaking about why marriage equality is important to him, too.
"I want my personal life quiet, peaceful, not so exposed to everyone," he said. "I don't get why sacrifice is necessary to realize the cause."
The question for Japan's marriage equality movement is whether it can win while the demand remains largely invisible, or will it have to become a vocal political movement ready for a national fight.
When Aya Kamikawa, a councilwoman on the government of Tokyo's Setagaya ward, first decided she wanted to create a partnership registry, she couldn't find any couples to support it.

She had met three couples who told her privately that they wanted to get married, and so she approached them with an offer to escort them to the registrar's office, find them an attorney, and help with a media strategy that would protect their identities while publicizing marriage discrimination. They all declined. In over a decade in office, she said, no gays or lesbians in her ward had ever written to the city to complain about discrimination.
"I strongly wanted to promote same-sex marriage," Kamikawa said during an interview at Setagaya's ward office. The registry wouldn't bring many concrete benefits — it would give couples an official-looking certificate and call on hospitals and businesses to treat them as if they were married — but it was a way to make the statement. But without couples to be the face of the proposal, she said, "I imagined it would be shot down as a very low priority if I actually brought it up because there's no visible need for such a system."
The reluctance of gays and lesbians to speak up was bewildering to Kamikawa, whose political career was launched out of her personal fight to be legally identified as female. While meeting with members of the Diet to push for a gender identity law, she was reportedly told by a lawmaker that she could only make her case if she went public with the cause. So, in 2003, she ran for council of Setagaya ward, the largest local government inside the city of Tokyo. She went on to win her seat with one of the highest vote totals, becoming Japan's first transgender lawmaker. Three months after her election, the Diet unanimously voted in favor of the gender identity law.
"We both consent and we both have sexes"
Transgender people had no choice but to throw themselves into politics, Kamikawa said. Sex-reassignment surgery was effectively banned until the mid-1990s, and people could not get jobs or rent apartments if their appearance didn't match the gender recorded in their family register, an identity document that records a person's family and their birth order.
Adoption of the gender identity law made the treatment of transgender people a concern of the government, but there was nothing in national law that protected the rights of gays and lesbians.
"I always thought it was strange that the T was getting a lot more attention than LGBs," Kamikawa said.
Many of the country's gay and lesbian organizations have been local and focused on providing services — like support for bullied teens or isolated gay seniors — and not in lobbying for a major change to national laws. Gays and lesbians had never had an urgent need to organize to push through major reforms, Kamikawa said. Issues like family rejection are experienced as private problems — there was no widespread problem of hate crimes or police harassment that pushed gays and lesbians into politics in many other countries.
To the extent there has been a public face of same-sex marriage in Japan, it was Koyuki Higashi and her wife, Hiroko Matsuhara, who held a wedding ceremony in 2013 at Japan's Disneyland but did not seek to legally marry. The flood of publicity turned them into minor celebrities, but rather than inspiring others to follow their lead, it sparked griping that they were seeking publicity or that marriage was a concern just for the elite.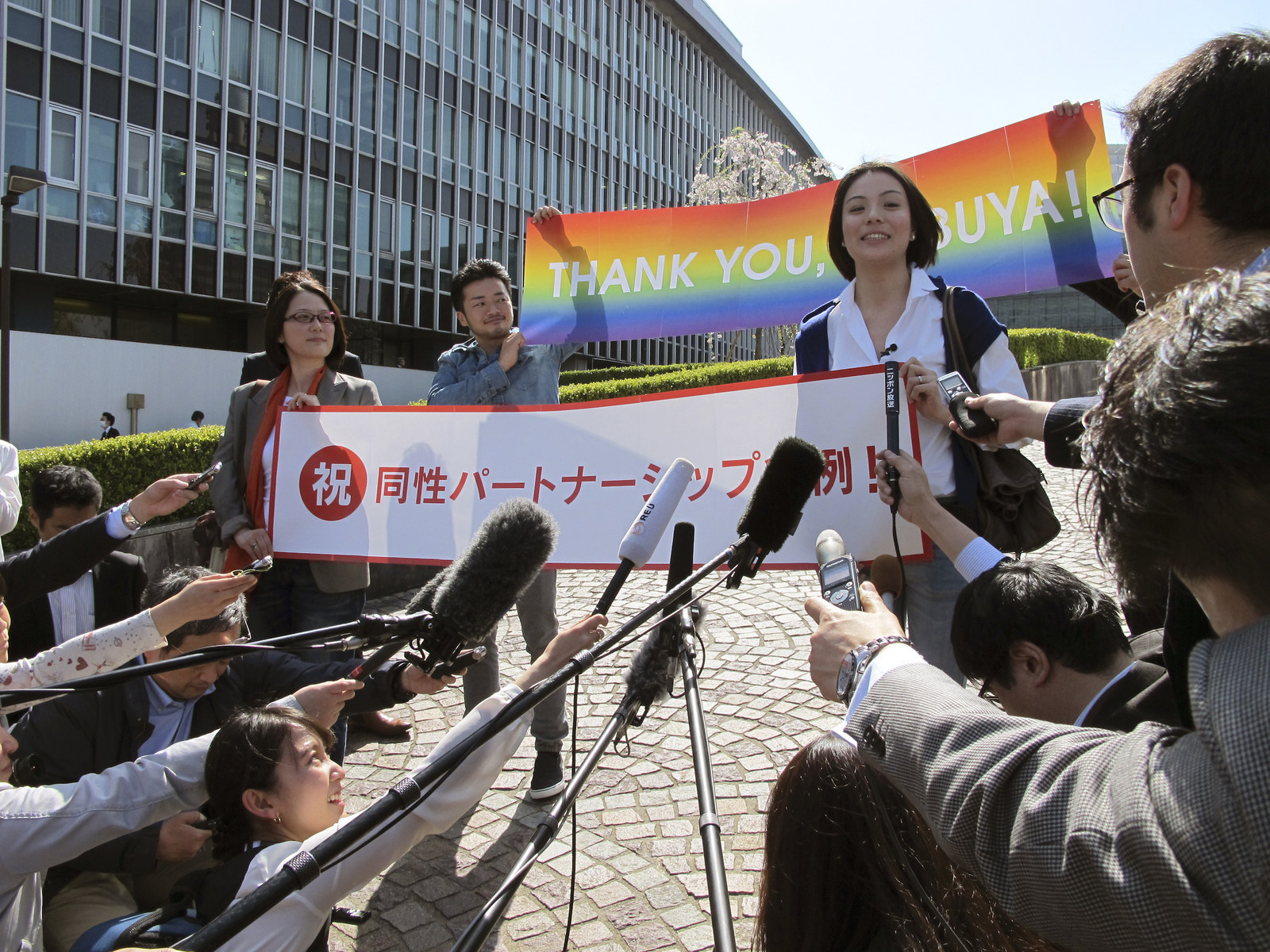 "Unlike the transgender people, [gays and lesbians] were not crying out to say [the law] is a serious issue in my life," Kamikawa said. "They're all in the closet even though they don't have the benefits that partnership would have."
Kamikawa continued to search for spokespeople for her partnership plan, ultimately finding some same-sex couples in her ward through friends of friends. She started a study group for them in January 2015 to educate "them about why it's important for them to be visible to the mayor and all the policy makers."
Several couples came with her when she finally brought her proposal to other city officials in the spring of 2015, including one of 23 years, both of whom worked for the city, and another of 21 years, one of whom was from France. There was an attitude among lawmakers, as one in a nearby ward had said, that "homosexual couples don't last long," and Kamikawa felt the meeting was pivotal to changing their minds.
In July 2015, the mayor adopted her plan, and she helped design a special certificate for all the couples who registered.
A couple of months prior, a neighboring ward called Shibuya had passed a similar plan. Its sponsor, then-councilman Ken Hasebe, said its goal was to show "people who think same-sex marriages lead to 'the destruction of the family institution' will realise that nothing actually changes for them."
The couple who held their ceremony at Disney was the first to register in Shibuya, but since then just seven others have done so in the ward, which has a population of 200,000. Fewer than 30 couples have registered in Setagaya, which has a population of 900,000 people. And yet, other cities are moving to adopt similar frameworks to show support for gay and lesbian rights despite the low uptake.
Even if couples shy away from making public stands in Japan, they seem to be willing to object privately to marriage discrimination. When a small group of lawyers calling itself the Legal Network for LGBT Rights put out a call last year for testimony about marriage discrimination, more than 400 people responded. People told stories of being kept from their partner's bedsides in hospitals, of losing their homes after a partner's death, or fearing their partner could lose custody of their children if they were to die.
The lawyers aren't taking any marriage equality cases to court — they fear the constitution would doom a suit before it began — so they're using their brief to ask the Japan Federation of Bar Associations to push lawmakers to change the law. They're getting support from a group of lawyers with some of the top foreign firms with Tokyo offices — including Freshfields, Morrison Foerster, Hogan Lovells, and Linklaters — who are preparing an accompanying brief.
Figuring out how to bring these stories to the public is key for marriage equality advocates, said Evan Wolfson, founder of the U.S. group Freedom to Marry. Wolfson was brought to Japan in February by EMA-Japan, which organized a four-city speaking tour for him in honor of the group's second anniversary. Wolfson's visit also received some funding from the U.S. embassy and his ticket was donated by Delta Airlines.
"They totally recognize that they need to step up their game on storytelling and [raise] the voices of real gay people," said Wolfson, who headlined a fundraiser that raised $100,000 for the group and who has offered to help raise more funding from international donors. He said this might have to look very different than it did in America, though, because unlike in the United States, they don't really have the culture of speaking up and telling their stories."
"I share the idea with Evan that enlightening LGBT people is the most difficult task — I can feel it," said EMA-Japan's director, Kazu Terada, who works as a political officer at the Danish embassy in Tokyo and was formerly a Japanese diplomat and aide in the Diet. "Evan's way may be the best way. Or there may be another way better for this country."
"Japan's motto is don't rock the boat"
Just after Wolfson's visit, two Americans who'd been serving as EMA-Japan's vice president and communications director left the group, in part because of tension about how hard to push gays and lesbians to organize and speak out in support of marriage equality.
Individually, there's a "mindset that our community has been plugging on just fine, [so] don't rock the boat — Japan's motto is don't rock the boat," said Malia Mullen, the group's outgoing communications director.
"Where in the U.S., it has to become this huge community movement to move the government ... it's going to have to be a much more even footing here," Mullen said. "The more the government accepts it, the more you'll get community members who accept it."
And some of those whose stories would make the best case for marriage equality are those who feel the most vulnerable. Even if they're not worried that family and co-workers might not reject them for coming out, they're concerned their coming out could cause embarrassment or discomfort for those close to them.
"I think that coming out of the closet isn't necessary and I don't think they should be forced to do it," said a man who asked to be identified only as Kentaro. He was ejected from the hospital room of his partner of 11 years as he lay dying, was barred from leading his funeral, and then lost the apartment they had shared. He's now involved with EMA-Japan and starting a support group for people who've lost a partner, but he doesn't want to be identified by his full name because people at work don't know that he's gay.
"Instead of the people themselves having to suffer, we have to change the surroundings — it doesn't make sense that people have to suffer by coming out," he said.
Besides, he said, "with the Olympics coming up, [marriage equality] is probably going to happen — hopefully."
Tokyo's Olympics bid was chaired by Hiroshi Hase, a former pro wrestler who used to compete as part of a tag team called the Viet Cong Express and briefly held a world heavyweight championship title. Now he is Japan's minister responsible for education and sport, and he also chairs a multi-party LGBT working group created in the Diet last year.
When the conflict around Russia's anti-LGBT law threatened to upstage the 2014 Olympic games, Hase told BuzzFeed News, he became convinced that LGBT rights had become a "global social issue." As a committee chair in 2003, Hase had been involved in passage of the gender identity law, and he was concerned as he looked ahead to the Tokyo games that Japanese law has no broader "definition for LGBT issues," though, for now, he said, partnership rights are not something he supports.
"We have to respect traditional Japanese family values," Hase said. "At the same time, within that majoritarian and traditional family system, we still have to respect the human rights of people who live a societal existence that just cannot adapt to such a system."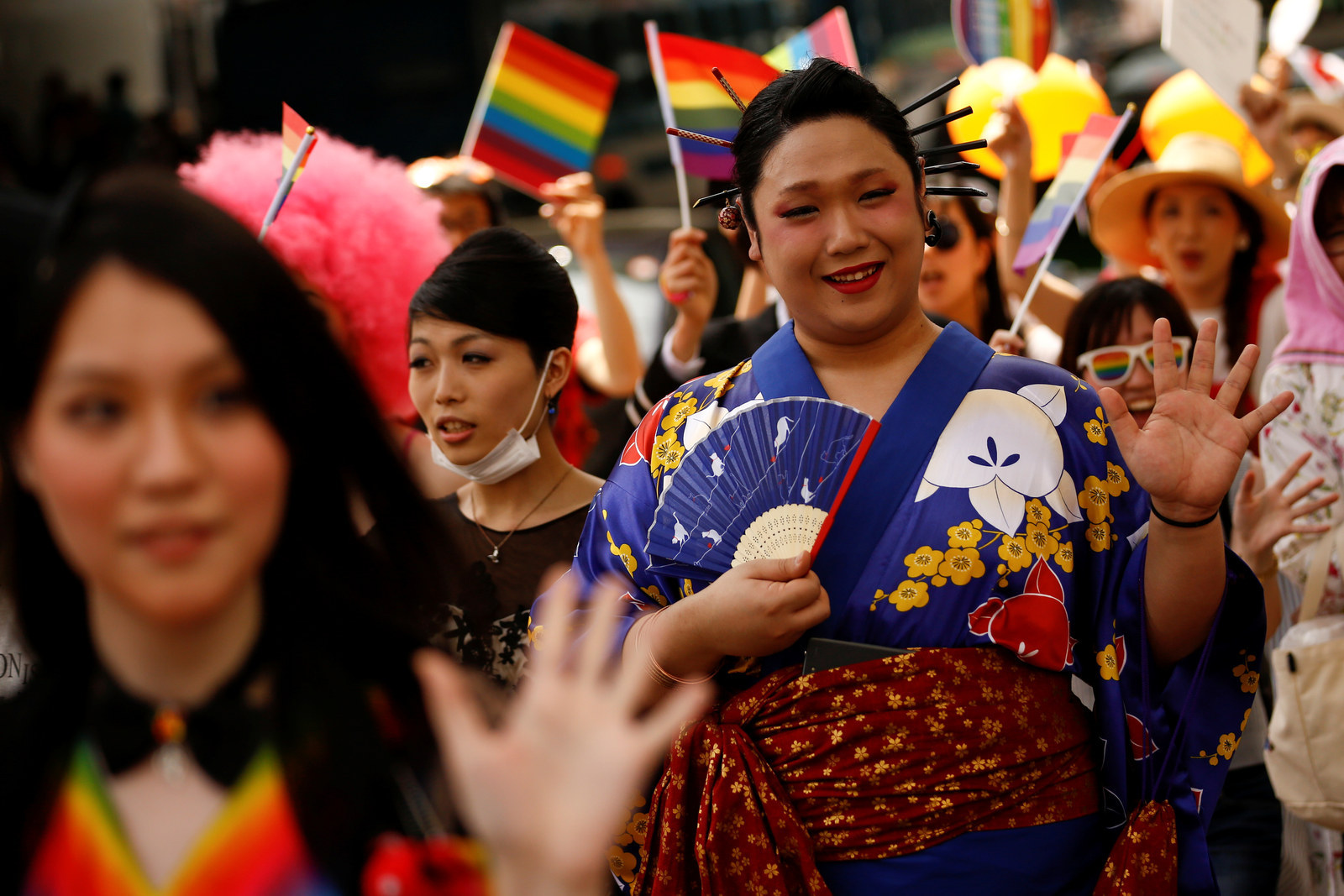 Hase's vision for the working group is modest, tamping down expectations of any new legislation to be enacted before 2020, instead saying that lawmakers should first try to "raise awareness" about what it means to be gay or lesbian. His ruling Liberal Democratic Party last month released a proposal largely focused on research and education about LGBT issues, though also called for government agencies to be more aggressive in housing or other places where existing law could be interpreted to prohibit discrimination. The LDP Prime Minister, Shinzo Abe, has been chilly to opening the door to marriage equality.
"I believe we have to overcome one step by 2020 at the latest ... making the entire nation's public acknowledge the importance" of LGBT rights, Hase said.
But major corporations are beginning to pick up the idea of offering partnership benefits to their gay employees, and the status in Japanese society of these companies is helping to bring the idea into the mainstream.
"I wonder why people don't speak up for their rights"
One of the most visible backers of LGBT rights in the media is Goldman Sachs' Japan operation, which became one of the first companies to introduce partnership benefits in 2014 under a global policy set in its New York headquarters. Deutsche Bank was among the firms to do the same in 2015, and in early 2016 two of Japan's largest corporations, Sony and Panasonic — which is also one of the International Olympics Committee's top global sponsors — announced they would follow suit. A workplace equality group called Work With Pride launched a new index this month to try to build on this momentum, and its supporters say this kind of peer pressure can nudge business culture to a tipping point very quickly.
But none of these companies report large numbers of gay employees rushing to sign up for these benefits.
"This is a culture of choosing the established offering rather than actually being inside and asking for [benefits] to be provided," said Masakazu Yanagisawa of Work With Pride, who also heads global prime finance sales for Deutsche Bank. "The expectation among LGBT people is very, very low. That's partly why people don't spend the time and money for this movement — it's kind of like we give up."
But this may have to change if gays and lesbians truly want marriage equality to come to Japan, suggested Setagaya councilwoman Aya Kamikawa.
"Personally, I wonder why people don't speak up for their rights," Kamikawa said. "Because if you stay silent, nothing is going to change for you."
CORRECTION
The Setagaya partnership plan was implemented by the ward's mayor. A previous version of this article incorrectly stated it was through legislation adopted by the council.