MILAN — Laura Boldrini didn't worry much about the death threats until she received a bullet in the mail.

Boldrini, who is the speaker of the Italian Parliament and the country's highest-ranking woman politician, gets a level of harassment that even her critics say is extreme — and even by Italian standards. Many of them are sexist and threatening comments on Facebook, but they've been so relentless since she took office in 2013 that she began posting the names of her harassers on her own page. "Death to Boldrini" has been scrawled on city walls across Italy, and she is closely guarded by a heavy security detail.
Boldrini lives in Rome but is now campaigning ahead of the elections on March 4 for a parliamentary seat in Milan, where she stays in a nondescript house on a graffiti-lined street; its exact location is a carefully guarded secret. This election has been one of the most tumultuous in recent history: A group of immigrants was shot at by a white nationalist, there have been attacks on fascist parties and left-wing groups, and anti-fascist protesters have clashed with police in violent demonstrations.
The threats against Boldrini have gone on for so long they rarely make news. There was the time that a mayor of an anti-immigrant party responded to an alleged rape by an immigrant by suggesting rapists should visit Boldrini in order to "put a smile on her face." Earlier this year, members of the party's youth wing burned her in effigy.
What worries her most, Boldrini told BuzzFeed News in a wide-ranging interview last week, is the impact the threats have on her 24-year-old daughter.
"Her mother is threatened with decapitation [or being] put in a group of people raping her. Can you imagine what does it mean for a daughter?" Boldrini asked. But, she said, it has made her unafraid to challenge even her most aggressive political opponents.
"I don't feel uncomfortable because if I consider what I've done in my life, how many scary situations I had to pass through, how could I be scared?"
"I don't feel uncomfortable because if I consider what I've done in my life, how many scary situations I had to pass through, how could I be scared?"
Boldrini has put herself at the center of two issues that are tearing Italy apart. One, immigration, has dominated this election campaign. Boldrini is a former high-ranking official of the United Nations refugee agency, and has been an outspoken advocate for immigrant rights, even as overtly racist factions are poised to win a place in the next government by exploiting a backlash against the nearly half a million people who've come to Italy since 2015.
But Boldrini was already a favorite target of right-wing politicians and internet trolls. From the outset, she has defined herself as a politician who wants to revolutionize women's rights in a country that ranks 82 out of 144 countries on a gender equality index by the World Economic Forum, and where nearly half of women do not work.
At a time when a new conversation around gender inequality and sexual harassment is transforming the politics of countries around the world, Italy's political culture is headed in the opposite direction.
This election has seen 81-year-old former prime minister Silvio Berlusconi — disgraced by a sex scandal involving an underage prostitute and a criminal conviction for tax fraud — return as a political force. One of Boldrini's opponents in the race for her district in Milan is Berlusconi's divorce lawyer.
Berlusconi's Forza Italia party is polling well enough that it may well lead the next government. But Italian politics has become a race to the bottom thanks to two anti-establishment parties that are growing fast using social media to capture the backlash against immigration. The leader of one of these, Matteo Salvini of the Lega Party, hauled an inflatable sex doll on stage in July 2016, and addressed her as Boldrini's doppelgänger.
For Boldrini, hatred toward migrants and women are linked. The factions that are campaigning against immigration by claiming new arrivals from Africa or the Middle East rape Italian women are also the ones threatening women in politics with rape. The men likely to govern Italy are "chasing votes over women's bodies," while sidelining their women opponents with unchecked sexual abuse, she said.
"The ones that hate migrants and the ones that hate women in positions of power — it's the same cultural framework," Boldrini said.
She's derided by critics as shrill and unlikeable, and applauded by supporters as principled and uncompromising. But there's wide agreement that she is on the receiving end of the worst of Italy's political culture. Her most noxious opponents stand a good chance of being in government, while she will be likely be demoted to a rank-and-file member of Parliament from a minor opposition party.
"Sometimes I feel that I'm not understood, because the country is not maybe yet ready," she said. "I'm confronting ... I don't hide myself. I want to challenge you. ... The more you attack me, the more you threaten me, the more I have to go ahead."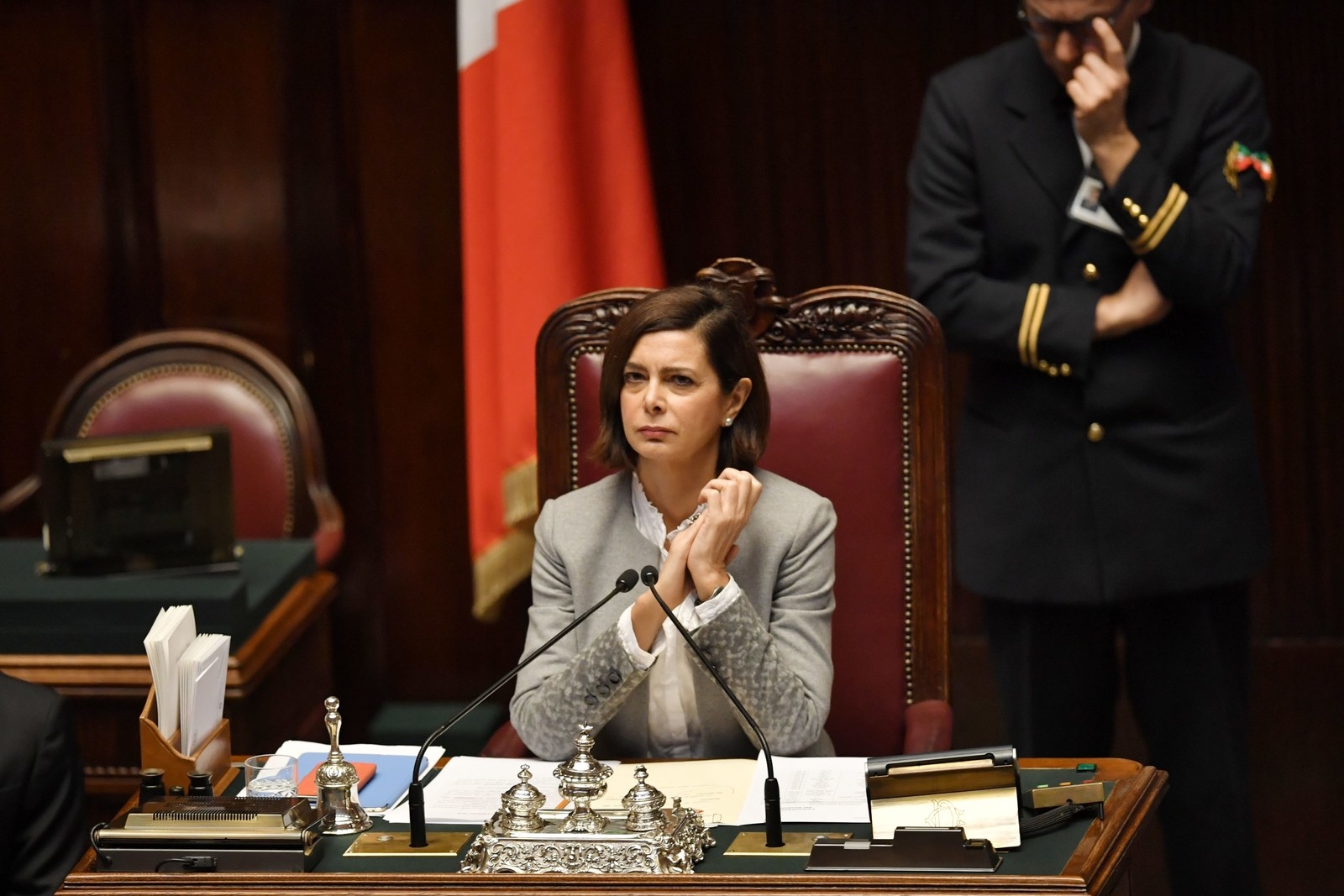 In February 2013, Boldrini was working as a spokesperson for the UNHCR, when she visited a medical center in Greece where locals would line up alongside asylum seekers to get free treatment. She heard a group of African men shouting at another man, who was covered in blood. He should get used to being beaten, she remembered them saying, as a black man now in Europe.

Shocked by what she had seen, Boldrini went to her room and wrote a piece for her blog with the Italian newspaper La Repubblica, attacking her own government for its failure to integrate new immigrants.
She found herself wondering if her life's work had been pointless.
"It was the first time that I realized ... people affected by racism can reach the point where they think they deserve this," Boldrini said. "My life dedicated to human rights — it's a failure. What have we done if this is the result?"
That's when the phone rang. On the other end of the line was the leader of an upstart left-wing party called Left, Ecology, Freedom (SEL), who was looking for people from outside of politics to join his list for the upcoming elections.
"I was not ready. ... I never thought I could have done this," she said. But then she thought, "it was the time you have to give something back to your country." She'd spent decades working for international institutions in crisis spots around the world, and this was a chance to return home and represent "those values that were not the most welcome by everybody in the Parliament."
"The ones that hate migrants and the ones that hate women in positions of power — it's the same cultural framework."
In the 2013 election, her party barely won the share of the vote required to get into Parliament, but it was courted to support an attempt to form a coalition government led by the center-left Democratic Party. The Democrats gave the post of speaker to SEL to help secure their votes, and they agreed that Boldrini was a good choice because her UN experience bolstered the coalition's good-government bonafides. (This was a time when refugees were still coming to Italy in small numbers and immigration was not the divisive issue it became after large numbers began heading to Europe in 2015.)
But all this was decided by party leaders in secret. Boldrini only learned that she would become one of Italy's most senior leaders minutes before it was publicly announced, on the morning of her second day as an MP. Her party leader told her that she would have to give an inaugural address — a speech to all members of Parliament carried live on national television — within two hours.
"I didn't want the job," she said, but everything was already in motion. For the first time, "I understood what it means when you're not given the chance to say no."
She hid in a bathroom long enough to call her daughter, who was living overseas, and then wrote her speech, which she drafted by hand because she'd forgotten to bring her iPad to work that day.
In her address she pledged to make Parliament a place for those who need the most help, including prisoners and people with disabilities. She called on Parliament to take on the issue of domestic violence "on day one," and concluded with remarks about the thousands of migrants who drown at sea trying to reach Italy's shores.
"All my issues were in there, and it was my identity card," she said.
She represented the greatest hopes of the left, which was on the brink of taking power for the first time after Berlusconi's last term as prime minister. Boldrini said a demonstration of tens of thousands had gathered on the streets of Rome at the same time her appointment was announced, and the crowd roared its approval.
"People were just crazy, saying, 'If she can be the speaker than the change is possible,''" Boldrini said.
But ultimately, she said, the left hoped for far more than lawmakers could ever deliver.
"In order to implement the change, other pieces had to be composed in the puzzle," she said. "I was one piece ... but all the other pieces didn't come."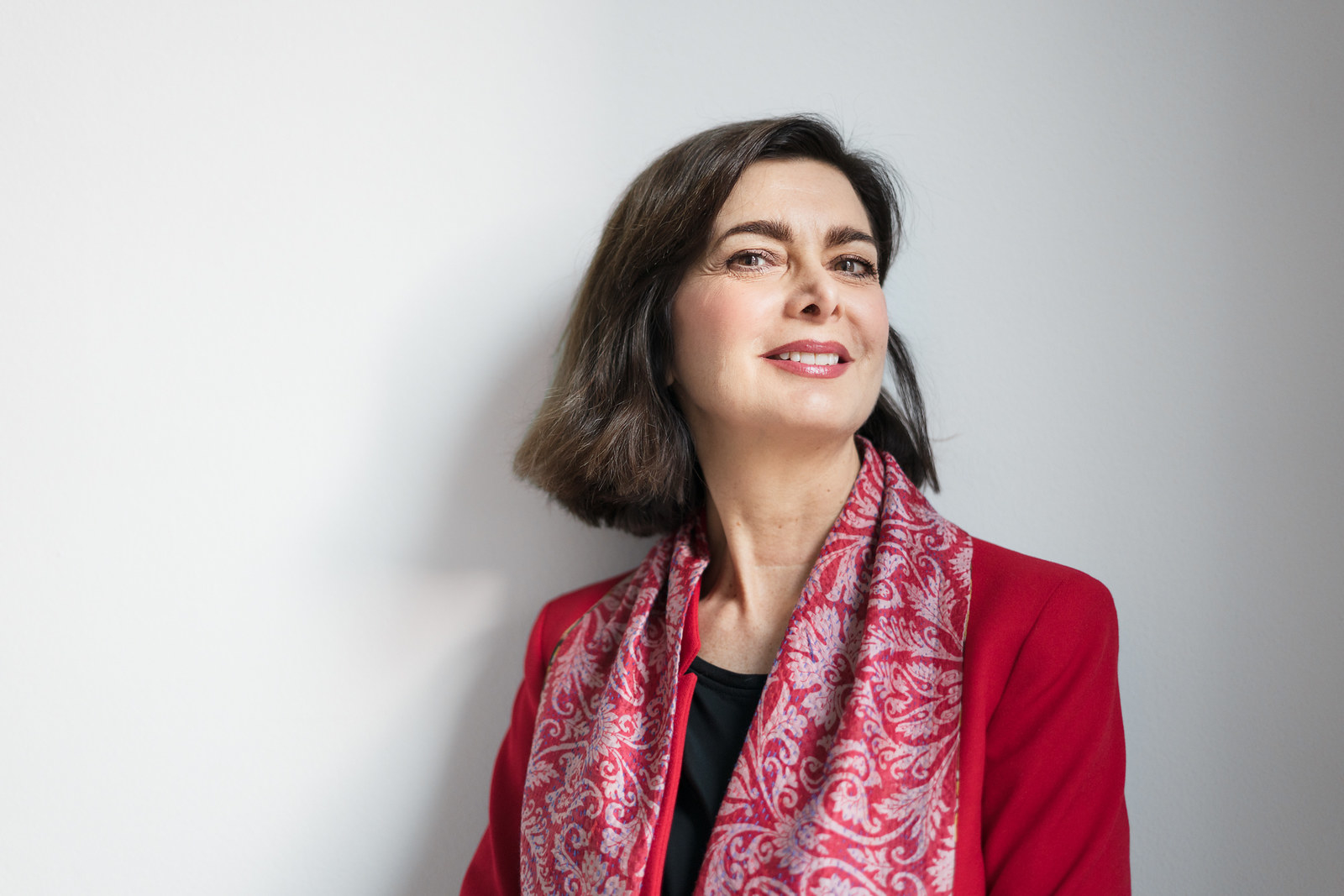 The right-wing press declared her an enemy almost immediately — one newspaper declared that she'd spent her "entire life spent spitting on Italy" — but the reaction didn't immediately seem out of the ordinary. And even though most of the right-wing MPs sat on their hands when she called for action on violence against women during her inaugural speech, the new Parliament's first act was to unanimously ratify an international treaty requiring states to tackle domestic violence.

The first sign of Parliament's entrenched macho culture came from something that shouldn't have been an issue at all: The speaker is called "the president" in Italian, and her colleagues kept addressing her as "Mr. President" because "president" is a masculine noun in Italian grammar — il presidente. She wanted them to use language appropriate to her gender, which seemed like a no-brainer to her, but they continued to use the masculine form (even though women had twice held the post before her).
One reason for this, Boldrini said, was that, although Italian grammar has feminine forms for some lower-prestige jobs — like "contadina," farmer, and "operaia," factory worker — jobs higher up the social ladder — lawyer, engineer, or minister — always appear as masculine.
"Language is not only a semantic issue, it is a concept, a cultural issue ... When you are opposed to saying la ministra or la presidente it means that culturally you are not admitting that women can reach top positions," she said. "Everything must remain masculine."
So she sent out a letter asking her colleagues to call officeholders by their appropriate genders.
"In Italy there is a real difficulty in accepting the authoritativeness of women."
Right-wing critics and politicians seized on this as a sign that she was an unhinged culture warrior, a frivolous elitist who had spent so much time hobnobbing overseas that she felt she could lecture Italians on how to speak their own language.
One newspaper went as far as saying that Boldrini was actually insulting the dignity of women, while a female former speaker of the house said it was a waste of money to have Parliament's stationery reprinted with the president's correct gender.
When she called for an end to the Miss Italia beauty pageant, or said she was tired of advertising that showed women as sex objects or housewives, Boldrini said even the mainstream press and women voters wrote to her to say she should stop attacking "our culture."
"I was attacked by the media — even the mainstream — because that was 'our culture, linked to our tradition, she's a [subversive], these are our roots.'" Boldrini said. "Women writing, 'I'm very happy to serve my husband.' Give me a break! I had to make a video saying I didn't want to offend anybody ... but why don't we portray them in court, or in a surgery room, or — I don't know — in Parliament?"
Lorella Zanardo, a women's rights activist and writer who produced a documentary about the image of women in Italian media, said Boldrini challenged the most fundamental notions about a woman's public role. Those ideas were heavily shaped by Berlusconi's TV stations in the 1980s, which depicted women as either weak or as scantily dressed sexy props.
"President Boldrini embodies so many things that are disliked in this country," Zanardo said, running down a list of traits that defy convention: She had her own career, and then won high office without working inside a party machine or with the patronage of a "godfather" figure. There is a stereotype that strong women are ugly, but she is attractive and was in a relationship with a man 11 years her junior. She is also perceived as having risen above her station, having traveled the world and learned other languages.
It is "too much for Italy," Zanardo said. "In Italy there is a real difficulty in accepting the authoritativeness of women." And even many women soured on her because "she is a difficult model to follow as she reminds us of our failings."
Many Italians — including many women — defend Berlusconi's brand of paternalism and say Italy shouldn't be measured by the same standards as other Western countries.
Guia Soncini, a controversial columnist for Gioia, a widely read women's magazine, said that "one of the big failings of what I call Cosmopolitan feminism — the glossy mags, Facebook groups [that claim] we all are great, all capable, all smart — we are not. Not all women aim for a Nobel Prize … Some wanted an easy career out of their beauty, Berlusconi was a kind of welfare."
"It is true that Italy is different, but I don't think of it as a disadvantage," Soncini said. "What doesn't convince me about the #metoo movement [is that] it's as if they're saying to us you cannot watch out for yourself ... I know lots of women who would be very offended if they were told you need public outrage."
But Boldrini said that while Berlusconi has cultivated the objectification of women through his broadcasting empire, his Forza Italia party is not her main political adversary. She even had warm words of praise for several of the 39 women elected with Berlusconi's party.
Boldrini said the factions that were encouraging the online harassment and threats were two newer parties that were growing quickly thanks to a backlash against immigration and their internet savvy.
The rise in immigration had presented an opportunity to a regional party originally known as the Lega Nord — the Northern League — to turn itself into a national force. The party was formed in 1991 to win independence for Italy's wealthier northern regions, but reinvented itself as a far-right anti-immigrant party with national appeal. Renamed simply Lega, it is now polling close to 15%. None of the 18 Lega MPs elected in 2013 were women.
But a new level of fury has been directed at Boldrini from the Five Stars Movement, a populist party unlike almost any other in Europe. It was cofounded by the comedian Beppe Grillo and a tech entrepreneur, with a platform that champions environmentalism while also opposing immigration. It is defined by its anti-establishment style more than any ideology — and has frequently reversed itself on major issues — constantly seeking direct input from members through the internet to appear in touch with changing voter attitudes. After repeatedly clashing in Parliament, the Five Stars Movement turned on Boldrini too, frequently adopting the same violent and sexist language as her other opponents.
Grillo painted a target on Boldrini's back with a Facebook post headlined, "What would you do if you found Boldrini in a car?"
Some of Grillo's nearly 2 million followers responded in droves. "Take her to a gypsy camp and let the chief of the camp screw her," one wrote. "What if she likes it?" another replied. "I'll fuck her," a third volunteered.
Boldrini tried to fight back, tweeting that these commenters were potential rapists. One of the Five Stars' top communications officers, Claudio Messora replied with a mocking tweet saying: "Dear Laura, I wanted to reassure you. Even if we are all rapists, you are not in any sort of danger!"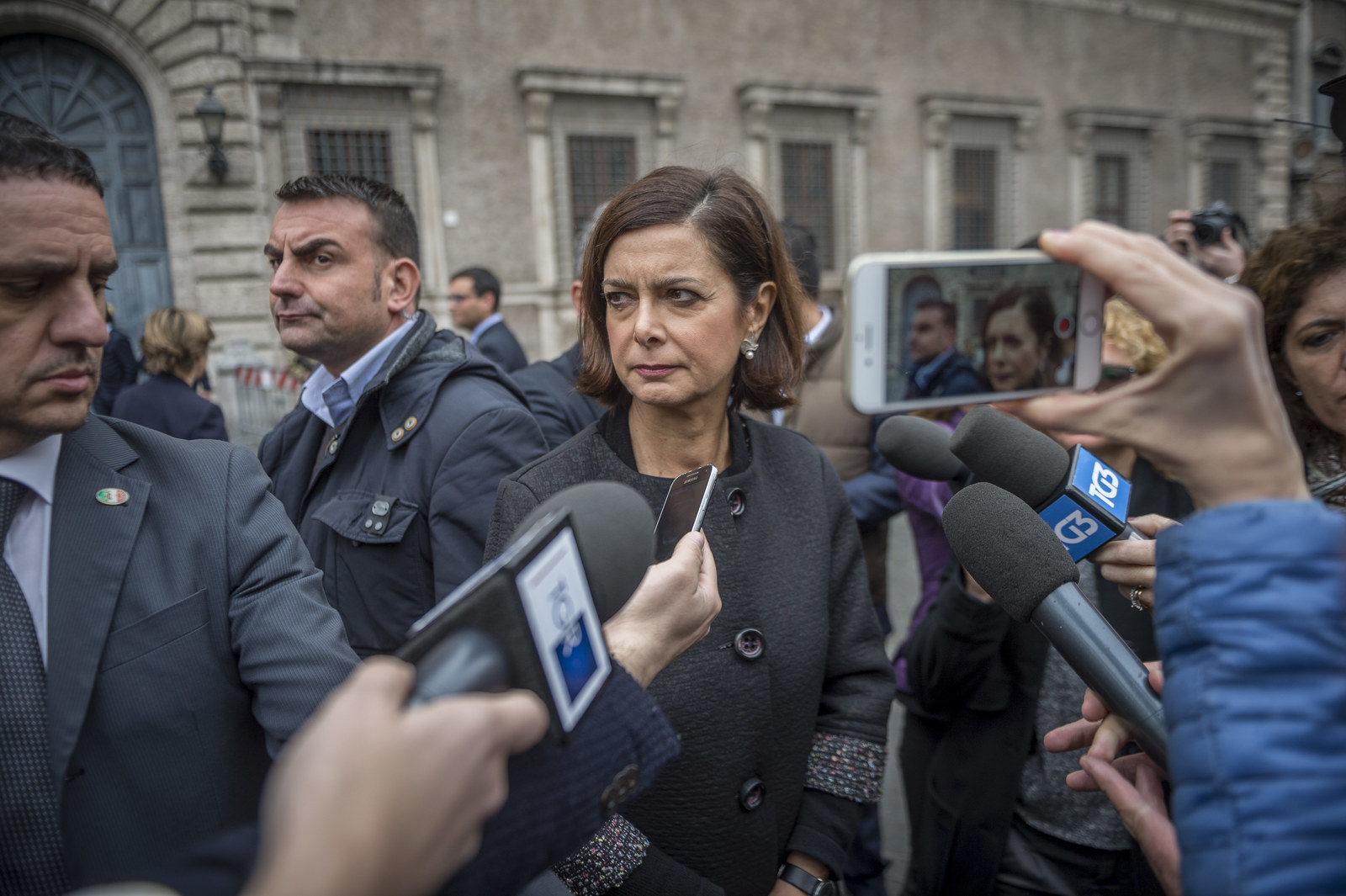 In the final weeks before the election, the race has become defined by the murders of two women, one in the town where Boldrini was born and the other in the city she is running to represent.

One is Pamela Mastropietro, a 19-year-old whose dismembered body was found on Jan. 31 in an apartment in Macerata, a town near Italy's Adriatic coast. Three African immigrants were arrested in connection with her death, and Mastropietro became a symbol of the violence that immigrants were alleged to be spreading across Italy. Opponents of immigration cite data from Italy's National Institute for Statistics that claims immigrants make up 8.5% of the population, but account for 30% of convictions and complaints to the police. Criminologists and data analysts believe that number is inflated because people are much more likely to report immigrants.
Three days after Mastropietro's death supercharged the debate over immigration, a right-wing group circulated a photo of Boldrini's face photoshopped onto a severed head and said, "This is the fate she must endure in order to appreciate the customs of her friends." Then a similar one appeared with the slogan, "Justice for Pamela Mastropietro barbarously killed and torn to pieces by a Nigerian friend of Boldrini."
Salvini, and other politicians on the right, piled on, stepping up their anti-immigrant rhetoric even after a former Lega politician and member of neo-fascist organizations shot and injured six black people in the city of Macerata in a revenge attack.
"Out-of-control immigration leads to drug dealing, theft, robbery and violence #Macerata," Salvini said in tweet nominally condemning the revenge shooting.
The other victim was Jessica Valentina Faoro, a 19-year-old who was stabbed 40 times in Milan, allegedly by a 39-year-old tram driver named Alessandro Garlaschi. He killed her, news reports said, because she rejected his sexual advances.
For those concerned about women's rights, Faoro was a symbol of the fact that half of all homicide victims every year in Italy are women killed by someone close to them. More than 1 in 10 Italian women are reported as victims of domestic violence, according to the National Institute for Statistics. And 3.1 million women have reported being sexually harassed within the past three years. Experts believe the actual figure is probably higher because many such crimes frequently go unreported, with women reluctant to come forward.
"I will continue to fight so that Italy becomes a country that knows how to value women."
But Faoro's death was not greeted with the kind of outcry from right-wing politicians and media that followed Mastroprieto's killing, highlighting the hypocrisy of those who blame everything on immigration.
In a TV debate on Feb. 13, Boldrini called out Salvini for exploiting — and encouraging — such violence. She also hammered him on a litany of comments demeaning to women.
Salvini, who couldn't face looking Boldrini in the eye, mumbled incoherently when the moderator asked if he would apologize for the time he had mocked her with the blow-up sex doll. Boldrini interrupted him, saying, "You realize that's demeaning to women."
When Salvini again ducked a chance to apologize directly, she whipped out a placard with a hashtag in red marker, "#WomenNotInflatableDolls." She had another at the ready, intended to capture the way anti-immigrant parties have demeaned women while claiming to defend their safety: "#StopChasingVotesOverWomen'sBodies."
Boldrini's opponents speak the ugly language of the internet, and she wants her campaign to be a reminder of what that is costing Italian women. She often wears a red scarf that was given to her last year when she filled Parliament with 1,400 women to hear testimonies from survivors of domestic violence.
"It was maybe the best day of my life," she said, rising from her chair as she recalled a woman who took to the Parliament floor to talk about 10 years of abuse from her husband in testimony that was carried live on television.
"Can you imagine the courage?" Boldrini said. "You want to say ... there was an end to all this."
That's why she's defined her political career around the issue.
"I was sure nobody else is focusing on women," she said. "I will continue to fight so that Italy becomes a country that knows how to value women, and puts women at the center of its society."
CORRECTION
Guia Soncini is a columnist for Gioia magazine, not Grazia, as stated in a previous version of this article.