Istanbul police blocked a trans pride march on Sunday with tear gas and rubber bullets, after deploying a large contingent of officers to enforce a ban on LGBT pride events issued Friday by the city's governor.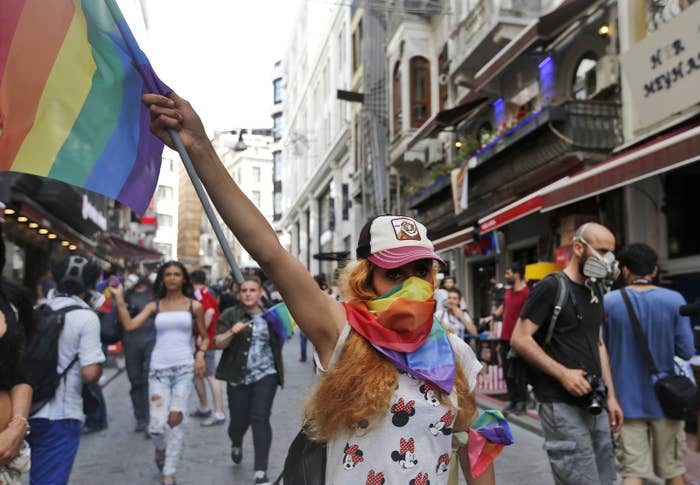 Organizers said there were more police present than protesters, alleging the officers ordered demonstrators to disperse after they unfurled a pride flag.
LGBT rights supporters had gathered at the office of Istanbul Pride, where organizers told BuzzFeed News they had planned to gather on the street to read a press statement before dispersing; They did not plan to march.
"They chose to attack although at first they told [the activists] they would let them read their statement," Mehmet Akin of LGBT rights group SPoD told BuzzFeed News. "This is not only against [the] constitution — This is [a] hate crime."
The protesters moved along Istiklal Street, one of Istanbul's major shopping districts, some chanting slogans like "Gays exist, trans people exist."
In this tweet, an activist can be heard yelling, "We're here, we are not leaving, get used to it, get used to it!" as he is led away by men in vests that read "Police."
Anti-LGBT protesters surrounded the small demonstrators, yelling slurs and burning at least one pride flag.
The activists were hemmed in by nationalist groups and Islamist organizations who had gathered on surrounding streets, pride organizer Görkem Ulumeric told BuzzFeed News. He said they tried to shelter in bars along the thoroughfare.
Ultranationalist groups had issued threats to the march, which organizers said felt especially ominous after posts appeared on social media praising last weekend's mass shooting in an Orlando gay club by a man who pledged allegiance to ISIS.
Ulumeric witnessed police firing rubber bullets at least twice and saw them deploy tear gas at least three times — scenes also shown on video shared on social media.
Mehmet Akin told BuzzFeed News that he was hit by a rubber bullet in the arm.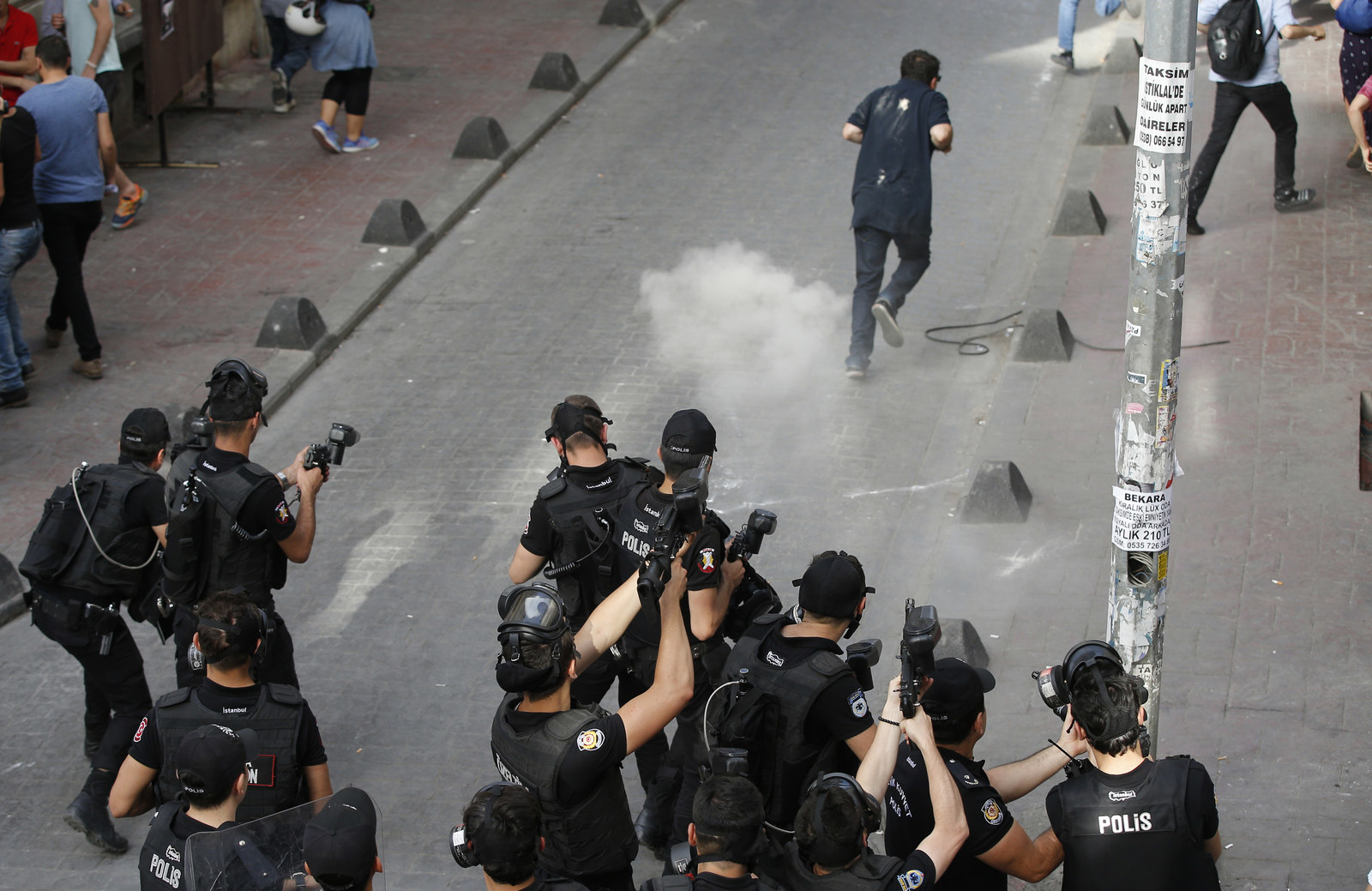 Ulumeric told BuzzFeed News that at least three other LGBT rights activists were detained, but said he did not have a full list of those taken by police.
Local media also reported some anti-LGBT protesters were detained.
Video sent to BuzzFeed News a man holding a camera being led away.
"The calls to massacre by the jihadists and Salafist groups in the media and on social media complemented the decision of the Governor's Office to forbid the march and exposed the coalition amongst these groups," Trans Pride organizers said in the press statement published online after the gathering was dispersed.
"None of us are safe in a country where jihadist terrorist groups move freely, where borders are opened from one end to the other, where militants are treated in hospitals and sent back to the war zone."
This weekend may just be a prelude to a clash between LGBT rights supporters and police next weekend, when the city's LGBT pride march was scheduled to be held; Organizers were expecting as many as a 100,000 people to attend.
The event — the largest in the region — was shut down last year by police using tear gas and water cannon.
Ema O'Connor and Alp Ozcelik contributed to this post.
UPDATE
Mehmet Akin says he did not witness a member of the pride committee being led away by police. An earlier version of this story said that he did.