These Countries Are Trying To Build On Ireland's Marriage Equality Win
German, Italian, and Australian lawmakers have all launched new efforts to allow same-sex couples to wed after an historic vote for marriage equality in Ireland.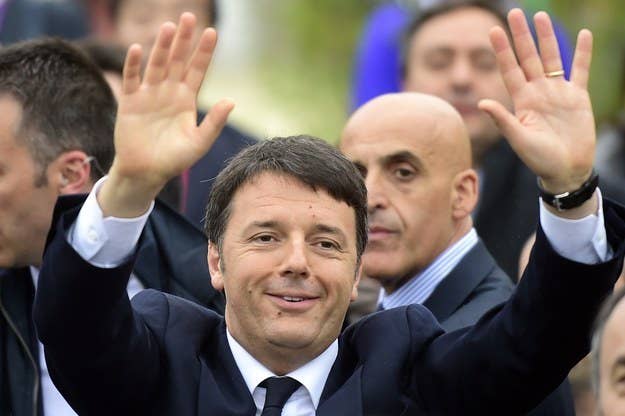 Politicians in several countries, buoyed by the landslide victory for marriage equality advocates in the referendum vote held Friday in Ireland, are already making renewed attempts to advance marriage equality legislation.
In Italy, the only country in Western Europe that does not provide any legal recognition to same-sex couples, Prime Minister Matteo Renzi vowed Sunday to bring civil union legislation to a vote by the end of the summer. Renzi previously promised to hold a vote on the proposal last year, but the legislation has failed to advance despite polls showing the Italian public overwhelmingly supportive of extending partnership rights.
"In my party on this issue — confidentially, in private — there are those who want more" than just civil unions, La Repubblica quoted Renzi as saying on Sunday. "But civil unions can no longer be postponed."
The soul-searching in the Catholic Church may also change the political climate in Italy, where church leaders retain close relationships with lawmakers. On Monday, the Vatican's official newspaper, L'Osservatore Romano, published an article on the vote calling it a "challenge to the entire church."
"The margin between the 'yes' (1,201,607) — equivalent to 62.1 percent — and the 'no' (734,300) was too large not to be accepted as a defeat," the article said.
It also quoted remarks first published in Corriere Della Sera by the secretary general of the Italian bishops' conference, Monsignor Nunzio Galatino, that may hint at an acquiescence at least to civil unions. While the Church does not accept the "equivalence" between homosexual unions and the "traditional family," Galatino said, he expressed a desire to "arrive at a solution that is in line with the common good while respecting the rights of everyone."
In Germany, which has had civil unions for same-sex couples since 2001 but is the only other Western European country besides Italy where same-sex couples cannot marry, LGBT rights supporters are trying to use the Irish vote to pressure Chancellor Angela Merkel and her Christian Democratic Union Party. Merkel remains opposed to marriage rights as well as allowing same-sex couples to jointly adopt children though polls have shown three-quarters of Germans support marriage equality.
"I am confident that the Irish vote will accelerate equality in Germany," Die Welt reported Green Party parliamentary leader Katrin Göring-Eckardt as saying. "It's time, Ms. Merkel."
Opposition leaders in both houses of the Australian Parliament are also saying they will attempt to bring forward legislation despite opposition from Prime Minister Tony Abbott, who campaigned against marriage equality during the 2013 election.
Polls show a majority of Australians support marriage equality, but Abbott ruled out the idea of holding a marriage referendum in the country in remarks after the Irish vote. So opposition leader Bill Shorten announced he would introduce marriage equality legislation in the House of Representatives on June 1, while Greens Party lawmaker Sarah Hanson-Young announced she would introduce legislation in the Senate in June with plans to hold a vote on November 21.
In order to pass, this legislation would need some support of members of Abbott's party, but he has so far resisted allowing a conscience vote that would allow lawmakers to break with the party line against marriage equality. Yesterday, Abbott's sister Christine Forster — who is an out lesbian — reportedly called on him to allow a conscience vote.
Lawmakers are hoping moving the debate may force him to reconsider.
"I believe the time has well and truly come for the Parliament to debate marriage equality," Shorten told BuzzFeed News.
Australian opposition leader Bill Shorten plans to introduce marriage equality legislation in the House of Representatives on June 1. A previous version of this story incorrectly stated that it had been introduced on May 25.