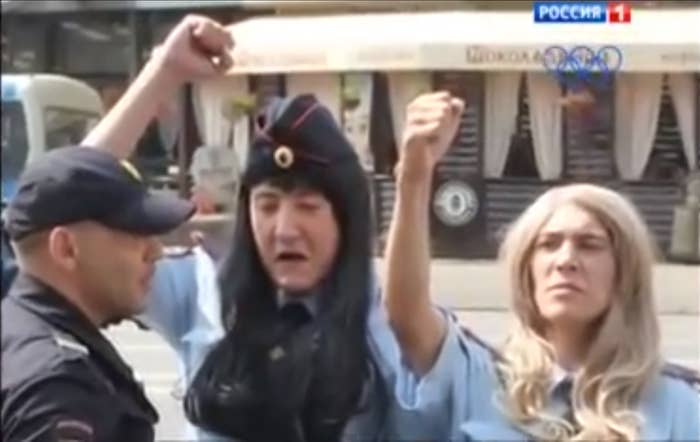 WASHINGTON — International Olympic Committee spokesman Mark Adams said the IOC was still "gathering information" on a report that the Russian government secretly recorded a meeting of human rights activists strategizing to promote LGBT rights during the Olympic Games and broadcast excerpts in a state television program on Tuesday warning of a "homosexualist invasion."
Adams did not respond to questions about whether the IOC had raised concerns to Russian state television that its anti-gay program featured the Olympic logo in the top-right corner throughout the broadcast. He also declined to elaborate on whether the IOC had contacted any Russian officials as part of the IOC's information gathering.
"We are not going to make further comment purely on the basis of a Russian TV show," Adams said in an email from South Africa. Television programs like the one broadcast on Tuesday have previously been used by the government of President Vladimir Putin to lay the foundation for arresting activists opposed to his administration.
A spokesman for Visa, an Olympic sponsor, declined to comment on the revelations. Other Olympic sponsors contacted by BuzzFeed Thursday afternoon — including General Electric, Coca-Cola, Dow, Panasonic, McDonald's, and Proctor & Gamble — did not respond to requests for comment.
Andre Banks of All Out — which was one of the organizations participating in the meeting bugged by Russian officials — expressed disappointment with the continued silence on the part of Olympic sponsors on the intensifying crackdown on LGBT rights in the country.
"While KGB-style tactics are threatening the freedom of everyday Russians and anyone who attends the Games, major brands like Coca-Cola appear to be aligning themselves with forces responsible for violence, imprisonment, and other shameful behavior that is contrary to international norms," Banks said. "Speaking out now will be worth far more than any advertising scheme Coca-Cola has planned."