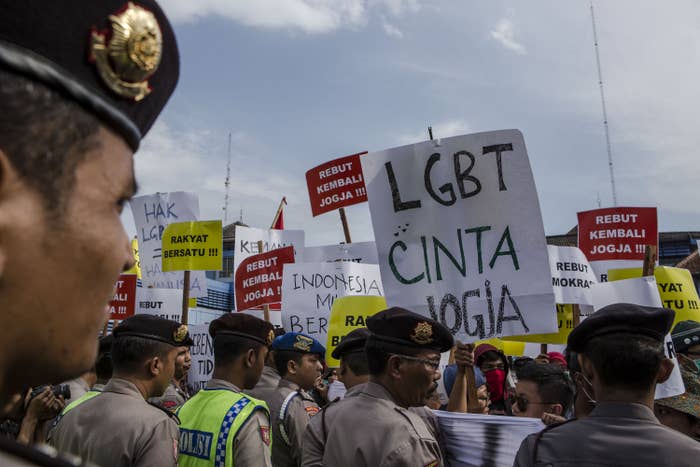 Indonesian lawmakers are in discussions to draft legislation to restrict LGBT rights, according to several members of the country's legislature who spoke to BuzzFeed News this week.
LGBT content on the internet is the chief concern of these lawmakers, and on Saturday, the Jakarta Post reported that the government's communications ministry would begin work on its own proposal to reign in online content in response.
Deding Ishak, a member of the National Assembly from the Golkar Party (the legislature's second-largest bloc) and deputy chairman of the assembly's committee on religious and cultural affairs, said in an interview in Jakarta that he'd like to see legislation that "aims to prevent and protect society from the massive propaganda launched by the LGBT community."
"Their campaign has reached out on social media," he said. "We need a solution to deal with this situation — it is like a warning to us all."
This is the latest escalation in a political uproar over LGBT rights that began in January and caught LGBT activists by surprise. While there have been isolated confrontations over LGBT issues in Indonesia, it is unusual for the issue to be the focus of prolonged political debate in the country, which has a reputation for pluralism.
But following remarks by the higher education minister in January, some of the country's top politicians have been drawn into the debate: Defense Minister Ryamizard Ryacudu recently suggested the LGBT movement was a bigger threat to national security than nuclear weapons; a former communications minister called for punishing homosexuality with execution on Twitter. There have also been reports of a growing number of hate crimes targeting people perceived as LGBT in the country.
The biggest shift in the politics of the issue, however, was a call last week from the Nahdlatul Ulama (NU) movement for the government to crackdown on LGBT rights. The NU claims tens of millions of members and is described as the world's largest Muslim organization, but was founded in large part to counter fundamentalist movements coming out of the Middle East and has not previously taken the kind of anti-LGBT stance held by more conservative Indonesian Islamic groups.
"I believe [LGBT people] can be cured even those who have this since they were born"
The group issued a statement declaring that homosexuality was incompatible with human nature and asking the government to force "rehabilitation for every person who has LGBT characteristics so they can return to normal," according to a report in the Jakarta Post. "Based on NU's evaluation, LGBT activities should be prohibited and categorized as crimes," the Post quoted the group's leader as saying.
The call for legislation was most strongly taken up by the Prosperous Justice Party (PKS), a conservative Islamist party that has a small number of seats in the National Assembly.
"We will draft a proposal that would cover all aspects from upstream to downstream," said Junaidi Auly, a PKS assemblyman who is a member of the committee handling finance and development. "It is no longer just a matter of personal behavior — their propaganda has become incessant." Auly also raised concerned about support for LGBT rights work by the United Nations Development Program, which the country's vice-president demanded be ended last month.
"I believe [LGBT people] can be cured, even those who have this since they were born," Auly said. "But if it is a movement asking people to join or even intimidating and framing people to join the community, we could criminalize their actions."
The country's communication ministry has already taken steps to censor LGBT content, including a demand the messaging apps Line and Whatsapp remove LGBT-themed emojis. It announced that it would block Tumblr for gay and pornographic content, though it immediately backpedalled, perhaps because the announcement came just as Indonesian President Joko Widodo was on a visit to Silicon Valley. It also announced guidelines barring broadcasters from showing men wearing "feminine dress" or displaying or speaking in a feminine manner.
The crackdown on LGBT content online coincides with broader regulations affecting social media, which has rapidly become a major market for companies such as Facebook and Twitter in the past few years as internet access has expanded in the country. This includes threatening to block companies if they do not incorporate in the country so they can be taxed and regulated.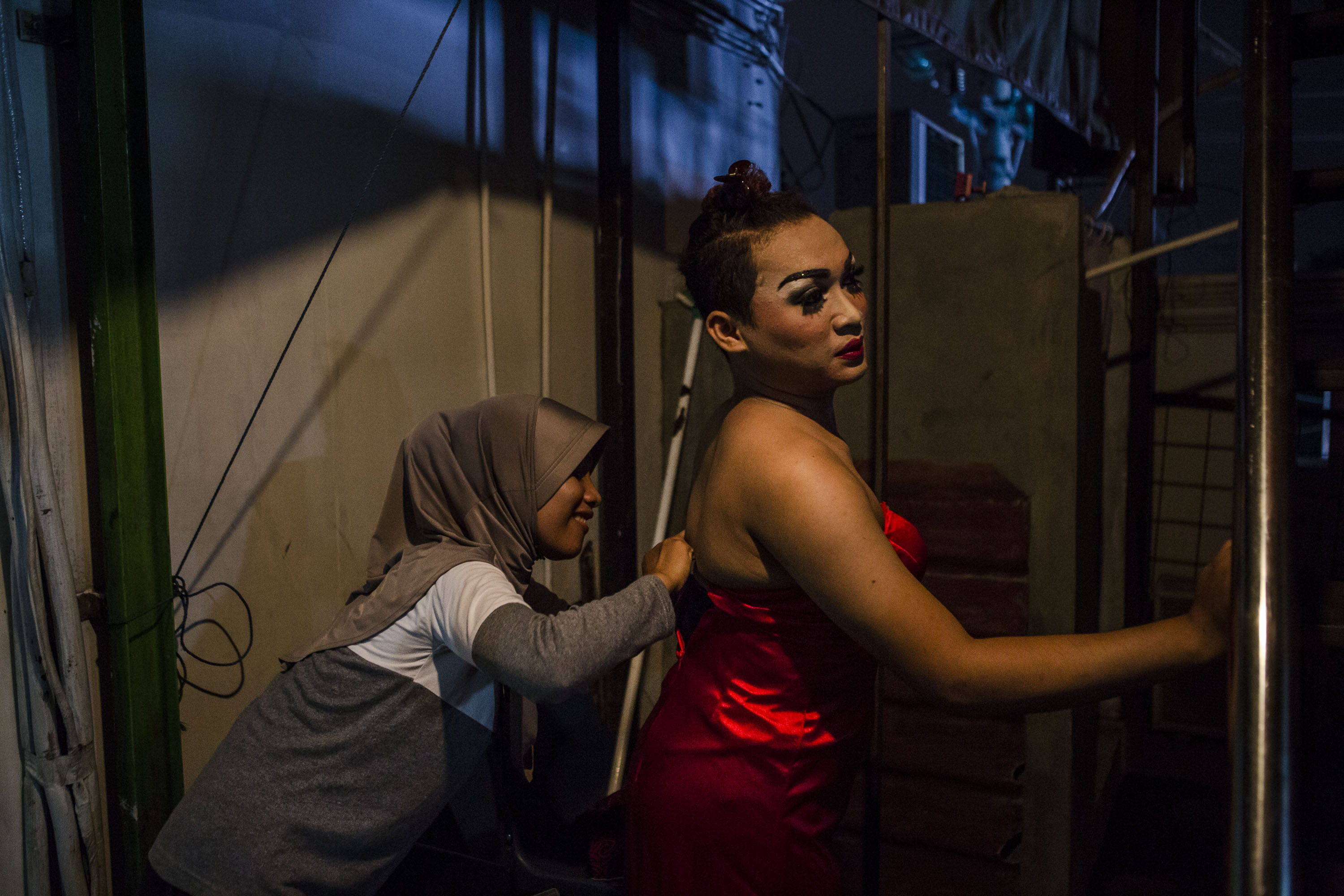 Despite the outcry, even lawmakers with strong ties to Muslim organizations are not united in the need for new legislation, and some who support the concept of the bill say it will probably not be enacted quickly.
"I don't think we will end up adopting the anti-LGBT law — I don't think it will be possible," said Arvin Hakim Toha, a member of the NU-backed National Awakening Party who sits on the defense and foreign affairs committee.
The government already has taken steps under current law to reign in the LGBT movement, he said, so new legislation isn't necessary.
"I don't think it is big problem — yes, there is a movement funded by foreign funds but it has been banned, so what else is needed?" he said. "There is no need to regulate LGBT issues."
The growth of social media may be one force fueling the blow-up over LGBT rights, which has both given greater visibility to LGBT people and provided a megaphone for anti-LGBT voices. Social media has also challenged the historical ruling interests' grip on the media, said Human Rights Watch's Andreas Harsono, and forces that want to curtail online expression for political reasons are able to piggyback on powerful religious groups' calls for an anti-LGBT crackdown for their own reasons.
"The Islamists, they really would like to control the internet because of the sexuality issue," Harsono said. "But the oligarchy would really like to control the internet because it's the gadfly picking at their interests."
The internet has been transformative for LGBT groups, added Yuli Rustinawati, chair of the LGBT group Arus Pelangi. Before three or four years ago, they only way LGBT people could give support to one another or organize was through face-to-face meetings. But the past few years have created "a space where we can express ourselves through social media."
This backlash may have happened, she said, in part because LGBT people online can "be proud of themselves, coming out [without risking] showing their faces — this is like a safe space for us."
The reaction to this online and, now, among lawmakers also means "now we can see clearly who is our friend and who is our enemy," she said.