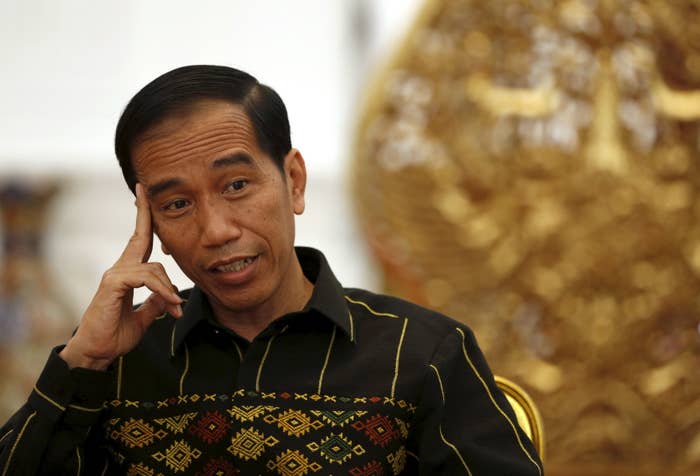 Indonesia's top Muslim organization renewed its call for the criminalization of homosexuality on Wednesday, the latest in a series of declarations that have made LGBT rights an unprecedented flashpoint in the politics of the country with the world's largest Muslim population.
"We support the establishment of new regulations banning LGBT [sexual] activities and other deviant types of sexual intercourse and prosecution of those involved in LGBT activities and other deviant types of sexual intercourse, as well as parties that support, encourage or finance LGBT activities in Indonesia," said Ma'ruf Amin, head of an umbrella organization of Muslim organizations called the Indonesian Ulema Council (abbreviated MUI), at a press conference in Jakarta.
The MUI has called for homosexuality to be "heavily punished" before, including in an edict issued last March. But now it isn't making this call in isolation. High-ranking politicians have been pulled into an unusually drawn out debate about LGBT rights that comes at a moment of heightened concerns about religious politics in the country following an ISIS-organized terrorist attack in Jakarta last month.
Just ahead of the MUI's latest statement, the country's Minister for Politics, Legal and Security Affairs, Luhut Binsar Panjaitan, met with another of the country's major Islamic organizations and reportedly pledged to work with the group on a policy for LGBT people. "It is a real threat we have to deal with," Panjaitan reportedly said. "We have to minimize impact in Indonesia," though he added, "We must first agree that [LGBT people] are also Indonesian citizens."
Though there have been some isolated showdowns over LGBT organizations with international links — most notably a 2010 meeting of the Asian branch of the International Lesbian and Gay Association that was interrupted by religious protesters — Indonesian authorities have not generally actively persecuted LGBT people. Unlike neighboring Malaysia, which routinely prosecutes transgender women under Sharia codes, Indonesia has been relatively tolerant of a long-standing transgender community called waria, and is home to a mosque and religious academy dedicated to serving them that has been widely covered by the media. (The one exception is in the territory of Aceh, which has a punishment of 100 lashes for homosexuality under hardline laws it adopted after a long battle for political autonomy from Indonesia.)
LGBT issues became the center of national controversy in late January, when the cabinet minister responsible for higher education, Mohammad Nasir, was quoted as saying that LGBT organizations should not be allowed in the country's universities, because they conflict with "standards of values and morals." Shortly after, an extremist group known for violent tactics called the Islamic Defenders Front conducted a "raid" on boarding houses in the country's third-largest city, Bandung, in which it claimed to have found same-sex couples and hung banners saying "Lesbi & homo forbidden to enter into our region" on the buildings they targeted.
It at first appeared that Indonesia's leaders wanted to snuff out this fight. Bandung's mayor, Ridwan Kamil, denounced the Islamic Defenders Front and ordered the banners removed. Education Minister Nasir disavowed his comments about LGBT student groups on Twitter, saying LGBT people deserve "equal treatment in the eyes of the law."
But top policymakers picked up the drumbeat. The country's vice-president, Jusuf Kalla, called on the United Nations Development Program to stop funding LGBT rights work in the country. The country's broadcasting regulators banned programing showing LGBT people to be "normal" and demanded messaging apps remove LGBT-themed stickers or emoji. The Communications and Information Ministry announced Wednesday that it would block Tumblr until it "agrees to block pornography and LGBT content from being accessed in Indonesia," only to backpedal as Indonesia's president, Joko Widodo, was on a visit to Silicon Valley.
The growing crescendo has caught seasoned LGBT advocates and observers of human rights in Indonesia largely by surprise. After the initial dust-up over the university group, they expected the controversy would blow over quickly just as other incidents have done in the past.
"This is the first time it's gone on this long," said Dédé Oetomo of Gaya Nusantara, the country's oldest LGBT rights organization and organizer of the 2010 conference interrupted by protesters. "It's a moral panic."
UPDATE
This story has been updated to note the Indonesian government's reversal on blocking Tumblr.
CORRECTION
An earlier version of this story misspelled the name of the city where the Islamic Defenders Front raided boarding houses. It is Bandung, not Badung.