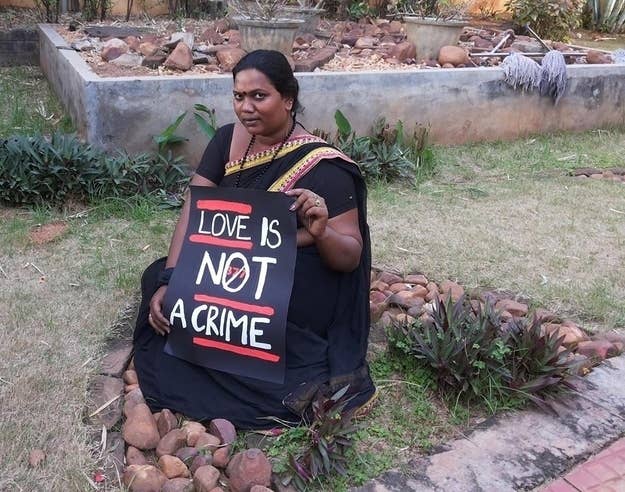 In a three-sentence order issued Tuesday, a two-judge panel of the Indian Supreme Court denied motions to reconsider a recent ruling that restored the country's colonial-era law criminalizing same-sex intercourse, known as Section 377.
The motions, called review petitions, rarely succeed because they are decided by the panel of justices that issued the original ruling. But LGBT activists had hoped they might have a better chance in this case because of the international outcry that followed the Supreme Court's Dec. 11 decision striking down the 2009 ruling of the Delhi High Court that suspended the sodomy law as a violation of the fundamental rights of LGBT people.
They had two other reasons for hope: One of the judges who authored the Supreme Court ruling resigned just after the December decision was issued, meaning there was a new judge weighing the review petitions. The government of India had also thrown its weight behind the effort to get the Supreme Court decision reversed, filing the first petition that challenged the December ruling.
But after a meeting in chambers Tuesday afternoon, Justice H. L. Dattu and Justice Sudhansu Jyoti Mukhopadhaya issued a brief order declaring, "The Review Petitions are dismissed."
"This decision is a disappointing setback to the rights of LGBT persons and, indeed, to the fundamental rights of all Indians," said the coalition opposing the law, Voices Against 377, in a statement posted on its Facebook page. "Today's decision represents an abdication by the judiciary to protect the spirit of the constitution. It is a failure to assert that fundamental rights hold for all persons."
Anand Grover, the lawyer who argued the case before the Supreme Court, expressed some surprise at the decision. "Ordinarily this would have been a case for a review, but the judges don't seem to agree," he told BuzzFeed.
There is one last option for advocates trying to get the Supreme Court to change its mind. This is called a curative petition, a motion in which they senior judges of the full Supreme Court are asked to intervene in cases where a ruling violates basic rights. But some activists said privately before Tuesday's ruling that if the review petitions were rejected, they held little hope that a curative petition would succeed.
Voices Against 377 struck a defiant tone in its statement:
"We see the dismissal by the Supreme Court as nothing but a temporary reversal. The history of struggle against anti-sodomy laws worldwide teaches us that, sooner or later, unjust laws are defeated even as the battles may be long.... Regardless of the Court's ruling, we walk with pride. As the Delhi High Court judgment reminded us, our rights are inalienably ours – they Court did not confer them on us, it cannot take them away."