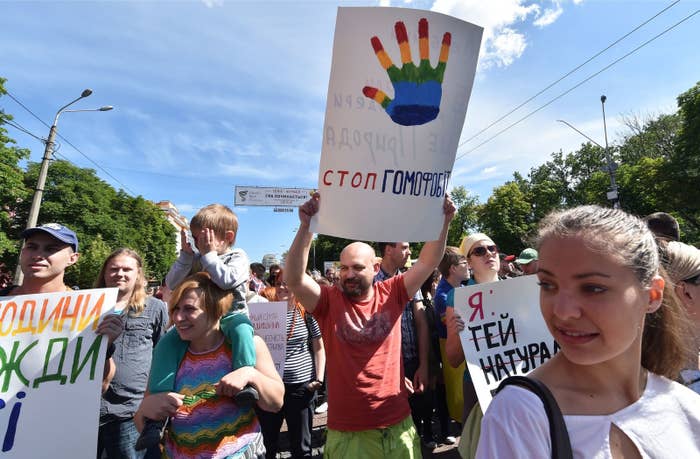 European LGBT activists are concerned that Britain's vote to leave the European Union will weaken a bloc that has been central to promoting LGBT rights in countries where politicians and popular opinion have been overwhelmingly on the other side.
Activists from Ireland to Ukraine to Uganda are worried that the EU could be fundamentally compromised as an engine of change.
A united EU voice has helped activists turn back anti-LGBT initiatives in countries on the European continent and beyond with the argument that they violate commitments under international human rights agreements. Now, with the UK voting to leave, they believe it has sent the signal that countries can walk away from multinational agreements when they no longer likes the rules.
Given how important European institutions have been in promoting LGBT rights both in the region and worldwide, "anything that puts a hold on European progress causes concern about advancement for rights for LGBT people, especially in countries that are lagging behind," said Brian Sheehan, a leader of the successful Irish marriage equality campaign who now co-chairs the European branch of the International Lesbian and Gay Association.
In Europe, the most immediate test of the Brexit's impact could come in non-member Ukraine, where the country has struggled to meet basic LGBT rights requirements for affiliation with the EU. It took the government several tries to pass an employment non-discrimination law that includes sexual orientation, a requirement of the EU for closer ties. Kiev also just held its first successful pride march after previous efforts had been blocked by right-wing groups.
The Brexit vote is "a very bad sign for Ukraine and for [the] whole of Europe."
Now, said Olena Shevchenko of the Ukrainian LGBT rights group Insight, LGBT activists are worried that the few gains they have made in recent years could be lost.
The Brexit vote is "a very bad sign for Ukraine and for [the] whole of Europe," Schevchenko said in an email to BuzzFeed News. "The EU is still [the] only instrument to push on our government to at least somehow protect LGBTI people and not to adopt same harmful legislation like it was done in Russia…. If Ukraine understands the EU can be beaten, I think we will have lost our chance to push on our government."
Social conservative activists inside the EU have already launched a challenge to the EU's generally supportive stance towards LGBT rights that could become much more serious in an environment where membership suddenly feels much more optional to its member states.
In December, organizers began collecting signatures on an initiative called Mum, Dad, and Kids, which would petition the European Union to adopt legislation that would define "marriage" for its purposes to mean "a legal union between one man and one woman as husband and wife." Family law is not something the EU technically has any jurisdiction over, but the backers of the initiative argue that the language is needed to prevent it from overreaching by pressuring states to adopt marriage equality or recognize same-sex unions established in other countries.
The campaign is what's called a European Citizens Initiative, a relatively new mechanism created to bring a measure of democracy to EU institutions widely seen as unaccountable to the citizenry. If they get more than one million signatures by an April 2017 deadline, the EU's executive body will be required to formally consider the proposal — but not to act. The European Commission summarily dismissed the first such initiative to clear the signature threshold, which would have restricted funding for stem cell research and family planning in foreign aid, and the organizers of Mum, Dad, and Kids warn that the Commission could create a profound crisis if it were to do the same following the Brexit vote.
"Precisely because of the Brexit vote, I think [the initiative is] a wakeup call to the Union, particularly the commission — there's going to be accountability," said Roger Kiška, a Slovakian lawyer who is vice president of the committee that brought the initiative and a former European representative of the U.S. conservative organization Alliance Defending Freedom. If the European Commission brushes aside the initiative and reinforces the impression that the EU is undemocratic, Kiška said, "things like the Brexit are going to happen" again.
Especially in Eastern EU member states — where several states have enacted bans on same-sex marriage in the past 4 years — anti-LGBT sentiment has contributed to the rise of anti-European parties, who argue they are fighting a attacks on national identity from an overreaching bureaucracy in Brussels.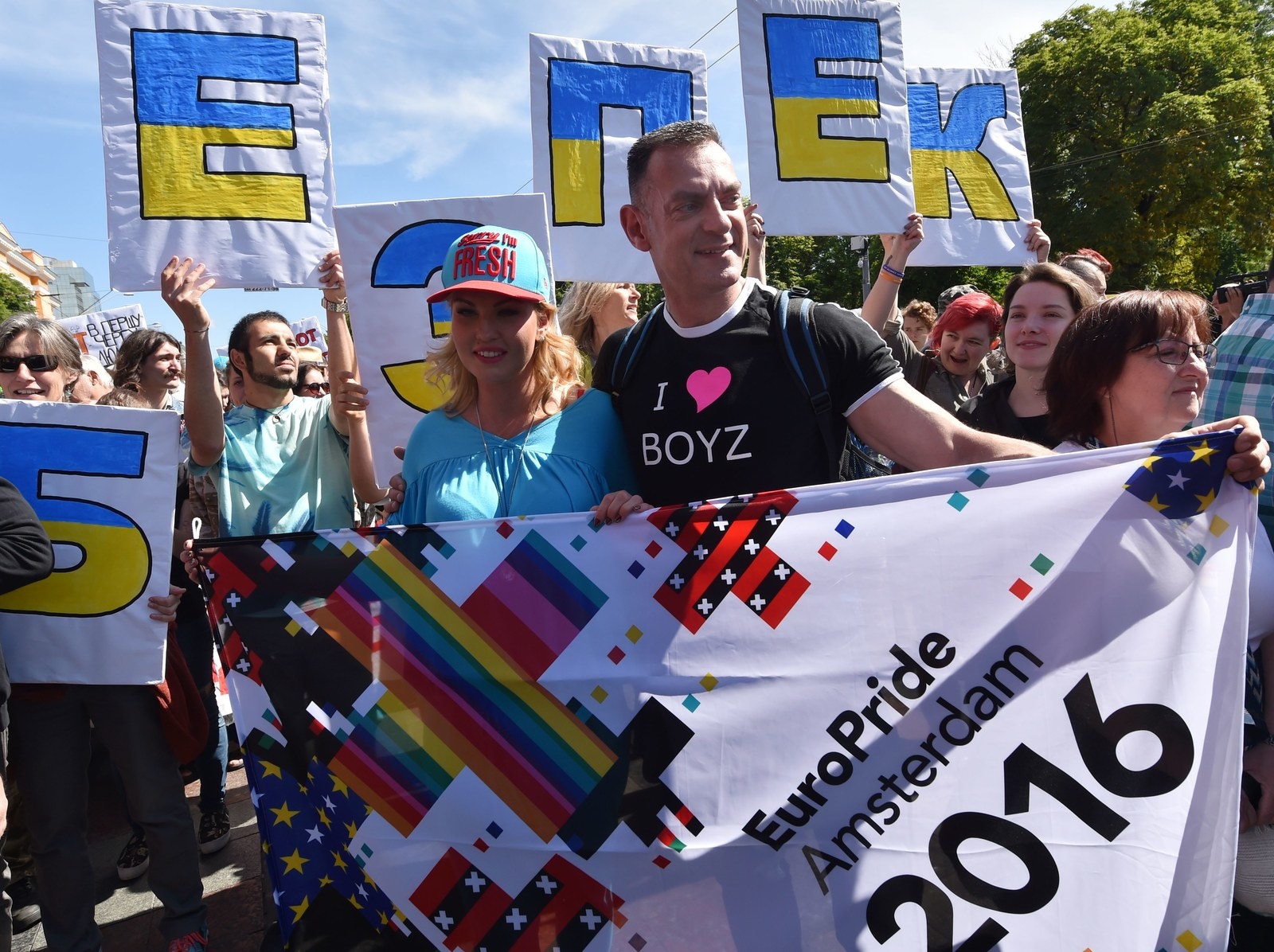 "There is very much an East/West divide," said Maria Hildingsson, a Brussels-based Swedish activist who is one of the initiative's organizers, who noted Hungary and Poland recently vetoed regulations that would have included a requirement that even states that don't have recognize same-sex couples the property rights of same-sex unions performed in other EU countries.
"They are more conservative societies if you look at them," Hildingsson said. "If we link this to what happened in the night with the Brexit there is really a feeling of frustration in Europe…. You hear there's actually a gap between the political elite and the people."
The UK's exit from the EU also has activists worried in English-speaking African countries, many of whom belong to the club of former British colonies called the Commonwealth of Nations. In countries like Uganda, which adopted a sweeping anti-LGBT law in 2014 that was nullified by the courts later that year, united pressure from donor nations for Uganda to respect international human rights principles was crucial to pushing back the legislation.
"I am very concerned," said Frank Mugisha of the group Sexual Minorities Uganda. "We want strong advocacy for collective leadership on response to LGBTI rights within [the] EU; this is definitely going to be difficult."
The Gambia's longtime dictator Yahya Jammeh pulled the country out of the Commonwealth in 2013 shortly before intensifying anti-LGBT laws and launching mass arrests. Jammeh declared his country would not be "party to any institution that represents an extension of colonialism," and the crackdown on LGBT rights was part of an effort to define his regime as upholding local religious traditions in the face of western powers.
Now that Britain has walked away from the European Union, it's going to be much harder for the UK to pursuade other anti-LGBT Commonwealth countries not to follow Jammeh's example, said Fatou Camara, a Gambian dissident now living in the United States.
"This is the very reason why not just the Europeans, but also the rest of world was carefully watching this Brexit vote," Camara said. "The Yahya Jammehs of this world will feel vindicated."