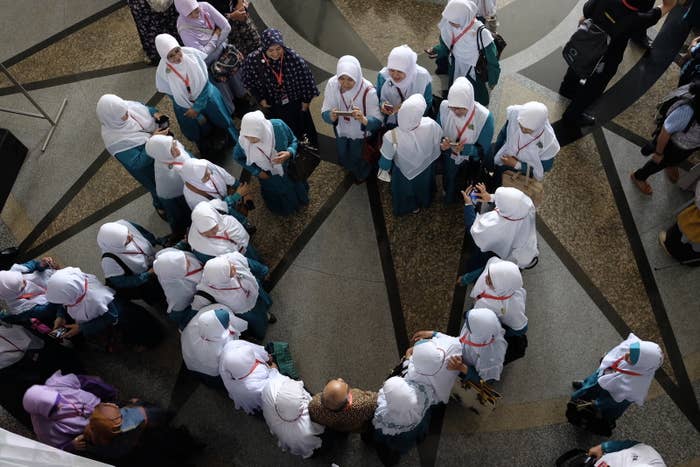 JAKARTA — A group of academics and activists urged the Constitutional Court of Indonesia to criminalize fornication and homosexuality on Tuesday in the latest hearing of a lawsuit that began earlier this year.
The suit, which has been brought by 12 academics and activists, has already had several hearings, but captured international attention earlier this month when it was reported that the petitioners sought the criminalization of homosexuality. But they are actually seeking a broader reform of the country's criminal code, according to court filings, that would not only criminalize homosexuality but also make sex between unmarried people a crime.
Tuesday's hearing, which was attended by a large group of activists from an Islamic women's organization, was the second in which the petitioners were able to present witnesses in support of their case. They argued that not only was the country on the verge of a crisis of sexual morality, but it was at risk of having its core Muslim values overridden by international human rights claims that embrace LGBT rights.
Tuesday's testimony began with Asrorun Ni'am Sholeh, chairman of the National Child Protection Commission, who said the court needed to take urgent action to curtail a crisis of sexual morality that put the nation's children at risk. He called for a five-year prison sentence to be imposed for homosexual acts, which he warned "tend to be repeated because there is a factor of addiction in it," and raised concerns that same-sex marriage could come to Indonesia.
"There is no strong regulations to forbid same-sex marriage nor criminal sanctions," he said, adding that such punishments will "strengthen the state's responsibility to protect the rights of children."
Hamid Chalid, a constitutional law expert at the University of Indonesia outside Jakarta, said the court needed to step in to protect local religious and moral values. These are being eroded, he argued, by international human rights norms pushed by Western governments that have purged religion from public policy.
"Our country has legalized fornication, male rape, and homosexual acts," he said. "We've allowed our constitution to become too liberal — is that what we want?" Referring to vigilante actions like those attacking alleged LGBT people, he continued, "This is evidence that what is currently happening is against the wishes of the people."
Three of the nine Constitutional Court judges posed questions during the hearing, and their remarks all suggested they agreed with at least portions of the petitioners' claims.
"If those values are not articulated in the law, would our country one day become a secular state?" asked Judge Patrialis Akbar, who noted that the parts of the law that the petitioners were seeking to tighten were inherited from the time when Indonesia was a Dutch colony.
"This constitution is liberal, yes, because it's coming from imperialist government," Akbar said, adding, "Must all laws that are not in according with the morals and religion have to be synchronized with the local values so this court ... [can be] an institution illuminated by the light of God?"
Lawyers for the government, which is opposing the suit, said little during Tuesday's hearing, but one attorney countered the witnesses' argument by citing a statistic that a majority of Indonesians have sex before marriage. He warned that the proposal to criminalize sex before marriage could have broad repercussions.
"If we do this, the sinner becomes a criminal ... and the government becomes authoritarian," he said.
The petitioners will have another chance to present their case in another hearing scheduled for Aug. 30. A date for judgment has not yet been set.