"Homosexual Propaganda" Law Repealed In Russian Region Of Arkhangelsk
The move isn't necessarily good news for LGBT Russians, however, because it simply streamlines enforcement of the federal law prohibiting the "promotion of non-traditional sexual relationships to minors."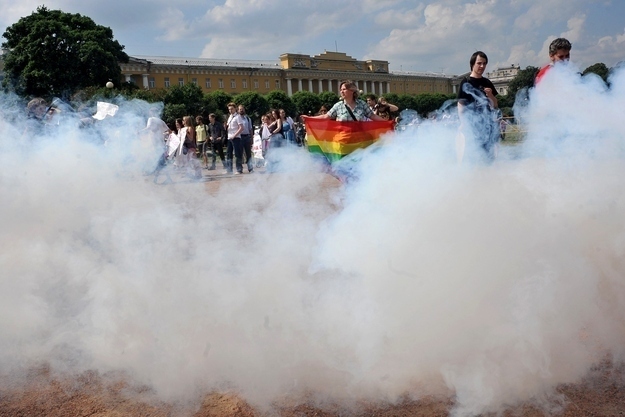 News that the governor of the Russian region of Arkhangelsk had signed a bill on Wednesday to repeal its local "homosexual propaganda" ban had human rights activists scratching their heads.
While some English news reports left the impression this might have been a victory for LGBT rights, it seems like the move was likely just a technical revision of local law to harmonize it with a federal law criminalizing "promoting non-traditional sexual relationships to minors" that was passed in June.
"This cannot be seen as a victory in any way, as the provisions related to 'homosexual propaganda' were removed in order to avoid complexities in application of the anti-propaganda provisions," said Anastasia Smirnova, coordinator of a working group of six Russian LGBT organizations.
Ordinarily, federal legislation would explicitly require local authorities to bring their laws into alignment with new federal standards, but this was not included in the national anti-"propaganda" law, Smirnova explained. Arkhangelsk was simply following usual practice. LGBT activists tell BuzzFeed Kostroma is also expected to do the same soon.
This is also not necessarily good news for activists who might be punished under the federal law, as it carries higher penalties than the Arkhangelsk regional provision.
Oleg Klyuenkov, an activist with the local LGBT group organization Rakurs Arkhangelsk, was slightly more optimistic.
"In some sense we think this is a step forward," Klyuenkov told BuzzFeed. The way the local law was included in the administrative code equated homosexuality with pedophilia, and removing that analogy has some symbolic value, he said.
But, he added, "Now we need to test [the repeal] with the regional authorities." Klyuenkov's group has been denied protest permits on three occasions under the local propaganda ban, and he intends to submit another application to see if the federal law will be invoked the same way.
Perhaps because the repeal was relatively routine, it got virtually no attention in the Russian press. It was quietly passed by the regional council in October, and then signed by the governor with no fanfare.
The only Russian-language site that seems to have written about the move is the website of controversial activist Nikolai Alekseyev, GayRussia.eu.
Alekseyev and two allies are the only ones ever punished under Arkhangelsk law for a protest they held in front of a children's library in January 2012. They took the case to the European Court of Human Rights, along with challenges to two other regional propaganda laws.
In an interview, Alekseyev told BuzzFeed that although this repeal "doesn't change the legal situation because the federal law will continue to be applied… It's a symbolic thing which shows that the region doesn't want to deal with the issue anymore…. They send a signal they don't want to be linked to this topic."