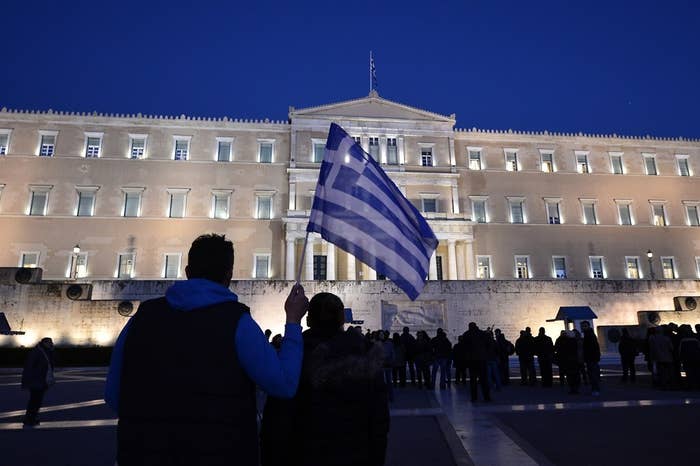 The government of Greece proposed legislation on Wednesday to create civil partnerships for same-sex couples.
This status would protect same-sex couples' rights to property and inheritance, but it does not give them the right to jointly adopt children. Most countries in the European Union who joined at the same time as Greece already offer legal recognition for same-sex couples.
In a statement unveiling the proposal, the Greek Justice Ministry described the legislation as a "landmark" that ends "discrimination against our fellow citizens on grounds of sexual orientation," according to a report in the newspaper Kathimerini.
Greece enacted a law in 2008 that created civil partnerships to extend some of the property rights associated with marriage to opposite-sex couples, but excluded same-sex couples from the legislation. Three same-sex couples sued, and wound up taking their case to the European Court of Human Rights, which held that Greece couldn't justify excluding same-sex couples from the new partnership status.
Constantina Kosmidou, international relations officer with the Greek LGBT rights group OLKE and a member of the executive board of the European branch of the International Lesbian and Gay Association, said it's a "good thing that we at least have the rights of inheritance" if the law passes. It still faces an uncertain future in Parliament, which is due to take up the proposal in July.
But Kosmidou said the law is still discriminatory and would lay the groundwork for a new round of litigation if the adoption rules are not changed. The law would give full adoption rights to heterosexual couples while denying them to same-sex couples. The European Court of Human Rights ruled in another 2013 case that an Austrian code barring same-sex couples in civil partnerships from adopting while allowing opposite-sex couples in civil partnerships full adoption rights violated was discriminatory and violated international human rights treaties.
"For now it's the first step," said Kosmidou. If it passes, she said, "you can sue for parenting rights."