German LGBT Rights Activist Hospitalized With Head Injuries After Attack In Serbia
The assailants reportedly shouted "We don't want foreigners in Belgrade" as they beat him with an ashtray.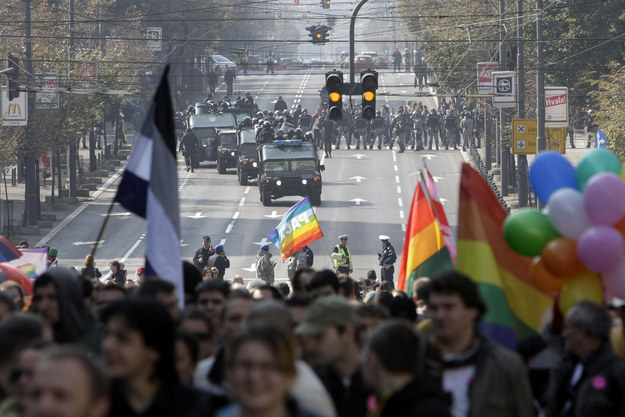 A 27-year-old German participating in an LGBT rights conference in the Serbian capital Belgrade is in critical condition following a beating on Saturday, the Associated Press reported.
Three men have been arrested in connection with the attack. The victim, whose name has not been released, was hospitalized with a serious head injury.
It is not immediately clear whether the attackers were motivated by anti-LGBT violence or xenophobia. A Serbian LGBT rights activist told the AP that the attackers shouted, "We don't want foreigners in Belgrade!" while beating him with an ashtray.
LGBT rights activists organized a march the next day with signs demanding, "Stop the Violence" under heavy protection of riot police. Since a 2010 pride march ended in an anti-LGBT riot, Serbian officials have repeatedly shut down LGBT-rights demonstrations, claiming they could not control anti-LGBT violence.
Serbia's poor record in dealing with anti-LGBT violence could complicate its path to becoming a full member of the European Union. Serbia has been a candidate for membership since 2012, and the E.U. has closely scrutinized the LGBT rights records of other states as they move towards full membership.
Neighboring Croatia mounted a major security effort to allow pride marches before it became a full member of the EU in 2013, and another neighbor, Montenegro, mobilized half its police force to secure a 2013 pride march in its capital in part to ease its path to EU membership.